You can now read Just Beverley Magazine online in an exciting new format
Thu 14th January 2021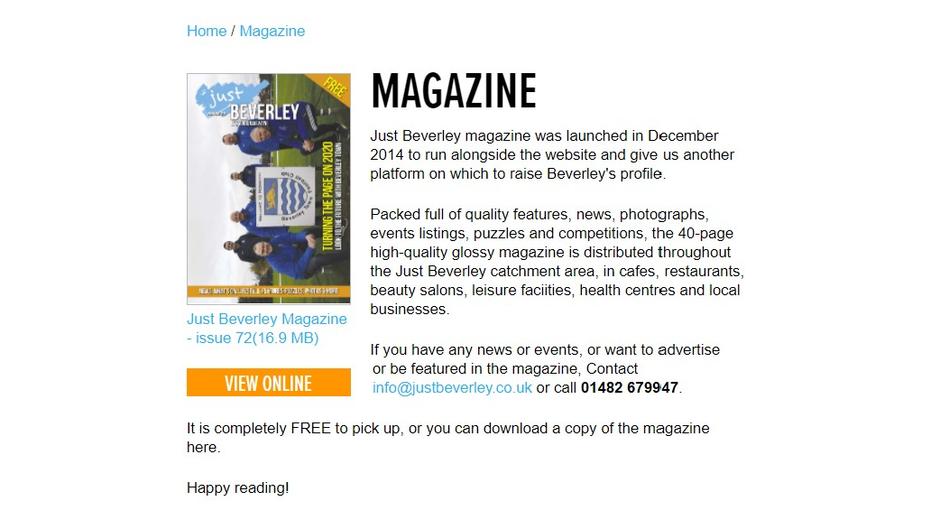 Have you heard the good news? You can now view and read Just Beverley online in a new page turning flipbook format.
To keep with our theme of "small changes – big impact" going into this New Year, we've introduced a brand new exciting way of accessing the magazine to give our readers the best experience when reading Just Beverley.
All you have to do is click 'View Online' to open the magazine and you will see exactly what you would see in a print publication in an even glossier form.
Its new sleek design and flipbook format makes the latest issues of Just Beverley more user-friendly, more interactive, and offers a more comfortable way of reading the latest news in and around Beverley.
The new format also makes Just Beverley even more mobile-friendly to give our readers a greater digital experience when reading the magazine online as it adapts to the screen size you are using.
New features of the flipbook style include; a search feature for improved navigation that now allows you to easily find particular articles and revisit articles you want to reread, and an overview option to give you a summary of what to expect in the latest issue. You also now have the option to save the magazine as a PDF if you want to read it later.
Don't miss out on this month's issue of Just Beverley, view your copy online now.
Go to the https://justbeverley.co.uk/magazine - press the view online button.