Waves of inspiration for story tellers on the Yorkshire Coast For National Writing Day (23 June 2021)
Thu 17th June 2021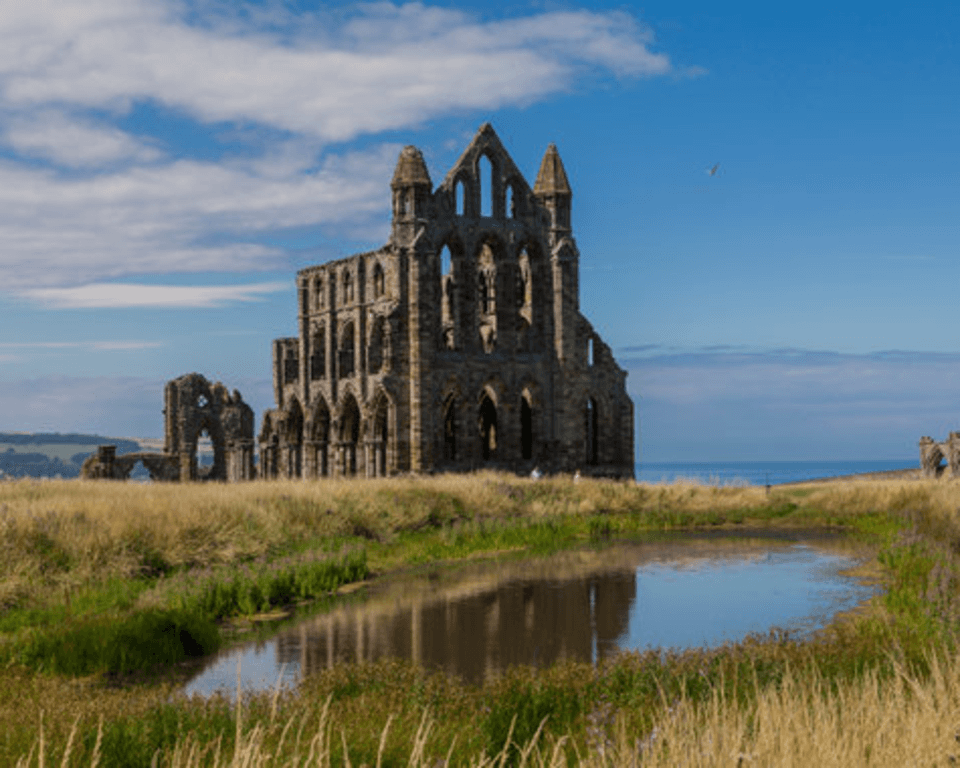 Find bucket loads of inspiration for National Writing Day on the Yorkshire Coast, one of the oldest literary locations in Britain, thanks to a miraculous dream that turned an illiterate cowherd into the first ever English poet.
Ever since Caedmon, who looked after the animals at Whitby Abbey back in the late 600s AD, turned Whitby into a medieval hotspot for pilgrims, people have travelled to the Yorkshire Coast seeking inspiration, including Bram Stoker (Dracula), JRR Tolkein (Lord of the Rings), Lewis Carroll (Alice in Wonderland) and the Brontes. There's even an ancient superhero immortalised in the landscape: Wade, star of Viking and Saxon sagas. This warrior sea-king once ruled the Yorkshire Coast and was so famous he was even name-dropped in Chaucer's Canterbury Tales.
10 ways to be inspired to write a block buster:
Whitby is the world-famous birthplace of Dracula. Bram Stoker's ground-breaking novel is not just a thrilling work of fiction, he drew on real life locations, characters and chronicles from Whitby, and was indebted to Whitby Library's archives (now Whitby Museum): it was the place that first introduced him to 'Dracula', and he wove many of its real-life stories into his writing - you can even see his signature in the visitor book!
Scarborough is home to Alan Ayckbourn - the Olivier and Tony Award winning playwright, Yorkshire icon, and acclaimed director. Considered one of the world's most prolific writers, he has penned more than 80 plays, many of which have been produced in London's West End and New York, although has been – and continues to be - premiered at Scarborough's Stephen Joseph Theatre (the SJT), where he was artistic director for nearly 40 years.
Best-selling author Robin Jarvis was inspired by true stories when he wrote his Whitby Witches series, even interviewing local witches in the area.
"To seek out new worlds, to boldly go where no man has gone before": those famous words uttered by Star Trek's fictional Captain Kirk started life in Whitby. They were the real-life words of local adventurer Captain Cook, as he set out to explore uncharted lands beyond the horizon.
The Bronte sisters loved the Yorkshire Coast, finding it restored their spirits. While Charlotte's favourite was Filey, Scarborough is the town where Anne Bronte has her final resting place, buried at St Mary's Church.
Discover first-hand accounts of local sea-faring superstitions in Scarborough Maritime Heritage Centre, including the haunting tale of sailors in thrall to a "beautiful female god" who would cause terrifying storms if she was angered.
Alice in Wonderland was born in Whitby, when holiday-maker Lewis Carroll wandered beaches and promenades in search of the Curious; you can even enjoy sweet dreams at La Rosa Hotel on East Parade, where Lewis Carroll stayed.
Tour Wade's giant landmarks: the vast Hole of Horcum, Blakey Topping, Wade's Causeway and the castles of Pickering and Mulgrave, near Sandsend.
Dame Edith Sitwell is one of Britain's greatest women writers, described as the Lady Gaga of the 1920s she pioneered 'rap' 100 years before it appeared in the charts. She loved a séance in her Scarborough home, and even though she passed away in 1964, she still haunts her library – a ghostly patron for today's Woodend Creative Artspace, a popular venue today for events and creative workshops.
If you're interested in the region's myth makers and storytellers, don't miss the new Whitby Literary Festival (January 2022).
Feel inspired to create your own block-buster? There are art schools, craft classes, writing workshops, and Book Festivals throughout the year to help you channel your creative spirit, including Staithes Art School; the Stephen Joseph Theatre in Scarborough; the Inspired by… Gallery in the North York Moors National Park Centre at Danby; and Crescent Arts at Scarborough Art Gallery.
Find more inspiration at www.discoveryorkshirecoast.com
Photo Credits
Main Image - Discover Yorkshire Coast
Silhouetted figures - English Heritage.