University Centre Bishop Burton students triumph at the Harrogate Flower Show
Thu 27th April 2023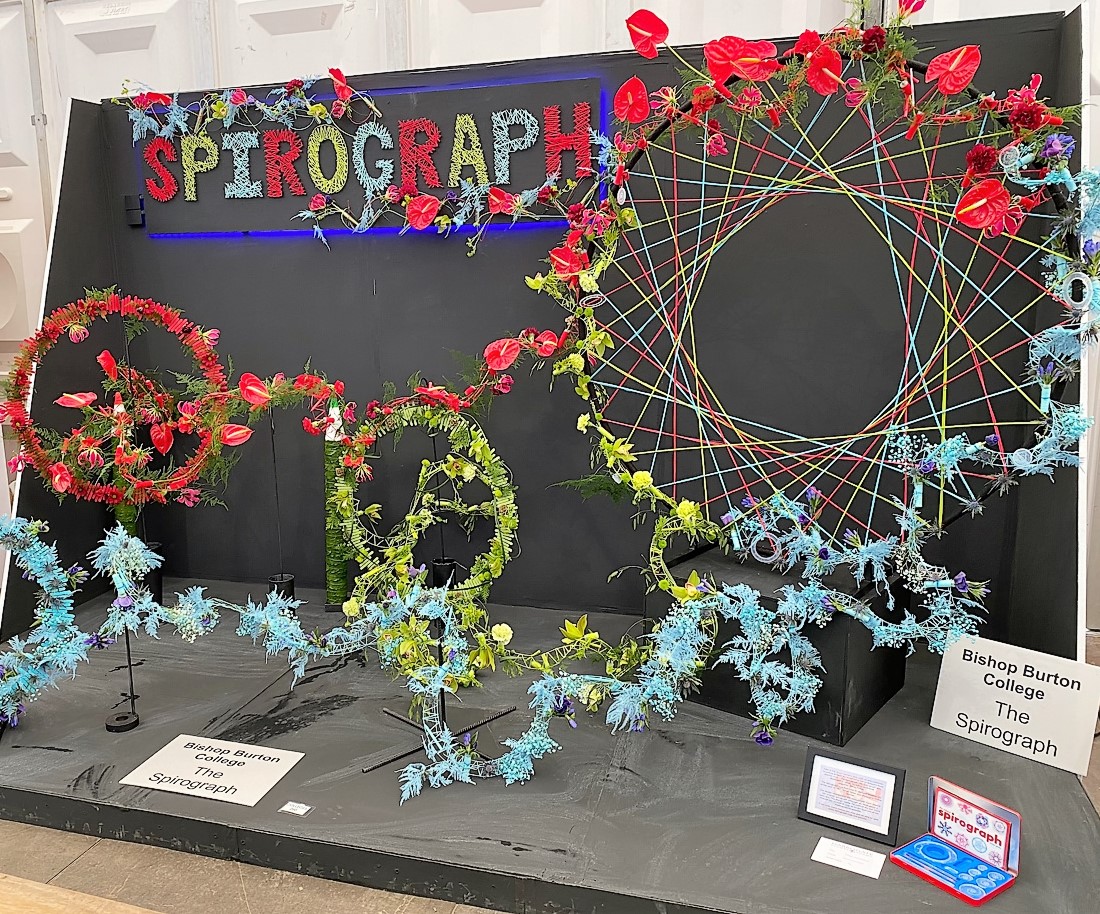 Floristry degree students from University Centre Bishop Burton are celebrating following an amazing performance at the prestigious Harrogate Flower Show.
With a number of individual places in the Flower Arrangement competition including two first places from student Soolmaz Lashgary, the team representing University Centre Bishop Burton also won Gold and Overall Winner in the Florist College – Inventive Britain category.
The Harrogate Flower Show, established in 1911 is run by the North of England Horticultural Society, attracting an audience of up to 90,000 visitors a year to enjoy plant nursery displays, floral features and talks and demonstrations. The show has been a fixture of the degree level Floristry programme for students for a number of years - providing students, with the opportunity to work on a large-scale collaborative piece, within a competitive industry environment, at a professional level.
The college's entry into the Floral Art Pavilion category, Florist College – Inventive Britain, was based on geometric drawing device Spirograph. The bold design featured a striking use of flowers and thread in red, green and blue to convey the dynamism created by the mathematical curves produced by Spirograph. The eye-catching design was a favourite with the expert judging panel winning Gold in the Inventive Britain class and receiving the Gold award for overall winner.
One of the students who was part of the Spirograph team commented "Competing in the Harrogate Flower Show has been an amazing experience. It's been fantastic to be able to work on a collaborative piece in a competitive environment. I feel privileged to have been able to showcase my expertise and creativity alongside some of the most talented florists in the country. I am so excited we won Gold for our team entry and to also be Gold overall winner has been a dream come true!"
Higher Academic Lead for Creative, Michele Thompson said "What an absolutely phenomenal achievement from the students and Floristry academic team. I am incredibly proud of the professionalism and dedication demonstrated and this incredible result is testament to their hard work. The team arrangement truly was a show stopper and I'm delighted that the originality and creativity of their design received such an accolade. A huge thank you to Flower Vision Lancashire who were our amazing sponsors, helping us to realise this fantastic display."
The award-winning Spirograph arrangement is now on display at Bishop Burton.
University Centre Bishop Burton Harrogate Flower Show results:
Florist College -Inventive Britain:
Bishop Burton College - Gold
Overall Winner - Bishop Burton College – Gold
Students involved were: Charlotte Dunn, Daniel Hall, Mandy Cooper, Louise Kirk, Melanie Travis, Hollie Travis and Toni Beautyman
Flower Arrangement Classes:
Sunlight
Gabriel Madrid Willingham - 3rd place
Magnificent Millinery
Katie Wilcockson - Highly Commended
Courtesy to a Consort
Soolmaz Lashgary – 1st place
Christine Blackham - 2nd place
Weave a Magic Web
Soolmaz Lashgary - 1st place
University Centre Bishop Burton is currently accepting applications to commence study in September. To find out more about our Floristry degree programme please visit www.bishopburton.ac.uk/university-centre/study/subjects/floristry