The Spurn story trail
Wed 28th October 2020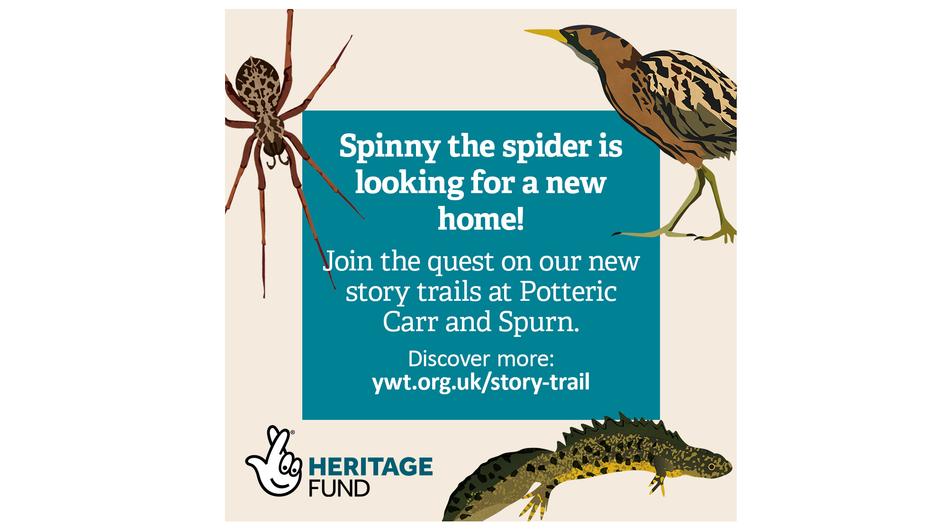 Wildlife charity Yorkshire Wildlife Trust has launched a series of half term activities to help families be inspired by Yorkshire's amazing wildlife, both at home and out and about.
Funded by the Heritage Lottery Fund, the Trust has launched a new story trail at Spurn National Nature Reserve, where families help Spinny the spider find a new home by exploring the reserve. Visitors can follow the trail around Spurn by following a downloadable map, which can be printed at home. Along the trail, visitors will discover trail points featuring wildlife characters who live at Spurn, including a grey seal, a grass snake and a redshank.
Harriet Lawrence, Communications Officer at Yorkshire Wildlife Trust, said: "We wanted to create a visitor-led experience at Spurn that helps families discover some of the amazing wildlife we have here, and what sort of habitats they need to survive and thrive. Spurn is such an incredible landscape with all sorts of different habitats, from the wide expanses of sea and sand to meadow and marshland. There's no where quite like Spurn – it's one of our last great wildernesses!"
Each animal discovered along the trail has a name, and one letter in each name forms an anagram. Visitors must then unscramble the letters to discover Spinny's new home and continue their wild journey online.
Harriet Lawrence said: "This half term is a particularly unusual one, as we have different areas of Yorkshire under different levels of lockdown, and changes can happen without much warning. Not only did we want to create a self-led activity for families at Spurn, we have also made the entire story trail experience available online, so anyone can take part wherever they are."
The full story trail, which is available to take part in at both Spurn National Nature Reserve and Potteric Carr nature reserve in Doncaster, is online at ywt.org.uk/story-trail.
As well as the new story trail, Yorkshire Wildlife Trust has created other digital experiences for families to take part in this half term, including a Really Wild Quiz and Wildlife Treasure Hunt. The Trust has also produced an entire marine education package, including educational videos, fact sheets, quizzes and arts & crafts, to bring the magic of the coast into the home.
To find out more about joining Yorkshire Wildlife Trust, go to ywt.org.uk/membership.