The journey of the sisters behind two iconic Yorkshire alcohol brands
Tue 3rd November 2020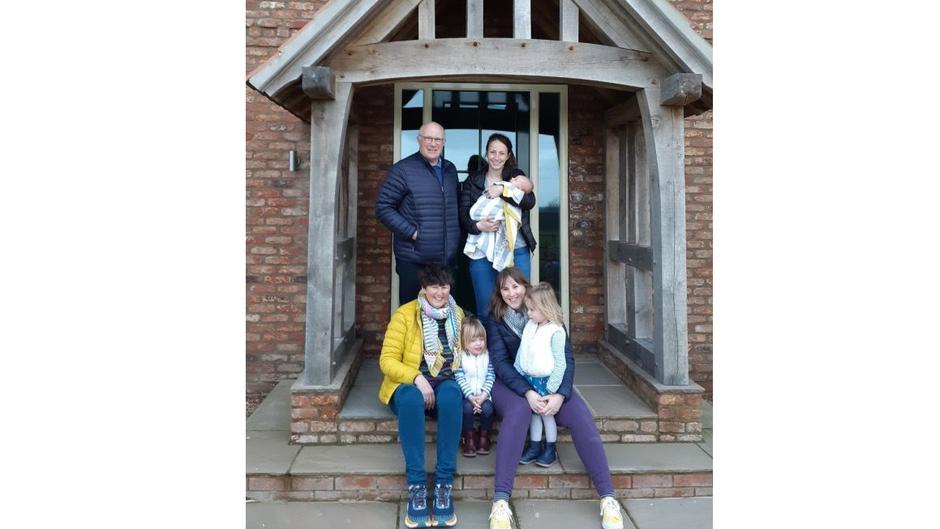 33 year old Kate Balchin and 31 year old Jenni Ashwood (née Mellor) were born two years apart on the family's third generation farm high on the Yorkshire Wolds. The siblings' great grandparents had relocated to Hunmanby Grange on health grounds from industrial West Yorkshire in 1945.
Elder sister Kate was doing GCSEs when her parents Tom and Gill launched Wold Top brewery in 2003 as a diversification project to safeguard the farm for future generations. Both girls recall school holidays mucking in at the brewery, doing everything from painting to working on the (then) antiquated hand bottling line.
In 2005, Kate went to Oxford Brookes to study French and Spanish and in 2007, Jenni began her degree in English Literature and Creative Writing at Warwick. Their holidays were spent helping out at the brewery that was beginning to gain a reputation for the quality of its beers that are brewed from homegrown barley and chalk filtered water from the farm's own boreholes. It was during this time that Tom and Gill saw the future in gluten free beers and launched Against the Grain, after brewing it under licence for The Fine Ale Club.
Kate met her future husband, Alex whilst at university and the couple spent time travelling before heading back to Yorkshire in 2010. Alex eschewed a potential career as a RAF pilot to join the production team in the family business, whilst Kate looked after accounts and used her language skills to develop export markets. The pair also set up and still run Agricola Bottling, a specialist beer bottling business, to serve both Wold Top and other, independent brewers.
Whilst Kate headed north after university, Jenni looked to the south and earned a place on the graduate scheme at advertising, marketing and PR behemoth, Ogilvy. Here, she worked on brands including Diageo, where she gained experience that was to be more valuable than she appreciated at the time.
Kate and Alex got married in 2013 and held their reception on the farm at the first of many weddings for the farm's events business, Muddy Souls Events.
In late 2014, confident in the knowledge that their daughter and son in law had the necessary expertise and ambition to drive the brewery forwards, Tom and Gill handed over the reins to Kate and Alex, so that Tom could concentrate on his next venture: Yorkshire's first single malt whisky company.
Jenni meanwhile had met her future husband, Nick and had moved to a much smaller agency, Keko where she worked with prestige brands like Bentley. They married, again with a reception at home on the farm, in 2017.
Dad, Tom, meanwhile was following his dream to build a field to bottle whisky distillery, along with his friend of 30 years, David Thompson and their respective wives, Gill and Rebecca. After several years of planning and learning from the experts, Spirit of Yorkshire Distillery was launched in 2016 and the visitor attraction and Pot Still Coffee Shop were opened in 2017 as the distillery team waited patiently until 2019 when their maturing spirit could legally be marketed as single malt whisky.
Roll on to autumn 2018. Wold Top, Agricola Bottling and Muddy Souls events are thriving under Kate and Alex's leadership and Jenni, pregnant with her first child, returns to her roots to head up the marketing at Spirit of Yorkshire and to advise Wold Top on marketing strategy, including inter-company collaborations like barrel-aged beers and joint tours.
In March 2020, Kate and Alex faced their toughest challenge to date as they furloughed 11 of their 18 strong close-knit team due to C-19 and worked on an online strategy to keep the business afloat when it lost all of its on-trade business overnight. In addition, Kate and Jenni had the added challenge of being working mums with no childcare. Thankfully, they had anticipated the lockdown scenario and the resourceful siblings rallied together and locked down in Kate's house on the farm took it in turns to work and look after the children.
The girls' legacy continues with Kate's four year old twins, Beth and Tilly and Jenni's one year old son, Arthur.