The brand new Hornsea Hub opens on Monday (26 October)
Fri 23rd October 2020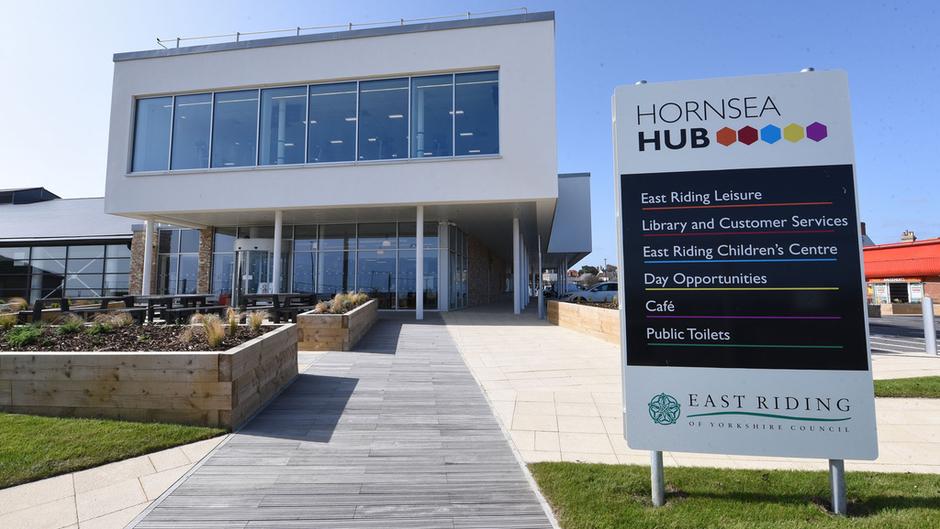 The Hornsea Hub – the new name for the redeveloped and extended East Riding Leisure Hornsea – opens on Monday (26 October).
The reopening marks the completion of a £9.9 million project which includes a complete refurbishment and extension of the original leisure centre with new facilities including a 55-station Tone Zone on the first floor overlooking the promenade (this is currently a reduced capacity, to allow for social distancing); a new extended café area; new changing rooms; two refurbished squash courts; and a dedicated Spin and Exercise Studio. The pool area and changing rooms have been extensively refurbished.
The Tone Zone gym has all new equipment installed and includes stair climbers and Ski Ergs, in addition to more traditional treadmills and rowing machines. There will be around 80 classes a week, ranging from traditional Yoga and Chair based classes to brand new classes to suit all ages and abilities.
The Cardiovascular equipment allows customers to follow programmes like Virtual Active, which includes virtual trips through the French countryside or the Rocky Mountains.
The Spin Studio boasts state of the art Stages bikes used by sporting elite organisations, LED multi-functional mood lighting for instructor led classes, and screens for LES MILLS SPRINT in addition to RPM virtual classes.
All gym sessions must be pre-booked. Booking is two days in advance for members and one day for non-members. There will also be no walk up and play opportunities, because of COVID-19 restrictions - all leisure activities such as swimming must be pre-booked. A one-way system will be in operation in the building.
Tours of the building are not possible at the moment, but a walkthrough video of the new facility can be seen at www.eastridingleisure.co.uk/hornsea
The redevelopment also sees the town's library, customer service centre and resource centre relocating to the new facility, as well as the Children's Centre.
The new integrated library and customer service centre will be open 27 hours a week allowing residents to undertake a wide variety of transactions at their own convenience while, at the same time, being able to use self-service provision and access information via public access terminals.
Following government guidelines, when able, the new centre will see residents being offered the opportunity to take part in groups and events, including: an adult reading group, reminiscence group, knit and natter sessions, Storytime (for babies and toddlers), teenage reading group and Chatterbooks (younger reading groups). Returning too will be the ever popular Summer Reading Challenge throughout the summer holidays and after school Code Clubs.
The opening hours of the new library and customer service centre will be as follows:
Monday 9.30am – 4.30pm
Tuesday 12.30pm – 6.30pm
Wednesday Closed
Thursday 9.30am – 1.30pm
Friday 9.30am – 4.30pm
Saturday 9.30am – 12.30pm
The library is free to join for new members: full details are at www.eastridinglibraries.co.uk/memberships/
Library members also have access to a huge selection eBooks, eAudiobooks, popular eMagazines and even hundreds of local, national and international eNewspapers, all free with their library card too. Find out more at www.eastridinglibraries.co.uk/libraries-online/
All Hornsea Hub customers who wish to park will be asked to input their registration numbers into an iPad at the service that they are entering, and this will allow free parking for a specified time.
With its stunning two-storey extension and high-quality landscaping, the new centre for leisure and learning provides a major new focal point for the central promenade. Part-funded from the £3.77m Coastal Communities Fund awarded to Hornsea, the project is part of a wider regeneration programme for the sea front. With a dedicated education room, and toilets and stunning sea views from the outdoor seating area, the development is designed to attract more visitors to Hornsea, as well as catering for residents.
Councillor Richard Burton, leader of the council, said: "The new Hornsea Hub represents the largest single investment this council has ever made in the town.
"The creation of similar multi-service centres has proved to be very successful in other parts of the East Riding, providing the public with improved services while reducing running costs for the council by having a number of services under one roof. It has also led to increased usage and substantially improved the offer to our residents.
"Clearly, the issues with COVID-19 have caused delays to this project, and we thank all our customers and residents for their patience and understanding. We will not be able to open all the promised facilities in the leisure centre immediately, again because of current restrictions, but I can assure all our customers that we will provide the best service we possibly can in what will be stunning new surroundings."
Full details of the facilities at the Hornsea Hub and how to join East Riding Leisure can be found at: www.eastridingleisure.co.uk/hornsea Or follow the facebook page : East Riding Leisure Hornsea
For the library and customer service centre, visit www.eastridinglibraries.co.uk