Skate into Christmas on the Yorkshire coast
Thu 25th November 2021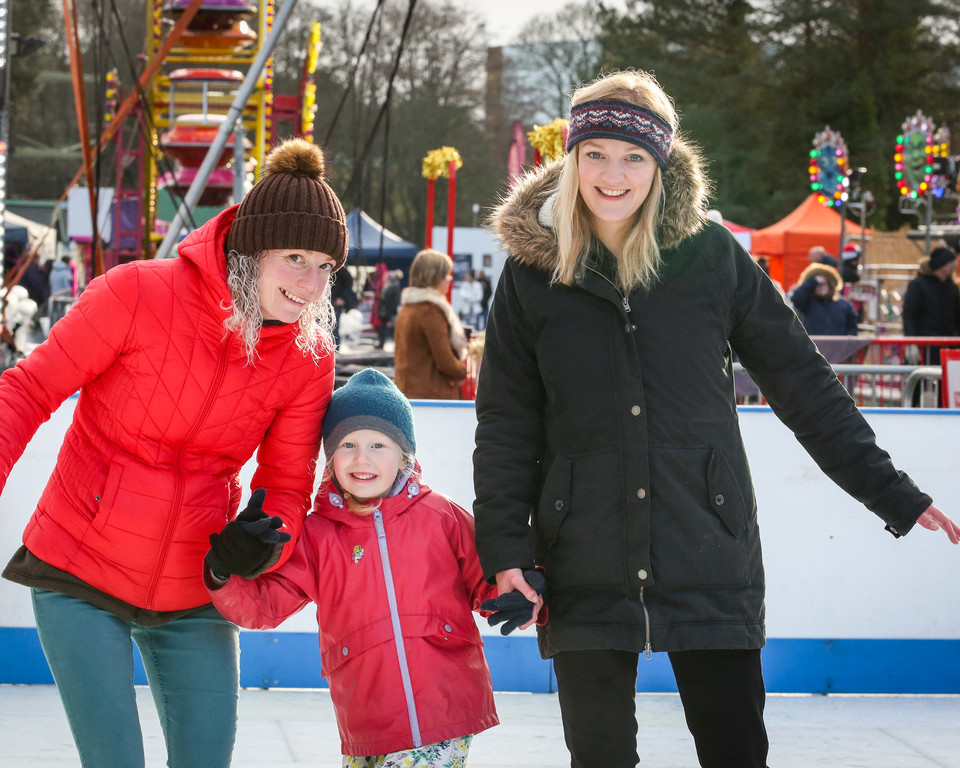 Festive seaside showstoppers on the Yorkshire coast include:
Two seaside ice rinks – new for 2021 in Scarborough and Whitby
The Krampus Run – a gothic street parade starring St Nicholas' ghoulish counterpart
A fishy Christmas tree alongside one of Britain's best beaches
A Victorian Christmas in a smugglers' den plus welly wanging!
Ice skating by the sea, a Victorian Christmas with beach games, a Christmas tree made from lobster pots, Santa's arrival by fishing boat and an alternative celebration of the Feast of St Nicholas in Britain's capital of goth – for a Christmas with a difference, head to the Yorkshire coast.
Enjoy new quirky experiences and make lasting Christmas memories with these top festive events, that do not just capture the 'spirit of Christmas', but also the spirit of the Yorkshire coast, a place that loves fun and families (listed in date order):
Ice skate at the seaside, 26 November 2021 to 2 January 2022, open daily
Swop buckets and spades for ice skates this Christmas because in a first for the Yorkshire coast both Scarborough and Whitby have an ice rink. All ages and abilities welcome, with dedicated facilities for visitors with mobility issues, including wheelchair users. Whitby Ice Rink opens on 26 November, Scarborough Ice Rink on Friday 3 December. Pre-booking is essential. Tickets start at £7.99.
Celebrate the gothic side of Christmas - Whitby Krampus Run, 3-5 December
A fun and wild costumed street parade in the town commemorating Krampus, Saint Nicholas' more sinister opposite number, and Whitby's 'otherworldly' heritage and folklore. As the world-famous birthplace of Dracula, it is perhaps not surprising that Whitby is the first place to bring Krampus to the UK. A popular Alpine winter tradition, Krampus festivities commemorate the eve of the Feast of St Nicholas (5 December), where the Saint visits homes to give gifts to good children, but Krampus teases and punishes naughty children. This year's event, Release The Beast, will feature special performances from Tengu Taiko Drummers and a fire performance. A new addition is the Thee Wyld Hunt on 5 December, when a group of ravens, black dogs, deer and horses will make their way to the Abbey Headland and finish the weekend with a Whitby Krampus Run horse race.
Victorian Christmas in a smugglers' den - Robin Hood's Bay Victorian Weekend, 3-5 December
The former smugglers' village turns the clock back with Victorian characters wandering the festively decorated quaint, cobbled streets, including ghosts and smugglers! Alongside the traditional favourites - carol singing in the dock, traditional beach games, welly wanging and the duck race - new events for 2021 include a lantern trail, a lantern workshop and Mr Shady's Silhouette Salon.
Santa Specials on one of the oldest seaside miniature railways in the country
Scarborough North Bay Railway's Santa Specials, 4-5, 11-12, 18-19, 22-23 December, various times
North Bay Railway is one of the oldest seaside miniature railways in the country and one of Scarborough's top seaside attractions, especially at Christmas when its famous Santa Express runs to Lapland Central for a visit to Santa in his grotto. The trip includes seasonal refreshments, the chance to have a ride on Santa's sleigh, write letters to Santa and meet his mischievous elves.
Step into a magical winter wonderland of cardboard creativity, Scarborough, 4 December until Christmas
Made entirely out of recycled and repurposed materials, Grue is a new interactive and immersive art adventure aimed at families. It shows what is possible with a bit of imagination and old cardboard - inspiring people to think differently about packaging and waste this Christmas - and takes its name from an historic word for snow or shiver.
A Christmas tree made from lobster and crab pots - Filey Fishtive Tree, Coble Landing, Filey
Switch on event Saturday 4 December, 6pm
Made from lobster and crab pots, and decked with fairy lights, this giant Christmas tree next to Filey's award-winning beach celebrates the town's fishing heritage.
Christmas Adventure Quest Whitby, 4-5, 11-12, 18-19, 26-31 December 2021 and 1-2 January 2022, 10am-5pm
Explore Whitby Abbey with this festive family-friendly adventure quest. Follow the trail, find the clues and discover the hall's amazing stories and secrets.
Santa's Grotto at Irton, Scarborough, 4-5, 11-12, 18-24 December, 10am-4pm
Be greeted by Santa's Elves, create magic food for the reindeer ready for their busy Christmas Eve, meet Santa and make a decoration to take home for your Christmas tree.
Scarborough's Boxing Day Raft Race, 26 December
See fancy-dressed teams battle to win in their hilarious home-made rafts, and the 'Mile of Pennies' from the RNLI Lifeboat House.
The Boxing Day Fisherman v Firemen Charity Fund football match in Scarborough – established 1893
The football match has been taking place on Boxing Day in Scarborough for nearly 130 years. This oldest serving custom is a major fundraiser for the Fisherman & Firemen's Charity Fund which provides much needed help during the winter months for older people and those with limited mobility.
The above events are just the highlights so for a full calendar of festive events and further details, visit Discover Yorkshire Coast.