REMEMBER YOU'RE A BEVERLEY WOMBLE!
Fri 4th September 2020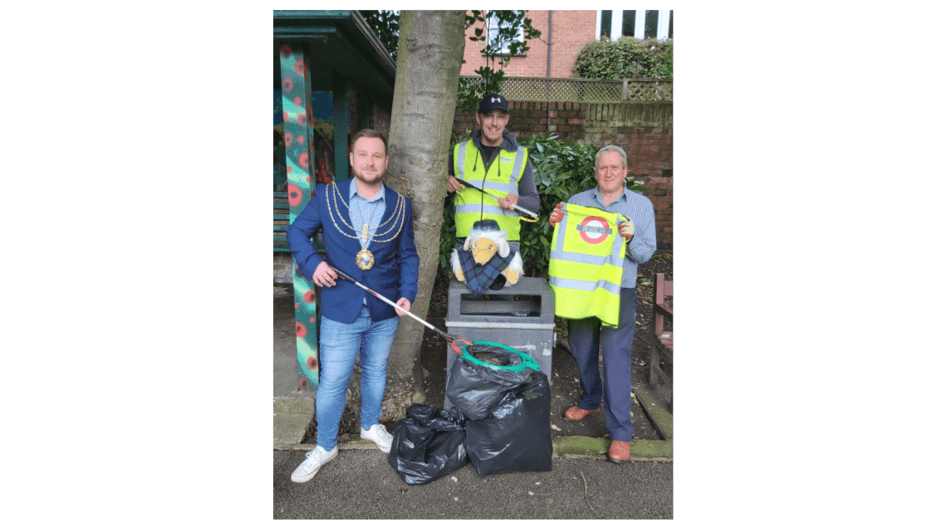 REMEMBER YOU'RE A BEVERLEY WOMBLE!
Beverley Town Council supports the Wombles of Beverley
Beverley Town Council is proud to support the fantastic work of a dedicated group of litter pickers called The Wombles of Beverley.
Founded by Ronald Keuning and Lance Spruce-Jarrett, this fantastic group of community-spirited residents are helping to keep the streets of Beverley clean, through an active online community that carries out litter picking events across the town.
Now, to help with their efforts, Beverley Town Council has purchased the group some specially branded high-visibility vests, using money successful acquired through East Riding of Yorkshire Council's Tidy Town Fund.
Mayor of Beverley, Councillor Tom Astell, said: "Last year the Town Council was successful in securing funding to purchase litter picking equipment and provide hanging baskets at the railway station. When we heard about the excellent work of The Wombles of Beverley and their need for high-viz vests to comply with health and safety requirements, it seemed a natural way to use this funding to not just help tidy up the town, but also support an amazing local group. The vests have their logo on the back, so anyone who sees them out and about will know who is helping to keep the town tidy. Beverley Town Council thanks everyone involved and hopes other members of the public will be encouraged to join in".
Paul Coe, a key coordinator for The Beverley Wombles, explained: "On behalf of The Wombles of Beverley, I would like to thank the Mayor and all his colleagues at Beverley Town Council for supporting our work and providing the high-visibility jackets. We love them! It was an idea proposed to us by Councillor Peter Astell and Councillor Linda Johnson. It was a lovely gesture and very much appreciated by all of our volunteers. I am fully aware that one of the Town Council's priorities is to make Beverley a cleaner place to live and supporting our endeavours will certainly help with this."
With over 500 members on the group's Facebook page, their litter picking sessions range from groups of up to twenty people gathering at a specific time and location, to individual members collecting litter in their own neighbourhoods as and when they can.
If anyone would like to find out more about The Wombles of Beverley, see when their litter picks are scheduled or would like to offer further support, they can be found on Facebook by searching for "The Wombles of Beverley".