'Pearls and Oysters' puts spotlight on family firms supporting charities
Tue 13th October 2020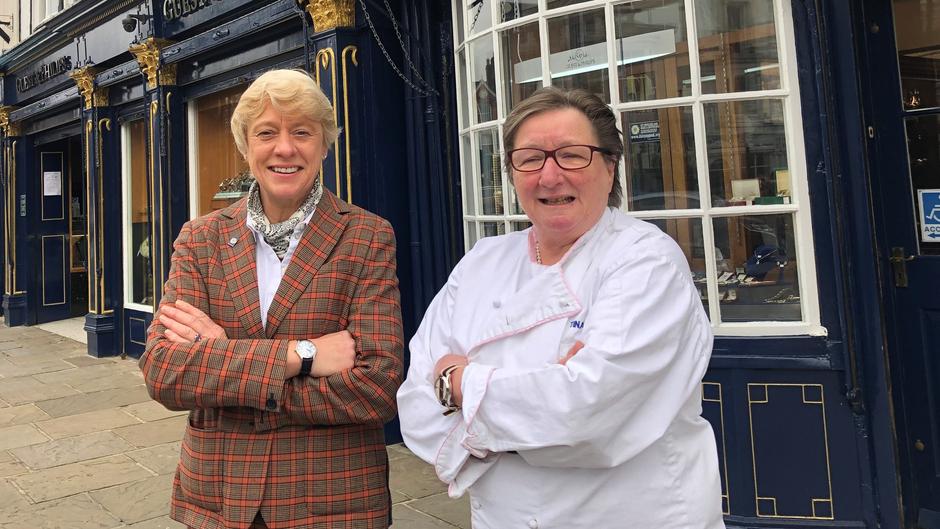 Two of East Yorkshire's favourite family businesses are sharing some insight into their specialities with a suite of short films to raise money for charity.
"Pearls and Oysters" goes behind the scenes at traditional jewellers Guest & Phillips in Saturday Market, Beverley, and gets under the skin of acclaimed seafood restaurant Cerutti 2 at the town's railway station.
Viewers of the package on Facebook are invited to click to donate to the Daisy Appeal, but they can nominate other charities if they prefer.
The films were created by Blue Aurora Media, also based in Beverley, to support the Daisy Appeal by showcasing the two businesses and some of the region's connections to the sea, including an internationally-renowned shellfish industry.
The first setting is the office of Karen Guest, co-owner with her brother Philip of a jewellery business which was founded in 1966.
Karen is filmed welcoming Tina Cerutti to her office and then unrolling one array of pearls after another, highlighting the differences in size and sheen as she explains how a pearl is formed, the differences between natural pearls and cultured pearls and the attributes which influence the price of pearls.
Tina, who runs Cerutti 2 with her brother Tony, then hosts Karen for lunch at the restaurant which they opened in the vacant station buildings in 1989, extending a family tradition which began when their parents, Joe and Pat, took over the George and Dragon in Aldbrough in 1958.
On arrival at Cerutti 2, Tina takes Karen through the procedures which have become essential since the reopening of the restaurant in July – temperature check, logging of contact details and applying hand sanitiser before they took their seats for lunch.
Tina then presents two spectacular boards of seafood, prawns from Scandinavia and poached farmed salmon with a special mention for the smoked salmon supplied by the Staal Smokehouse at Long Riston and starring roles for the lobster and crab landed on the coast of East Yorkshire.
Tina says: "We are one of the biggest producers of lobster on the east coast and pre-Covid most of it went to France and Spain. Crab has a better flavour than lobster, but I do love lobster."
Karen adds: "It's my idea of heaven – seafood, shellfish, it's absolutely perfect."
Claire Levy, Fundraiser for the Daisy Appeal, said: "We've been looking for innovative ways to raise money given the impact of lockdown on our events programme. The films are a fantastic example of how people and businesses can help and we're now working on ideas for more content.
"I'd urge everybody to take a look at Peals and Oysters and see for themselves how two of our homegrown businesses have stayed at the top of their sectors for more than 50 years. If viewers would also like to acknowledge the efforts of Karen and Tina by making a donation to the Daisy Appeal we'll be most grateful."
The Daisy Appeal has a target of £8.2-million to complete a radiochemistry and cyclotron unit which will produce radioactive tracers at Castle Hill Hospital and provide the opportunity for patients to receive more personalised care leading to earlier diagnosis and giving them better treatment and quality of life.
Once the facility is fully functional patients from a wider geographical area will have access to its services, improving accuracy and detection rates for cancer, heart disease and dementia in Hull, East Yorkshire and North Lincolnshire.
To view the Peals and Oysters films please visit http://bit.ly/pearlsandoysters
To find out more about the Daisy Appeal please visit https://www.daisyappeal.org/
Photo Credit - Jonathan Levy