Outstanding start to 2022 for Beverley High School
Fri 7th January 2022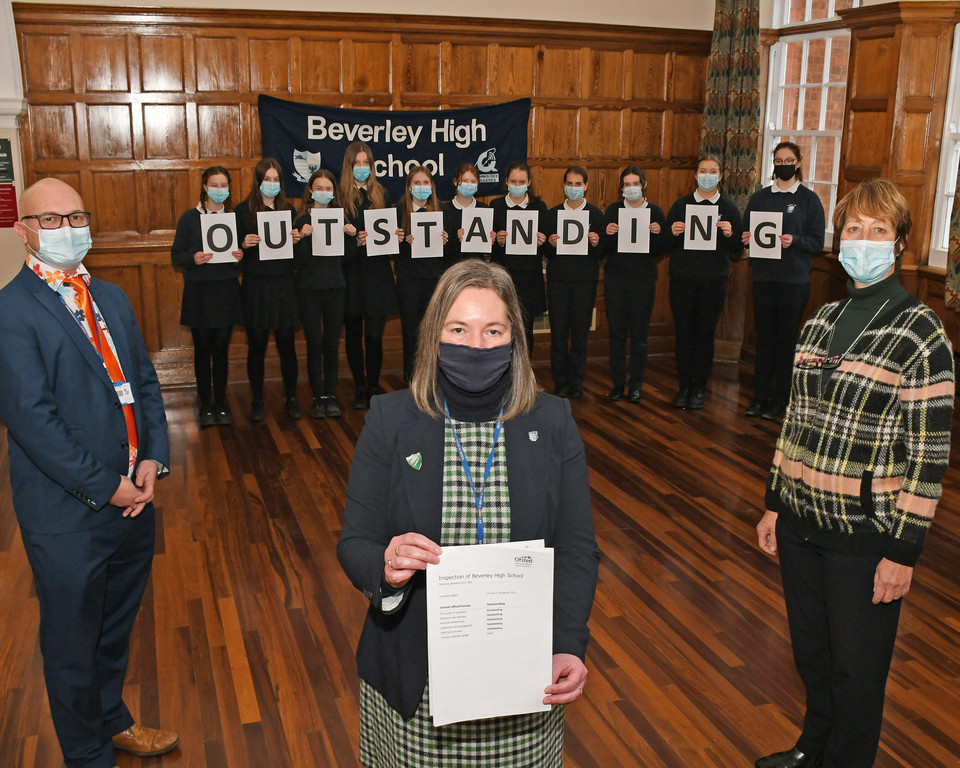 A Beverley secondary school whose pupils "leave school very well prepared for life in modern Britain" has been judged as outstanding following a recent Ofsted inspection.
Ofsted inspectors visited Beverley High School in November and judged them to be outstanding in all areas which includes the quality of education, behaviour and attitudes, personal development, leadership and management and sixth form provision.
As well as considering online survey results from parents and carers, inspectors also spoke to members of the school's governing body; the headteacher, senior leaders, staff and pupils and representatives from East Riding College and East Riding of Yorkshire Council.
In the report, inspectors said "leaders have very high expectations in all they do. They lead by example and always put the interests of the pupils first".
They added that the schools' desire for every pupil to be involved in an "ambitious curriculum in and out of the classroom" enabled them to reach their full potential.
The behaviour of pupils is "excellent" and they are respectful, polite and articulate which allows teachers to "teach and focus on learning" meaning that they "learn exceptionally well, achieve highly in examinations and leave school very well prepared for life in modern Britain".
Inspectors found the school constantly promotes a culture of high ambition and they were pleased to see actions from the previous inspection, which had judged the school to be 'good' had been acted upon, especially in relation to maths, which is now one of the strongest subjects in the school.
Teachers are able to monitor the progress made by pupils with special educational needs and/or disabilities thanks to detailed individual learning plans which allows staff to adapt their teaching to ensure they learning the most important curriculum content and achieve the highest standard they can.
The report said the school had put considerable thought into developing detailed and appropriate curriculum plans for all year groups saying the " academic sixth form offers an ambitious relevant and well-planned curriculum" and that sixth form students are strong role models for younger pupils.
Inspectors recognised the effective and strong safeguarding measures in place with staff working in partnership with other agencies to provide timely support to pupils and their families when needed.
Clear reporting procedures are in place and pupils report feeling safe and know who to speak to if they do require support.
Sharon Japp, headteacher at Beverley High School, said: "We are obviously delighted that Ofsted has seen what we see every day, fabulous young people working very effectively with our hugely dedicated and highly skilled and knowledgeable staff team"
"We are proud that the regulator has recognised the very many achievements of our staff and pupils and particularly their acknowledgement that Beverley High School always puts the interests of pupils first, inspires a love of learning, has a culture of high ambition and enables pupils to reach their full potential."
Councillor Victoria Aitken, portfolio holder for children and young people's education, health and wellbeing at East Riding of Yorkshire Council, said: "I'd like to send my congratulations to the headteacher, senior leaders, staff and governor for all their hard work and dedication which has resulted the outstanding judgement by Ofsted.
"It is quite clear from the report that Beverley High School is an environment where staff put students first and help them reach their full potential which prepares them for a full and rounded life after education.
"These young people are the building blocks for the future of our East Riding and we can't ask for better than that."
Picture caption: Sharon Japp, headteacher of Beverley High School (centre), Councillor Victoria Aitken, portfolio holder for children and young people's education, health and wellbeing at East Riding of Yorkshire Council (right), Mark Colton, deputy headteacher at Beverley High School (left)