Online Easter Quiz and bingo from Active Together in the East Riding
Thu 1st April 2021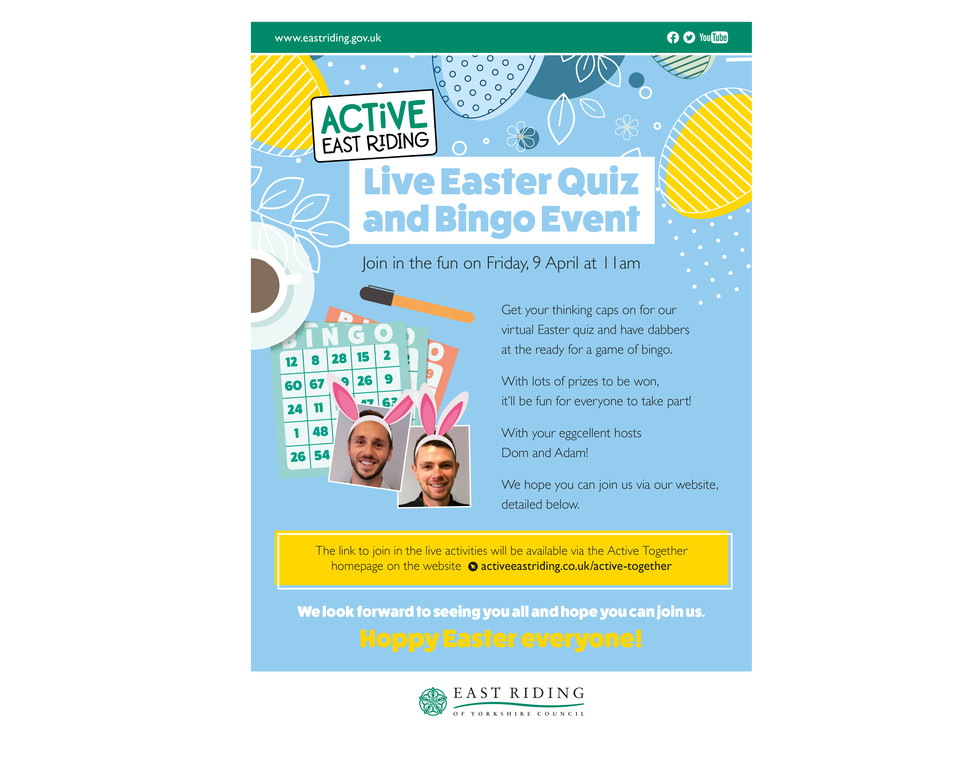 The council's recently launched Active Together initiative has organised a live virtual Easter Quiz and Bingo session on Friday, 9 April, at 11am.
The fun event will be hosted by Dom and Adam, two well-known faces from the council's Health and Wellbeing team, and will be an egg-citing chance to take part in an Easter-themed quiz, and bingo session.
The link to take part in the event will be available on the Active Together website : www.activeeastriding.co.uk/active-together
In addition, the Active Together website has been updated with a new range of exercise videos for viewers to try at home. The website features videos for both seated and standing exercise, and meditation, as well as playful activities including sock puppets and stone and plant pot painting, and games and activities like balloon tennis.
There are also Reminiscence films and highlights from East Riding Archives and singalong sessions with 'A Cuppa and a Chorus'.
Councillor Vanessa Walker, portfolio holder for adults and health, said : "Active Together is a very important initiative aimed at all older residents in the East Riding, whether in care homes or in their own homes. It's particularly aimed at those people who are customers of our Day Services, and those with limited mobility, but it's also ideal for older people at home as well, who are looking to keep active and engaged from their homes.
"It arose from our popular Active East Riding website last year and offers fun, laughter, reminiscing, and learning.
"We know that it's vital to socialise as much as possible and to join in entertainment to keep our spirits up in these continuing difficult times, and Active Together will offer support and keep on bringing interactive activities to help people keep active, both physically and mentally."