One of Yorkshire's biggest Christmas Tree Festivals lights up Beverley Minster from December 2nd
Thu 1st December 2022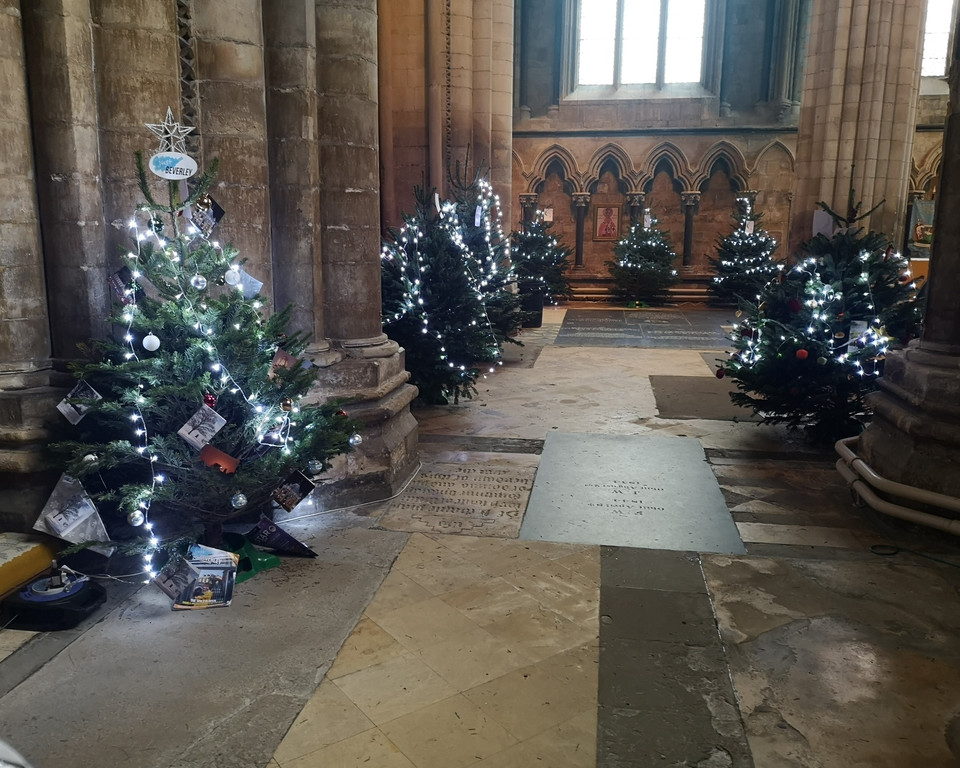 Excitement is growing as one of Yorkshire's biggest Christmas Tree Festivals gets set to light up on December 2nd. Almost 12,500 twinkling lights will fill Beverley Minster as 120 fir trees, all individually decorated by local people, charities and
businesses, are switched on for this magical, 10-day event.
The Festival marks the official start of Christmas in Beverley, with the Made in East Yorkshire Christmas market coming to the town in early December and finishing on Sunday 11th December, Beverley's Festival of Christmas.
Now in its 11th year, the Beverley Minster Christmas Tree Festival promises to be the biggest and the best so far, according to organiser Bob Farley. "Many local schools, care homes, individuals, businesses and charities regularly sponsor a tree.
But this year, more people than ever have asked to have a tree at the festival. We are now at capacity for 2022 with 120 trees expected to be on display throughout our beautiful Minster."
With school pupils and residents of care homes busily working on their own Christmas decorations and tree themes, alongside local businesses and charities, the Festival team is delighted to be bringing together different and diverse sections
of the local community. Bob says "We are expecting a hive of activity in the Minster the day before the festival launches, as everyone involved comes to the church to claim their tree and fill it full of their decorations - many are often bespoke and
hand-made".
Individuals and groups take part for lots of reasons. One local businessman gets involved with a local care home's tree in memory of his mum. Children at local schools get hands-on and make their decorations while charities and businesses
often want to promote their presence in the town. Chair of the East Riding branch of Macmillan Cancer Support Rachel Kirkwood says "Decorating a tree for Macmillan at the Christmas Tree Festival is very important to us. We want people to know we are there for them."
The 120 Christmas trees also provide a stunning backdrop for a range of special events that happen throughout the festival in the Minster. The annual Macmillan Carol Concert takes place on Tuesday 6th December, featuring performances from
harpist Isabelle Richardson, soprano soloist Eleanor Stevens and Tranby School Choir, while Beverley Minster Choir will offer visitors four opportunities to join them for Carols by Candlelight on Friday 2nd and Saturday 3rd December. And members
of the choir will also perform Benjamin Britten's Ceremony of Carols on Sunday 4th December.
The festival starts at 10am on Friday 2nd December and goes through until 4pm on Sunday 11th December.
Tickets for adults are £5. Accompanied children under 18 are free.