New videos with a Japanese theme launched by Beverley Art Gallery
Tue 15th December 2020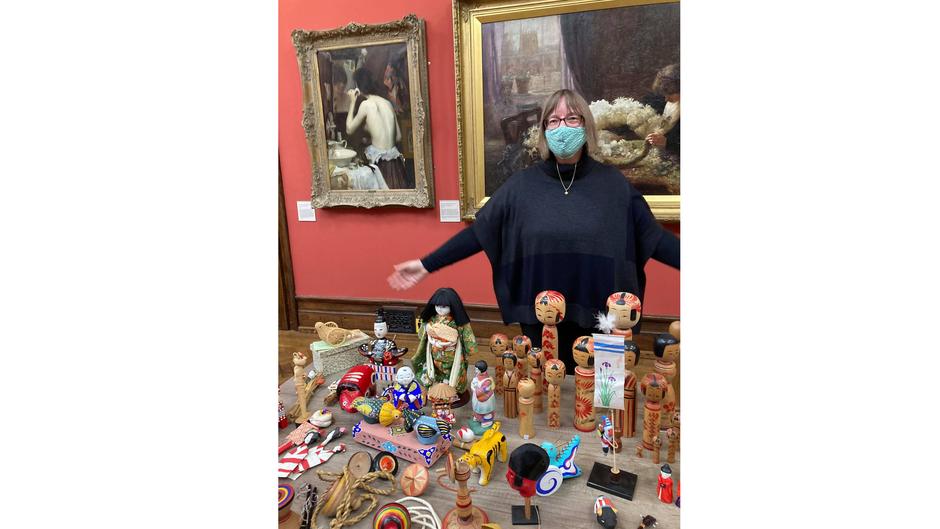 Beverley Art Gallery recently launched a series of videos called 'It's in the BAG – Behind the scenes at Beverley Art Gallery', presented by the gallery's curator Helena Cox and showing remarkable paintings from the gallery's repository.
For the festive season, the gallery is launching another batch of videos, this time presented by Jane Irisa, an East Riding based collector of traditional Japanese toys. Each video is only about a minute long, and Jane focuses on the fascinating and often amusing backstories of Japanese toys, good luck charms and craft items.
The toys will form part of a major exhibition coming to Beverley in the autumn of 2021. The exhibition, 'Reflections of Japan in East Riding', will feature items from private collections from Japan-lovers across the East Riding, alongside historic items from East Riding Museums' collection, as well as examples of Japan-inspired contemporary art. The exhibition is part of the Japan UK Season of Culture, and as such was endorsed by the Japanese Embassy.
Jane Irisa said: 'I started to collect Japanese folk toys, or kyodo gangu, over 40 years ago, while I was living in Japan.
'Kyodo gangu are made all over Japan. They can be genuine children's toys, holiday souvenirs, good luck charms or amulets, expressions of religious faith, ornaments or collector's pieces, but they are all made from inexpensive, natural materials and based on local traditions. Each one comes from a specific town or village, is made by an individual artisan or workshop, sold only at specific shops, temples or shrines, and sometimes only at specific festivals, such as New Year's markets. So collecting them is an adventure in itself.
'As well as the ones I've collected on my travels, I have also received many as gifts, and I still rescue the occasional toy from charity shops and antique centres in the UK. I now have more than 250 toys, the oldest one, nearly 100 years old, was found in Bridlington. The toys show us how to use inexpensive, natural, renewable materials to create beautiful everyday objects, and finally, their playfulness keeps our inner child's sense of wonder alive.'
Curator Helena Cox added: 'I am very excited to launch this new video series, especially as Jane's toys are vibrant, colourful and full of joy! Toys and Christmas go well together so I think this is a perfect time to share the beauty of these magical items with our audiences. Jane is a treasure trove of knowledge and has a genuine passion for her collection, so I am overjoyed that she is sharing this with us in her latest videos.'
The first video will be available on Youtube from 7pm on Tuesday, 15 December, as part of the 'It's in the BAG – Behind the scenes at Beverley Art Gallery' playlist : https://www.youtube.com/playlist?list=PLSHV85RmthKSitkAa2qkJe99q__BNdsrS
And on the @BeverleyArtGallery Facebook page.
Main Photo : Jane Irisa with some of her collection of Japanese toys