NEW PATHS CELEBRATES NATURE IN MUSIC
Mon 17th April 2023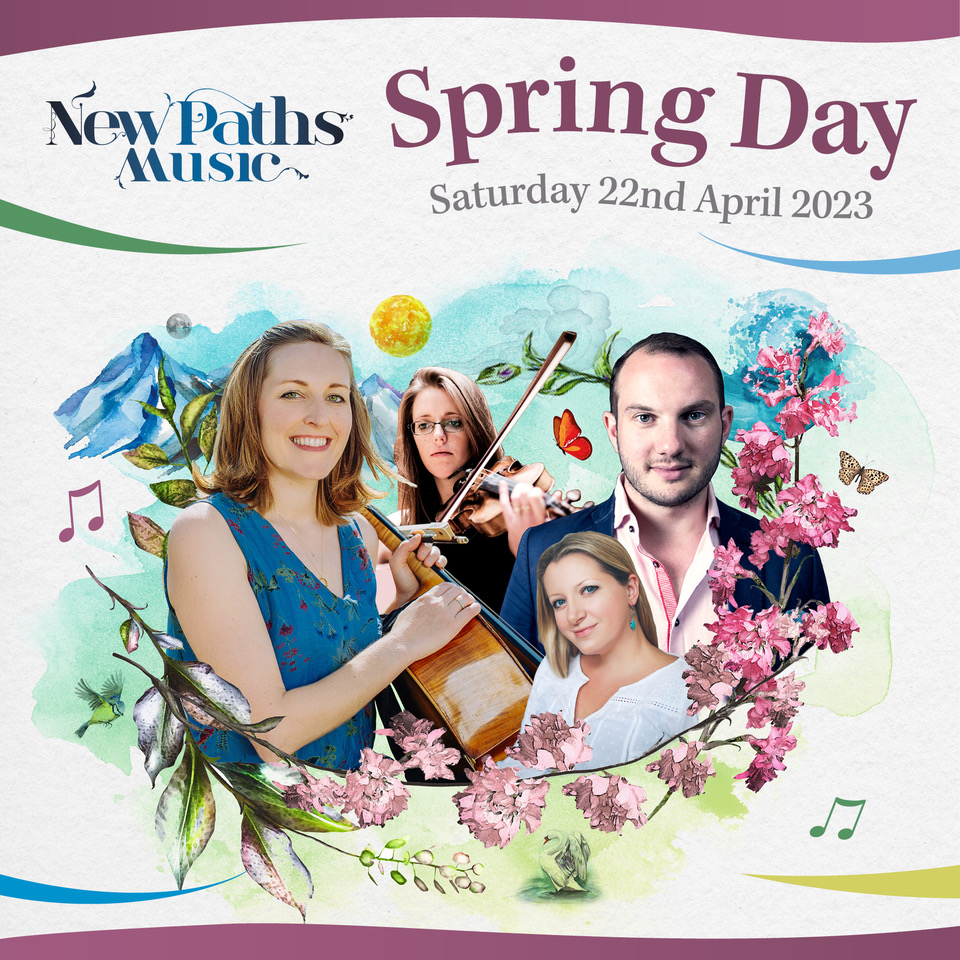 In celebration of Earth Day, New Paths Music is presenting a day of nature-filled concerts in Beverley on Saturday 22nd April.
Spring Day will see popular artists from New Paths festivals returning to the East Riding of Yorkshire for a string of performances that celebrate seas, creatures, trees, skies, gardens, weathers and landscapes. From Vivaldi's Four Seasons, perhaps the most famous piece in existence, to a new song cycle only performed five times before, the music spans the centuries and will fill the beautiful churches of St Mary's and Toll Gavel.
Cellist Cara Berridge joins Artistic Director Libby Burgess for a morning concert that features sonatas by Debussy and Chopin – inspired by the moon and by winter journeys – alongside pieces by Fauré and Saint-Saëns that range from the delicate butterfly to the ever-popular swan. Vivaldi's Four Seasons will close the day, painting the different times of year in vivid, virtuosic music, starring violinist Alexandra Caldon alongside a chamber orchestra of hand-picked players.
'This is the perfect starting point for anyone who doesn't know classical music,' says Artistic Director Libby Burgess. 'This music is famous for a reason: it's thrilling, it's stunning, it's about things that are familiar to all of us – the seasons of the year and how they make us feel. We've always been passionate about saying music is for everyone, not just for people who already know it: you don't need to know anything, just come and let the experience wash over you, escape from the world for an hour. Ali is such a loved part of New Paths and the most wonderful, engaging musician. In the gorgeous surroundings of St Mary's this will be so special.'
The afternoon events are significant for anyone with an interest in gardening and plants, or an interest in poetry and new writing. Everything Grows Extravagantly was written two years ago in celebration of the Oxford Botanic Gardens: the new poems, by Kate Wakeling, are inspired by the variety of plant life there, from ancient yew trees to thoughtful ferns and serene lilies. Celebrated composer Cheryl Frances-Hoad has been praised for her lyrical and characterful music, and baritone Marcus Farnsworth and pianist Libby Burgess premiered the cycle to great acclaim in 2021: it was awarded five stars by The Times and selected by that paper as one of their highlights of the year, saying, 'Rarely have I heard a new vocal excursion into nature's realm that satisfies on so many levels — musical, verbal, emotional and philosophical — as Everything Grows Extravagantly.' The duo give the first outing of the piece in the North East, pairing it with songs by Schumann, Quilter, Liszt and Finzi. Poet Kate Wakeling gives a free talk earlier in the day about her life and work – ranging from publishing popular collections of poetry for children to appearing on stage at The Globe – and about the process of creating these texts.
New Paths was founded in 2016 and has since put on ten festivals, quickly building up a loyal following in the town, and bringing visitors from across the country to the region.
'Music is in the very lifeblood of the place,' comments Artistic Director Libby Burgess. 'In the Middle Ages, Beverley was the headquarters for the Northern Guild of Minstrels. The two great church buildings have one of the largest collections in the world of stone carvings of musicians. The town is known for its variety of festivals, and the pubs and theatre today have thriving musical scenes. It's been a complete joy to add our music-making to that melting pot, and we're so proud that musicians and music-lovers across the country associate the name of Beverley with brilliant, welcoming, creative musical experiences.'
Founder Roland Deller was recently awarded the town's highest honour, the status of Honorary Freeman, in recognition of the work he has done to promote the town of Beverley. New Paths is currently releasing its second season of Postcard videos – musical films inspired by the town itself – which are viewed across the globe. 'We dreamt the idea up during lockdown,' explains Roland, 'as a way of connecting with our audience during that strange time. Each video tells a particular part of the town's story or celebrates a feature of the buildings that we love. Our artists and audience adore the place, and the fantastic audio-visual team have really captured it beautifully. Music never exists in a vacuum, it grows out of the place and the people that nurture it, and so the town of Beverley is a constant source of inspiration to us.'
New Paths Spring Day takes place on Saturday 22nd April. Details are available on www.newpathsmusic.com and tickets are available online or from Beverley Tourist Information Centre (01482 391672).