NEW 600 MILE CHALLENGE FOR BETTER MENTAL HEALTH
Wed 19th August 2020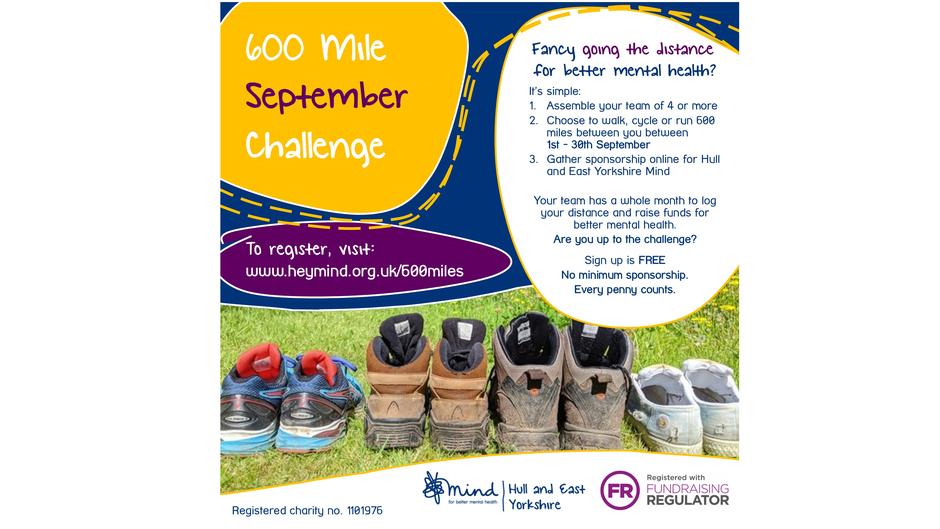 Local charities across the region join forces to promote positive mental health.
In a bid to boost mental health awareness and raise much-needed funds, local mental health charity Hull and East Yorkshire Mind is joining up with other local Mind charities in the region to launch a fundraising challenge event called '600 Mile September'.
The new initiative sees the six charities of York Mind, Leeds Mind, Bradford Mind, Middlesbrough and Stockton Mind, North East Lincolnshire Mind and Hull and East Yorkshire Mind joining forces to host the challenge in their local areas, for their local supporters.
Explaining more, Marie-Louise Robinson, Community Fundraiser at Hull and East Yorkshire Mind said: "We are inviting groups of four or more people in our area to get together and take part in this fundraising challenge to complete a collective distance of 600 miles over the month of September.
"The 600 miles can be done together in person (whilst observing social distancing protocols) or virtually, and can involve any activity e.g. swimming, cycling, running, walking, canoeing, to suit the group's preferences.
"Teams can be made up of friends, family, work colleagues, sports teams, or any group really, and the distance can divided equally between each team member, or allocated according to each team member's strengths and abilities.
"It is hoped that the 600 Mile September challenge will bring people together in their teams, give them a physical activity to focus on, and boost their mental health and wellbeing. This is especially important at the moment as the pandemic continues and more people are expressing increased levels of stress and anxiety.
"All donations raised whilst the teams complete their challenge will enable Hull and East Yorkshire Mind to help more local people experiencing mental health difficulties to get the information and support they need, to get well and change their lives.
"Sign up to the 600 Mile September challenge is free and there's no minimum sponsorship, just whatever you can raise for Hull and East Yorkshire Mind".
To find out more, or to take part in the 600 Mile September Challenge, email: fundraising@heymind.org.uk or call 01482 240200 or visit www.heymind.org.uk/600miles