Molescroft Parish Council celebrated Molescroft Beverley Petanque Club Open Day
Wed 18th May 2022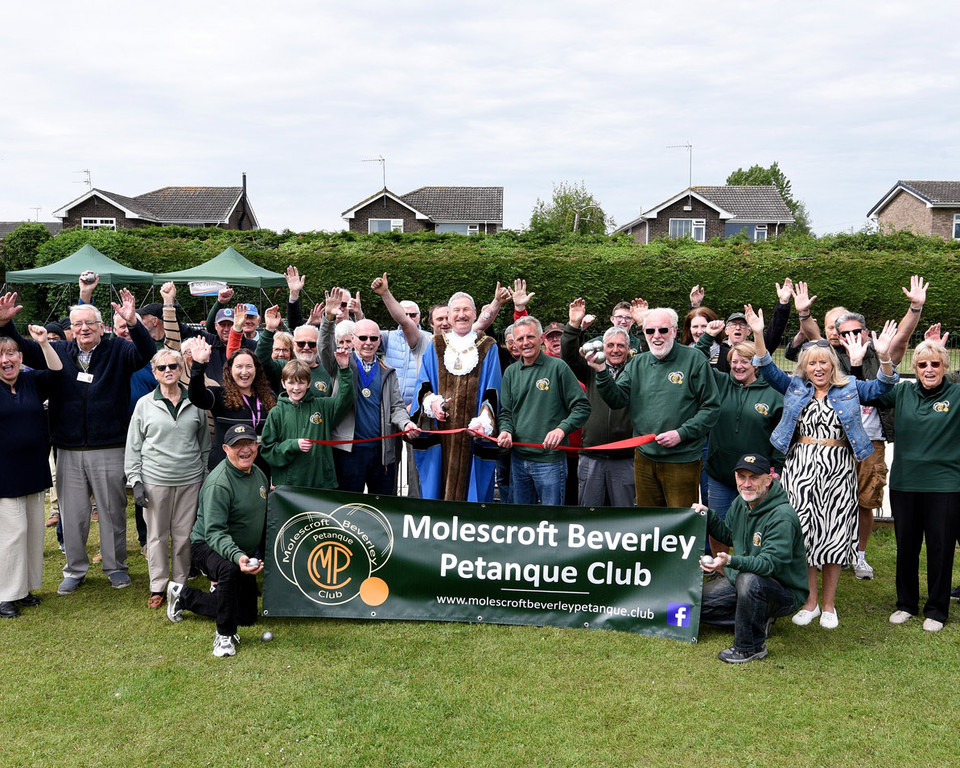 An event was held at Molescroft Beverley Petanque Club in Beverley on Sunday, 15 May, encouraging local residents to go along and try out the sport.
Earlier this year, Molescroft Parish Council were awarded £20,600 funding from East Riding of Yorkshire Council as part of Commuted Sums from local housing developments.
The funding went towards extending the Petanque Piste at Molescroft Pavilion and was supported by money from Molescroft Parish Council and the Do It For East Yorkshire Fund.
The funding enabled the parish council to extend the current petanque pistes and build a new piste next to the existing site to increase the capacity at Molescroft Petanque Club.
On Sunday, 15 May, Molescroft Beverley Petanque Club threw open its doors to anybody who wanted to come along to give petanque a try. The event was open to people of all ages and abilities and attracted around 400 people.
Laura Hutchinson, healthy lifestyles development officer at East Riding of Yorkshire Council, said: "The event was a success, with many local clubs attending too to make it a special day for the many who came to see the event and play some petanque.
"We had the Silver Swans Ballet Club doing their first public show, where many came to enjoy a cup of tea whilst watching a wonderful ballet performance. Inspire School of Dance did a marvellous performance showcasing some of the routines they have been working on – even inviting the audience to learn some of the moves! U3A Guitar Club performed some classic acoustic tunes and the Molescroft Art Club treated us to their fantastic work too.
"Beverley Garland Dancers performed garland and stick dances from Lancashire and Cheshire, along with clog dances from Lancashire and Cumberland, with the occasional hankie and bobbin dance thrown in!
"And Olly from OWJ Fitness put his group through some kettle bell training and the children enjoyed some activities which were run by the council's health and wellbeing team."
Thierry Condette, Chair of Molescroft Beverley Petanque Club added: "We are wanting to share our passion for petanque and we are wanting to develop a youth development programme at the Club. This includes a junior club for 8-16-year-olds which will be launching Wednesday, 18 May, 4.30-5.30pm and Saturday, 21 May, 9.30-10.30am at the pavilion.
"We will also be looking forward to hosting matches against other teams from across the region."
Molescroft Beverley Petanque Club is located at the Molescroft Playing Field. They usually play on Tuesday, Thursday and Saturday afternoons from 1.30pm.
To find out more about petanque, visit www.molescroft-pc.gov.uk