Merry Christmas and a Happy New Year from Beverley AC
Mon 20th December 2021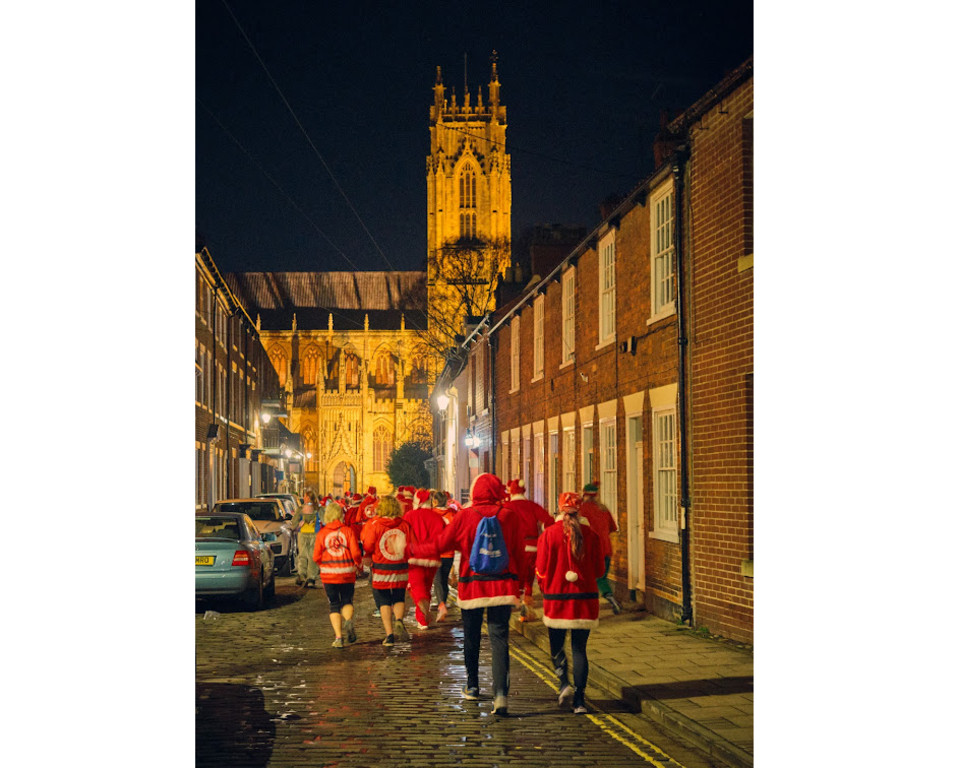 Beverley AC celebrated the festive season last week on Wednesday 15th December with over 100 members joining in the Santa Run around the streets of Beverley.
Suitably dressed in red and white instead of the usual blue and yellow, the runners and their mobile music machine looped around Beverley stopping for much welcome refreshments at the Beaver on North Bar Within, before heading off to the Minster for a photo shoot and finishing at Beverley Cricket Club, the Club's new base, for final refreshments.
The Santa's would like to say a big Merry Christmas and thank you to the many people who cheered and waved as they passed and generously donated to the Club's nominated charity, Dove House Hospice.
As more events took place in the latter half of the year, the run was also an opportunity to reminisce on those events and to look forward to 2022. The Club has seen several members take part in the Cross Country League, a series of local races organised by different clubs, with Beverley currently holding the position of 1st Men's team and 2nd Women's, following the last race of the year which took place at Wetwang on Sunday 12th December. The League continues in the New Year with further races taking place at Sledmere on Sunday 16th January and at Langdale on Sunday 13th February. The 6th and final race takes place on Sunday 13th March at Sewerby.
The Juniors have continued with their really strong performances over the season and raced the final West Yorkshire Cross Country race at Rothwell on Sunday 12th December. The Juniors saw several top 10 placed finishers. Particular mention goes to George, Rob and Seb who took 1st place in the U17B team category and Lois, Poppy, Millie, Roxie and Lorna who came 5th in the U13G team category. Indie took 2nd place overall in the league for her age group, showing strong and consistent running over the 4 races.
Lewis Holloway, the Juniors Lead Coach said: "Well done to all our runners. All the Juniors gave really strong performances and we're now looking forward to the Humberside Championships taking place at Costello in January."
Lewis continues to inspire the Juniors and took part in the League himself and finished the series 1st in his age category!