Local insurer's support for Real Aid and Abbie's Fund helps build community resilience
Wed 19th October 2022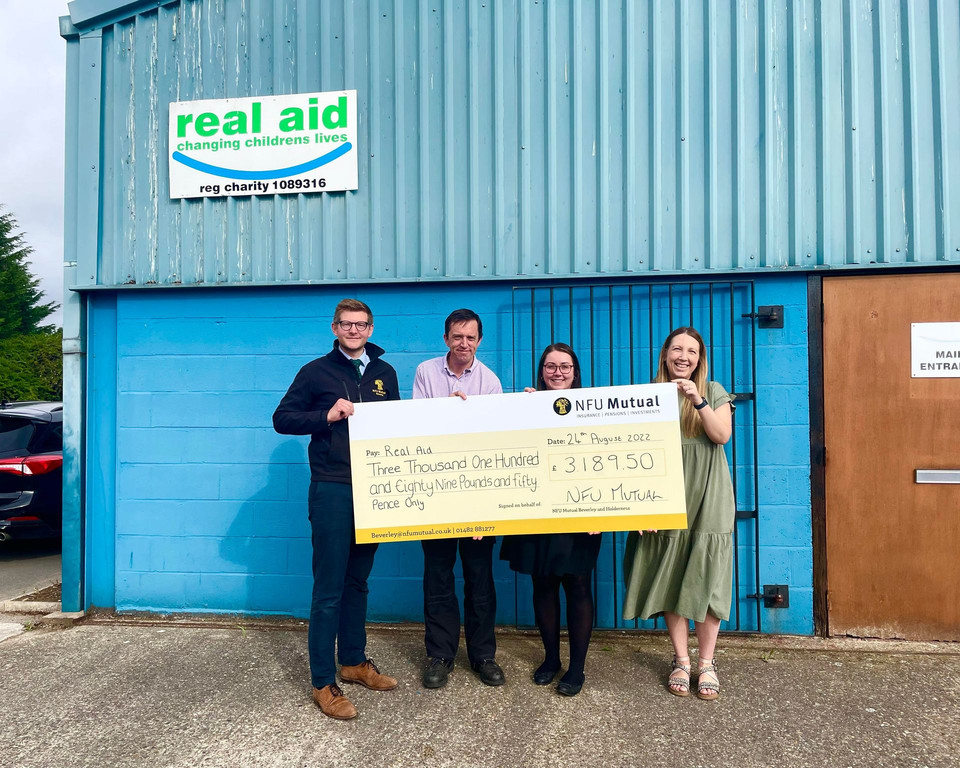 NFU Mutual Agents and their staff at the local Beverley and Holderness agency recently nominated local charity Real Aid, and Abbie's Fund to each receive a donation of £3189.50 from NFU Mutual's national £1.92million 'Agency Giving Fund'.
The leading rural insurer has launched this fund, now in its third year, to help local frontline charities across the country. The Agency Giving Fund forms part of NFU Mutual's £3.25m funding pledge for both local and national charities in 2022, to help tackle the ongoing effects of the pandemic and assist with recovery.
To ensure these donations reach all corners of the UK and are directed where they're needed most, NFU Mutual's Agents, with over 295 offices nationwide, have been given the opportunity to nominate local charities to receive a share of the fund.
Real Aid has been running its food bank for 12 years and assisting families with emergency furniture aid since 2007. Since they have started these projects, they have seen demand grow across our region and they expect this trend to increase rapidly in the coming months. By supplying food aid, furniture and clothing assistance they aim to improve the quality of
families and children's lives, providing a stable platform to pursue education and employment.
Abbie's Fund provides help and support for families in the local community who suffer the loss of a child, or other family bereavements. Since the charity started 11 years ago, in memory of their daughter Abbie, its founder Katy Cowell has developed the charity expanding their services from providing memory boxes for parents who lose a baby, to also
supporting siblings, and children who lose a parent, as well as families who suffer an early miscarriage. The charity also provided funding for specialist bereavement midwives and other bereavement related support.
Appointed Representative for NFU Mutual in Beverley and Holderness, Robert Beaty, said: "NFU Mutual has been a champion of rural communities the length and breadth of the UK for over 110 years, and the Agency Giving Fund champions local causes that are working day and night to change people's lives and give hope for a better future. We're extremely proud to have nominated Real Aid and Abbie's Fund for this donation and are delighted to be able to support the vital contribution they both make to our community."
Lindsay Killick from Real Aid commented on how the donation will make a difference: "We're enormously thankful to the Beverley and Holderness agency of NFU Mutual for nominating our charity to receive a donation from the NFU Mutual Agency Giving Fund. The money has gone a long way to helping us securing aid provision for local families this winter
who will be making decisions between heating and eating. This money will be used to supply food, warm clothes and bedding to those who need it this winter."
He added: "The donation from the NFU Mutual is vitally important to Real Aid as fundraising has been hampered by Covid and the cost of living crisis. As the country experience increases in gas, electricity and food bills, the vulnerable and marginalised families they work with are increasing in number, with ever more demand for their help."
Katy Cowell, founder of Abbie's fund explained how NFU Mutual's support will help the local community: "The money has gone a long way to helping us to provide memory boxes and other bereavement support for local families."
"During the past two years of the pandemic, and lockdown, it has been more difficult for us to raise funds as many of the events we and our supporters undertake have been cancelled or postponed, which has affected our income considerably. Although we have still been able to provide our services, receiving a donation from NFU Mutual makes a huge difference to us as the demands on the services we provide to bereaved families has not changed during this time but in fact increased due to Covid related deaths. We're very grateful for this support."
For more information about your local NFU Mutual Agent in Beverley and Holderness visit
www.nfumutual.co.uk/agent-offices/beverley
Photographs :-
Real Aid: Robert Beaty, the Senior Agent at NFU Mutual Beverley and Holderness, Lindsay Killick from Real Aid, Chloe McKinley, Prospecting and Marketing Coordinator from NFU Mutual Beverley and Holderness and Hayley Broughton, Agent and Group Secretary from NFU Mutual Beverley and Holderness
Abbie's Fund: Robert Beaty, the Senior Agent at NFU Mutual Beverley and Holderness, Katy Cowell from Abbie's Fund, Chloe McKinley, Prospecting and Marketing Coordinator from NFU Mutual Beverley and Holderness
About NFU Mutual: NFU Mutual offers a wide range of products, including general insurance, life, pensions, and investments. These products and services are delivered through our network of NFU Mutual Agent offices, as well as through our direct sales and service centres. With 295 local businesses located in rural towns and villages throughout the UK, NFU Mutual has become part of the fabric of rural life and remains committed to serving the needs of our members nationwide.
NFU Mutual is proud to deliver more than simply insurance. Making farming safer, supporting rural initiatives across the UK and helping to look after the environment are just some of the ways we do that. To find out more about everything we do to support our communities, visit https://www.nfumutual.co.uk/about-us/responsible-business
NFU Mutual's £1.92milion 'Agency Giving Fund' referred to in this press release forms part of NFU Mutual's £3.25m funding pledge for both local and national charities in 2022, to help tackle the ongoing effects of the pandemic and assist with recovery. To find out more, visit: https://www.nfumutual.co.uk/about-us/the-nfu-mutual-agency-giving-fund/
About Real Aid: https://www.facebook.com/realaidchangingchildrenslives/
About Abbie's Fund: https://www.abbiesfund.co.uk/