Local Charity Boost
Sun 27th December 2020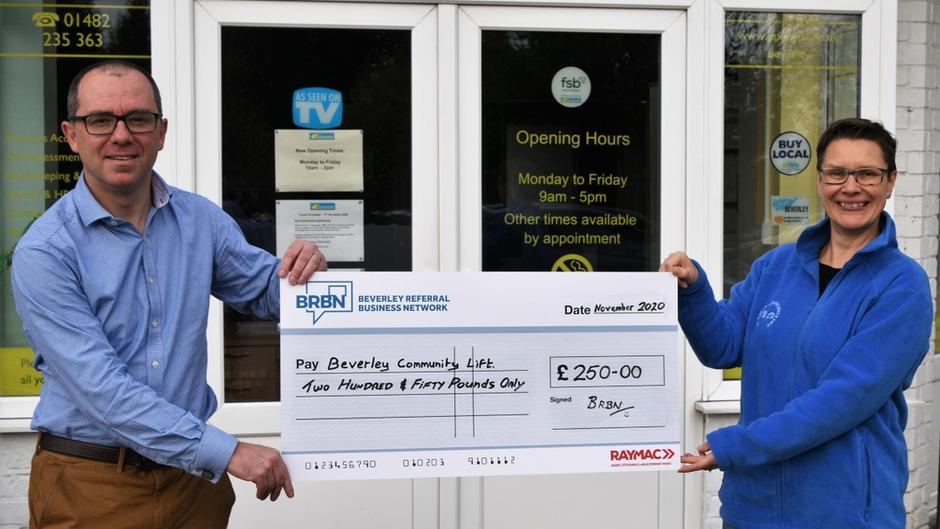 Despite the current economic climate, there are still many sparks of light that lend hope and optimism to what has been a challenging year.
One of those sparks is the Beverley Referral Business Network (BRBN), a group of local business owners that meet weekly to connect, discuss and learn.
As a community-minded group, BRBN has, over the years, donated money to a variety of local charities that work to support residents in Beverley and the wider East Riding region. This year is no exception.
During the Autumn, BRBN treasurer Tony Hall, presented two cheques worth a total of £500 to Beverley Community Lift and the East Riding Food Bank.
As you might guess, both charities were thrilled at receiving the money.
Each cheque, worth £250, will help supply families with food over the festive season, or provide individuals with transport, and consequently, independence.
Pre-Covid, the BRBN group met at The Tiger Inn, Lairgate, Beverley. However, in line with many other business activities, meetings have now moved online.
Regardless of meeting place however, BRBN's ethos of a can-do attitude and community spirit, remains the same.
By maintaining a positive and upbeat outlook, and providing (and receiving!) advice and guidance, businesses within the group support and encourage each other
What's more, networking and connecting leads to more business. The beauty is, beyond business generation, BRBN's generosity of spirit really shows.
An additional £500 to local causes can't be a bad thing!
If you think your business could benefit from being part of something larger, or you want to take the next step to reach your business goals, visit www.beverleyreferralbusinessnetwork.co.uk and find out more.
The Network meet every Wednesday at 7.45am- 9am on Zoom.