Last Chance to see two exhibitions at Beverley Art Gallery
Thu 27th August 2020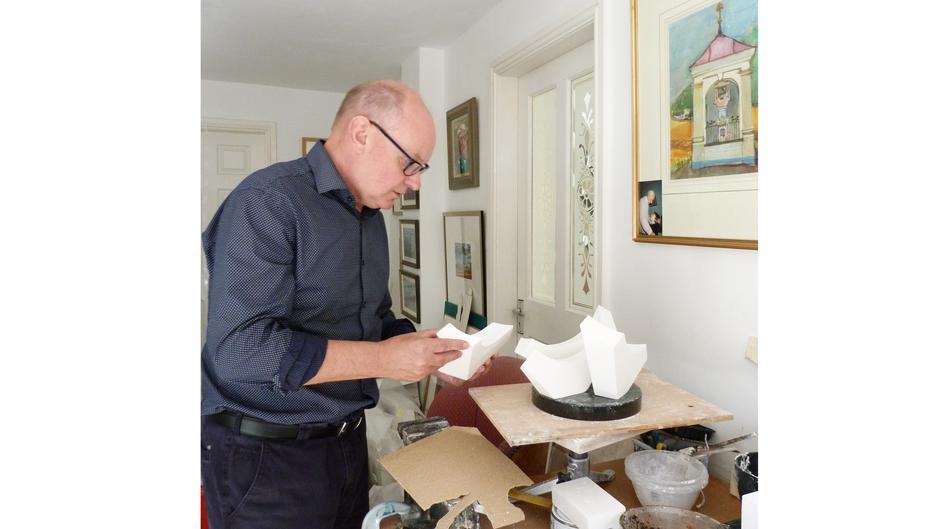 There is only a short time left to see the two exhibitions which are currently appearing at Beverley Art Gallery. Both exhibitions will close on Saturday, 5 September.
'Journey Into Abstraction' is a retrospective exhibition of the contemporary British artist John Sprakes, whose career spans over 60 years of painting and shows.
John studied at Edinburgh College of Art and later worked as a college lecturer for 36 years. In his early work, John focused on realistically depicting traditional formats, such as landscapes and portraits. Often using old toys, hats and costumes in his compositions, John's still-lives were characterised by a sense of mystery. His love of nature is visible in his many landscapes, especially those inspired by Yorkshire, Suffolk, Norfolk and Northumberland.
Over time, John arrived at fully embracing the abstract aesthetics. His paintings are full of vivid colours, and many use collage-like layers of papers, achieving an almost three dimensional effect.
Curator Helena Cox explains: "What I find especially fascinating about John's work is that he started off as a figurative painter. His canvases often showed still-life compositions with a sense of mystery, as well as landscapes from all over the UK. John's work was very well received and he exhibited numerous times across the whole country.
"However, as the years passed by, John developed a passion for abstract art, and gradually started loosening up his compositions, turning them into a visual feast of shapes and colours.
"I am delighted that the exhibition in Beverley shows paintings from each period in John's journey, uncovering the exciting transition from realism to abstract art."
John Sprakes added : "Abstraction has allowed me to pursue a personal vision that is full of movement, colour, texture and gesture."
'Reading the Landscape - Photographs and Words Inspired by Walking the Wolds' is an exhibition produced with photographer Peter Heaton, who lives near York, and who has been inspired by nature writers such as Robert Macfarlane and J.A. Baker.
Peter has been out walking in the Yorkshire Wolds taking black and white photographs to which he has then added words - many of them about the emotions attached to being in the landscape, as well as environmental concerns, such as the decline in butterflies and birds.
Treasure House curator Sally Hayes explains : "Through stunning black and white images, Peter shares this experience with the viewer along with his concerns for our environment and love of landscape."
Visit http://peterheaton.co.uk/ for more details about Peter's work, and see his work on the Love Exploring app (select Yorkshire Wolds Way).
The next exhibition at Beverley Art Gallery will be the 162nd International Photography Exhibition on loan from the Royal Photographic Society and will open on Saturday, 19 September. This will present the 100 best photographs from across the globe as selected by the Royal Photographic Society, one of the world's oldest photography associations.
Visitors to the Treasure House venue follow a prescribed route, which has been designed to ensure appropriate social distancing. The number of people in the building at any one time will be limited.
Leaflet display units, children's toys, interactives and seating have been removed, in order to maximise space for social distancing. The café and the toilets remain closed.
Visitors are asked to adhere to social distancing at all times and follow guidelines as displayed on posters, not to linger too long to look at any one object or painting, and not to stand too close to front of house staff.
Admission is free. Opening hours are as normal. Full details are at https://www.eastridingmuseums.co.uk/
Both these exhibitions - and many more – can also be seen online at https://www.eastridingmuseums.co.uk/museums-online/
Photo - John Sprakes in the studio