JOIN THE MAYOR OF BEVERLEYS CHARITY TREASURE HUNT
Fri 6th August 2021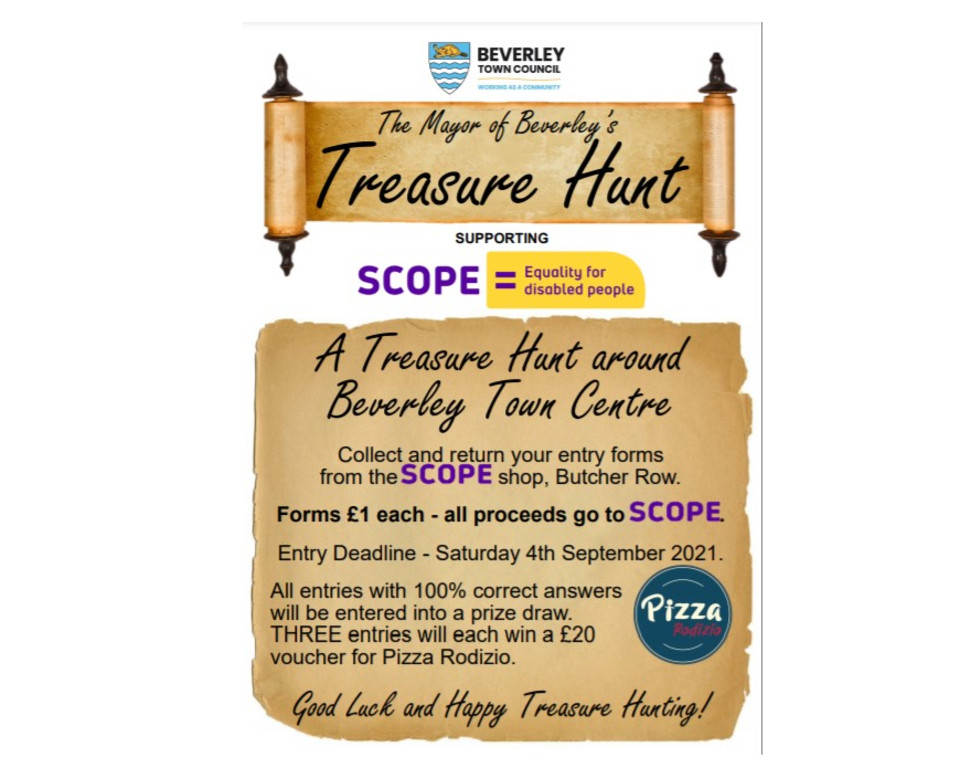 The Mayor of Beverley, Councillor Linda Johnson, is encouraging residents and visitors to take part in a new Treasure Hunt to raise money for charity.
Taking people on a trip around the town centre, the Treasure Hunt will raise funds for Scope, which supports equality for disabled people.
Councillor Johnson explained: "With the hope of good weather throughout the school summer holiday, a Treasure Hunt is a lovely way for a family to spend an afternoon together, following clues and learning a bit about Beverley's history as they go. The route passes many cafes and restaurants, so people can break up the hunt with a meal or a drink as they make their way around the town. Beverley is full of historic treasures, like St Mary's Church, the Minster and North Bar, but there are also lots of other unique highlights, such as strange wooden carvings and passages with quirky names. We have tried to factor some of these into the Treasure Hunt and we hope people will notice things that might have passed them by in the past."
Consisting of 40 questions, Treasure Hunt forms are available for just £1 from the Scope shop in Butcher Row, although larger donations are also welcome. All funds raised will go directly to the charity.
The route of the Treasure Hunt also starts and ends at the Scope shop, where all complete entries should be returned. If you get all 40 questions correct, your form will be entered into a prize draw, which will see three lucky entries each win a £20 voucher for Pizza Rodizio in Wednesday Market. The deadline for entries is Saturday 4th September 2021.
The Mayor added: "I would like to thank Pizza Rodizio for providing these prizes and it would be great to raise funds for Scope throughout the summer. The Treasure Hunt route is family friendly, wheelchair accessible and is designed to cross few roads to ensure it is a safe as possible. Good luck to everyone who takes part and happy hunting!"