Hull Trains named Top Employer at this year's Women in Rail Awards
Fri 19th May 2023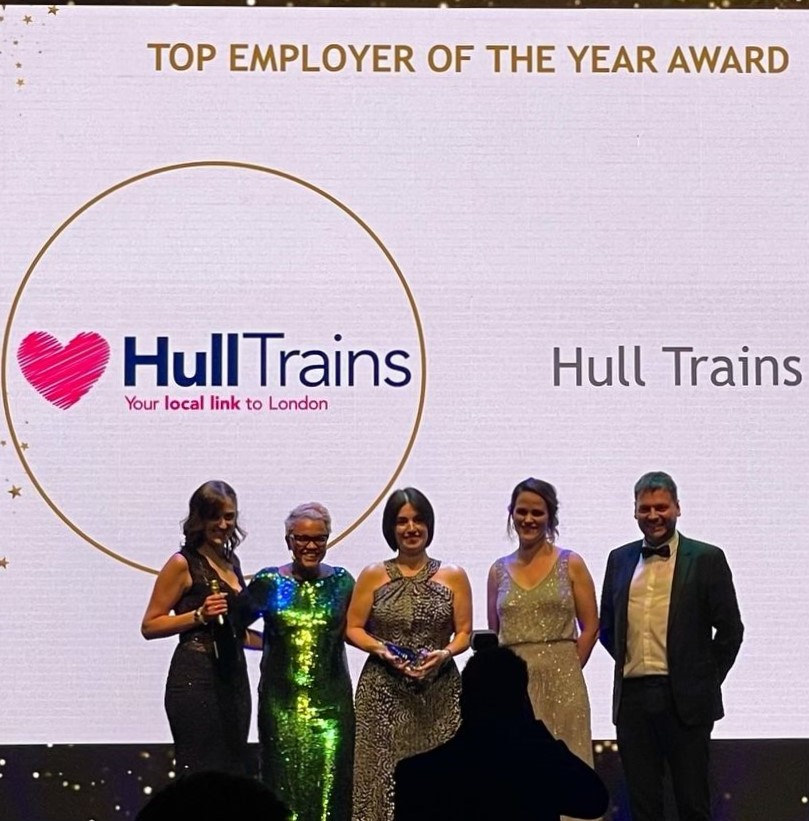 Hull Trains walked away with the biggest prize at last night's Women in Rail Awards having been named Top Employer of the Year.
The award was in recognition of the operator's inclusive culture that specifically focuses on female talent attraction and retention. Hull Trains was praised for the way it fosters a new generation of female leaders in rail, and for the commitment it demonstrates to equality, diversity and inclusion in the workplace.
After finding out they were shortlisted back in March, Hull Trains raised the trophy last night in London.
The company has gone from strength to strength this year following a challenging period during and immediately after the pandemic, bouncing back with award wins at both the Golden Spanner Awards, in recognition of their service reliability, and Hull BID Awards, for showing strength in leadership.
The Women in Rail Awards are seen as the benchmark for the railway industry and aims to showcase companies that are making significant contributions to improving gender balance, diversity, and inclusion within the UK railway industry.
Hull Trains is proud of its record of 32% of drivers being female - this is the highest percentage in the UK rail industry where the average currently sits at 6.5% according to 2021 statistics.
Alongside this, the company benefits from a 50/50 gender split across its executive board and 48% of its total workforce is female. Following their 2022/23 colleague survey, the company's team engagement levels also sit at an industry high, currently celebrating an 83% overall engagement score, 16 points above the industry average.
Martijn Gilbert, Managing Director at Hull Trains, explained: "We're extremely proud to be recognised as Top Employer at the Women in Rail awards. This recognition feels like a seal of approval for the work we're doing to create an inclusive and diverse work environment.
"Just to be shortlisted and recognised for our efforts was amazing, but to win is a really special accomplishment and our team is without a doubt at the heart of this success."
Shona Clive, Vice-Chair of Women in Rail and Project Lead for the Rail cluster project and the Forth and Tay Offshore project, Scottish Engineering said: "The calibre of this year's nominations was truly exceptional. We received over 430 entries from - and in respect of - a wide range of individuals, teams and companies in the railway sector, many of them from male allies nominating their female co-workers. The judges admitted having a very difficult task selecting who should be shortlisted and ultimately win. Congratulations to everyone who was nominated - and of course to our winners, Hull Trains – who continue to promote and improve EDI across the sector."