Graham Stuart MP meets with top brass at East Riding Council for update on mass testing
Wed 11th November 2020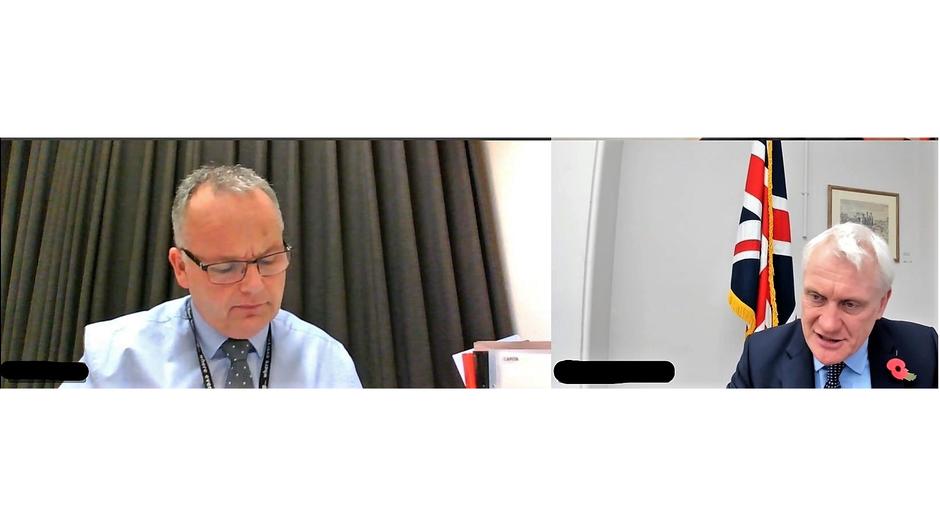 Graham Stuart, MP for Beverley and Holderness, has met with Cllr Richard Burton, the leader of East Riding Council, and its Chief Executive, Caroline Lacey, to hear updates on the council's response to the coronavirus pandemic and to get the chance to feed local concerns back into Government Ministers.
Both the East Riding and Hull are currently experiencing high Covid-19 case rates, with both areas combined seeing 3,434 people test positive for the virus in the seven days leading up to 10th November – some of the highest figures in the country.
The meeting came after the Government's announcement that the East Riding would be included in the pilot rollout of 500,000 rapid 'lateral flow' Covid-19 tests this week. Building on the trial of mass testing being carried out in Liverpool, these new tests can be turned around in an hour without the need for processing in a lab.
East Riding Council will receive an initial batch of 10,000 of these rapid tests and will subsequently be offered a weekly allocation, equivalent to 10% of the area's population, so that local test and trace teams will be able to proactively test priority groups – including asymptomatic people. This will help identify those who unknowingly have the virus to self-isolate along with their close contacts, which can help drive down the local 'R' rate – the average number of people a Covid-positive individual infects.
The council confirmed to Graham that they are currently working up how to target this testing so that it best supports the local community, the social care sector and critical industries.
Graham said, "I was very pleased to hear that those at the council are priming themselves to be ready for this new milestone in testing.
"In addition to meeting our target capacity of 500,000 tests a day, the new rapid tests will hopefully help to quash the case rate so that we can exit these tough restrictions that we've been forced to adopt because of how quickly the virus is spreading."
Graham also raised other local issues which have arisen from the fallout of the pandemic, including care home visits, the closure of adult day care centres, grants for local business and the much-publicised closure of holiday parks.
The MP added, "I was grateful for this meeting because as well as hearing about local concerns, which I can then feed into Ministers, I was able to ask for updates on just some of the many issues that come into my inbox from constituents.
"I'm reassured that the council is working very hard to address these issues wherever they can and have taken my concerns on board."
Photo (1) Graham meeting with Cllr Richard Burton, Leader of ERYC, via Microsoft Teams.
Photo (2) Graham with Caroline Lacey, Chief Exec of ERYC in 2018.