Graham Stuart MP Encourages Communities To Apply For Their Share Of £1 Million In Defibrillator Funding
Mon 16th October 2023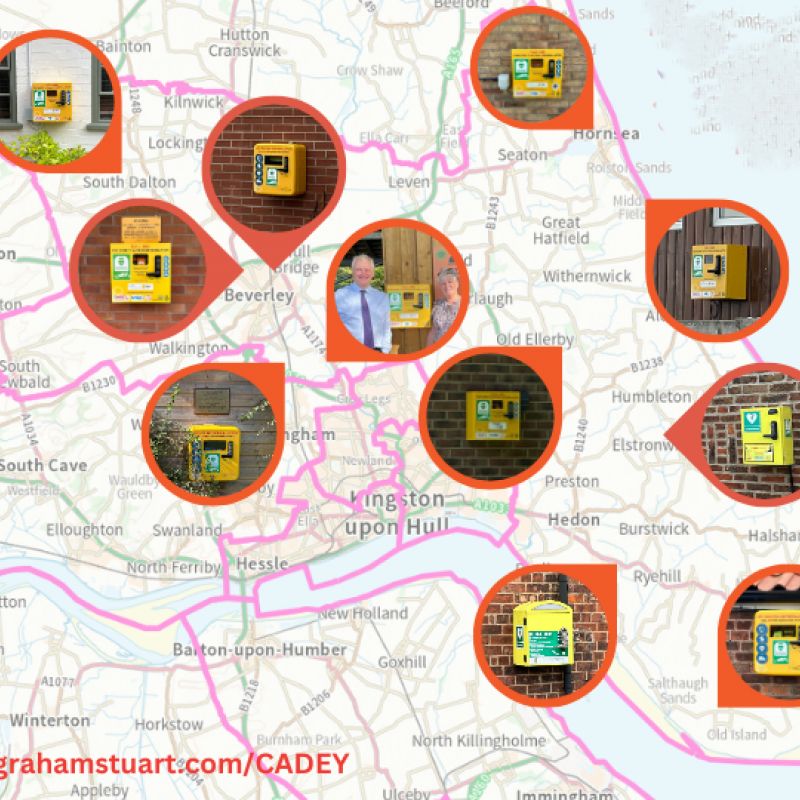 Graham Stuart, MP for Beverley and Holderness, is encouraging communities to apply for their share of £1 million in new Government funding to install defibrillators where they are most needed.
Community organisations are invited to apply for a grant to fund a life-saving defibrillator in their local area by entering their details here.
With £1 million available to install 1,000 new defibrillators across the UK, Graham hopes that communities will add to those installed by his CADEY campaign – Community Access Defibrillators for East Yorkshire.
Graham, working with Yorkshire Ambulance Service, has identified four communities which currently do not have a defibrillator, or have a community group which has expressed an interest: Meaux, East Newton, Waxholme and Weeton.
Members of these communities in particular are invited to apply to receive the funding. This funding is designed specifically for areas in most need, such as rural areas which may be some distance away from the closest defibrillator.
Research has shown that use of a defibrillator within three to five minutes of a cardiac arrest can increase the chance of survival by over 40%.
These defibrillators will be externally mounted for 24-hour access by members of the public, potentially saving the life of someone suffering a cardiac arrest.
Beverley and Holderness MP Graham Stuart said: "I've long championed communities getting access to funding, and my CADEY campaign has already installed many defibrillators around Beverley and Holderness.
"So I'm thrilled that the Government is getting on board, providing £1 million to install life-saving defibrillators across the country, and I would be delighted if some of those came to our communities.
"So if your community needs a defibrillator, I would urge you to apply today – and do contact me if you need any assistance."
Attached photo of Graham Stuart MP with Yorkshire Ambulance Service staff and staff
of Farmyard Friends Nursery in Mappleton;
A map of defibrillators installed with CADEY's help
Applications can be made at https://www.defibgrant.co.uk/#apply