Get your supernatural kicks on the Yorkshire Coast
Thu 7th October 2021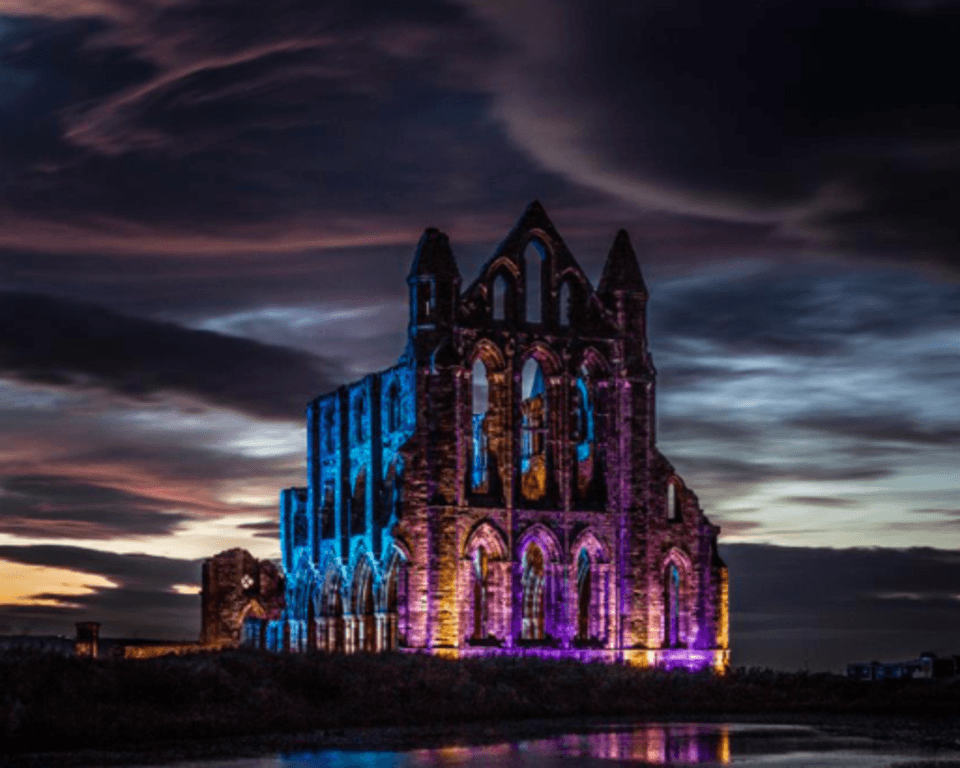 Don't mess about with Halloween this year, for the real deal on witches and wraiths, goblins and ghosts head to the Yorkshire Coast – the place where the strange and supernatural is celebrated all year round not just in October.
From the bizarre to the mystifying, there are a huge number of ways to connect to the coast's haunting otherworld starting with these spine-tingling highlights:
Whitby's Krampus Weekend each December, the first event of its kind in the UK, celebrating the darker side of Christmas with a phantasmagorical parade, live music, fantastical art shows and plenty of monster fun.
Whitby Abbey is a world-famous gothic icon, its haunting ruins inspiring Bram Stoker to write Dracula and also home to the original, fearsome, dragon-slaying Saint Hild – a woman who fought off terrifying beasts from the abbey grounds long before St George and who still walks among the abbey ruins as a ghost!
Spirit guides to the Otherworld: Make a date with experts like the Whitby Storyteller in Whitby and Robin Hood's Bay; go monster-hunting and star-searching with Hidden Horizons; and delve into the shadows during Dr Krank's Whitby Walks.
Secret smugglers' hideouts: The infamous smugglers of Robin Hood's Bay summoned spooks to guard their secrets and scare off the militia, and you can explore their haunts and hoards today iin the company of Smuggler George, the expert guide from Baytown Smugglers' Tours. You can even taste smugglers' beers and spirits, inspired by the town's smuggling stories and characters.
Toss a coin to the Witcher Whitby, Danby, Spaunton Moor and Rosedale are the haunts of famous local witches. You'll be enchanted by sirens in Staithes but spare a tear for the sad stories of wraiths Sarkless Kitty of Spaunton Moor, Gytha of Goathland, and Jenny Gallows of Flamborough. You may even come across a hobgoblin on your travels, often to be found watching over the ancient burial chambers (called barrows) that guard the North York Moors. Whether you have a supernatural encounter or not, these spectacular landscapes are dramatic and atmospheric places, a complete escape from the everyday - and from everyone. They're also all epic spaces for walking or cycling.
Artefacts that defy the imagination within 'cabinets of arcane curiousity' at the Yorkshire Coast's museums – objects of wonder collected by antiquaries or unearthed by archaeologists that provide a thrilling glimpse into a long-forgotten world. Such as the macabre and magical Hand of Glory, the only one of its kind and the tiny mythical 'Sea Bishop'.
Try spirits and brews with a magical alchemy: Many of the region's micro-distilleries and breweries draw on local folklore and legend in their handcrafted gins, vodkas, beers and whisky (as do many local tea-rooms and pubs). The Lickerish Tooth handcrafts gins and vodka with herbs and spices (natural botanicals) used in cures for the Plague; the Spirit of Yorkshire whisky distillery and Wold Top Brewery use spring water sacred to saints and pagan gods. If you fancy a cake or bake with your feast, then why not try a local speciality such as Yorkshire Parkin – it's so scrumptiously irresistible that embattled locals in Filey were able to lure a giant dragon with it, saving the town from a fiery fate.
Magical gems washed up on the beach: Forget crystals, jet has been celebrated as a magical stone since the Stone Age, and the best place in the world to seek out the precious gemstone is Whitby. Some of the world's leading jet jewellers can be seen in action handcrafting locally foraged jet in Whitby's traditional workshops, making exquisite contemporary designs which often draw on goth culture for inspiration.
The world-famous Whitby Goth Festivals are biannual celebrations of The Alternative, with live music featuring some of Europe's top acts, bizarre theatre shows, fashion and fairs, film-screenings and family events throughout the town, a favourite being the stunning autumnal illuminations amongst the ruins of Whitby Abbey.
Seeking sea-monsters or shipwrecks? Then take a trip to Filey Bay. It might be known as Yorkshire's 'Gold Coast' with miles of stunning sandy beaches, but it's also home to Yorkshire's terrifying Loch Ness Monster – estimated to be 30 feet long, with the growl of a dozen dogs according to the last coastguard sighting. Meanwhile its treacherous waters are a shipwreck graveyard, feared by history's sailors but now thrilling divers from across the world, who search for wrecks like 18th-century flagship Bonhomme Richard, considered to be as important a find as the Titanic.
Steampunk or Time-traveller? The Yorkshire Coast is fast becoming a shrine for Steampunks: alongside futuristic and fantastical festivals in Whitby, Scarborough and Filey each year, there are iconic places to visit like Filey, Britain's most unspoilt Victorian town; Whitby, with its glorious Victorian Gothic; Scarborough's extraordinary vintage Fair Collection, with its world-famous fairground rides, steam engines, and mechanical organs (including the Mighty Wurlitzer); and the North Yorkshire Railway Museum in Whitby, with steam trains and back-to-the-past weekenders.
Ancient traditions that are still a way of life: witness the age-old boat-blessings of Scarborough and Whitby; hear the sound of sea-songs, shanties and fishermen's choirs at local seafests or folk festivals; or you can even taste the past in places like Fortune's Kippers or Bothams Bakery in Whitby where they've been using the same time-honoured family recipes for 150 years.
Go ghost-busting in Scarborough: there's royal ghosts and roman ghosts at the castle, a ghostly parade at the church and a spooky cast in the Old Town – including an apparition warning sailors of bad weather on its way…
Why is the Yorkshire Coast so mysterious and strange? Janet Deacon, Tourism and Culture Manager at Discover Yorkshire Coast explains: "This is a very ancient place – in fact, it's one of the world's most important archaeological landscapes! And places with a whole lot of history, have many ghosts. The mysterious traces of past lives are visible everywhere you look in the unspoilt countryside, and many of the region's villages, farms, and roads are older even than the Doomsday Book, reaching back millennia to the first people to re-settle in Britain after the Ice Age.
"There are many locations that have become shrines to goth culture, up and down the coast, especially those associated with the legend of Dracula and Alice in Wonderland. But the Yorkshire Coast has something of an edge for those seeking an Other World: in its epic and unspoilt landscapes, almost appearing untouched by time, magic and mythology seem very much alive. Many people come here to seek out its supernatural secrets; or to walk a land that once had dragons and witches and warrior kings, evoking Game of Thrones, Lord of the Rings, or The Witcher."
Find much more inspiration here.