Exhibition opens for Beverley Minster's Sanctuary project with a celebration
Tue 7th September 2021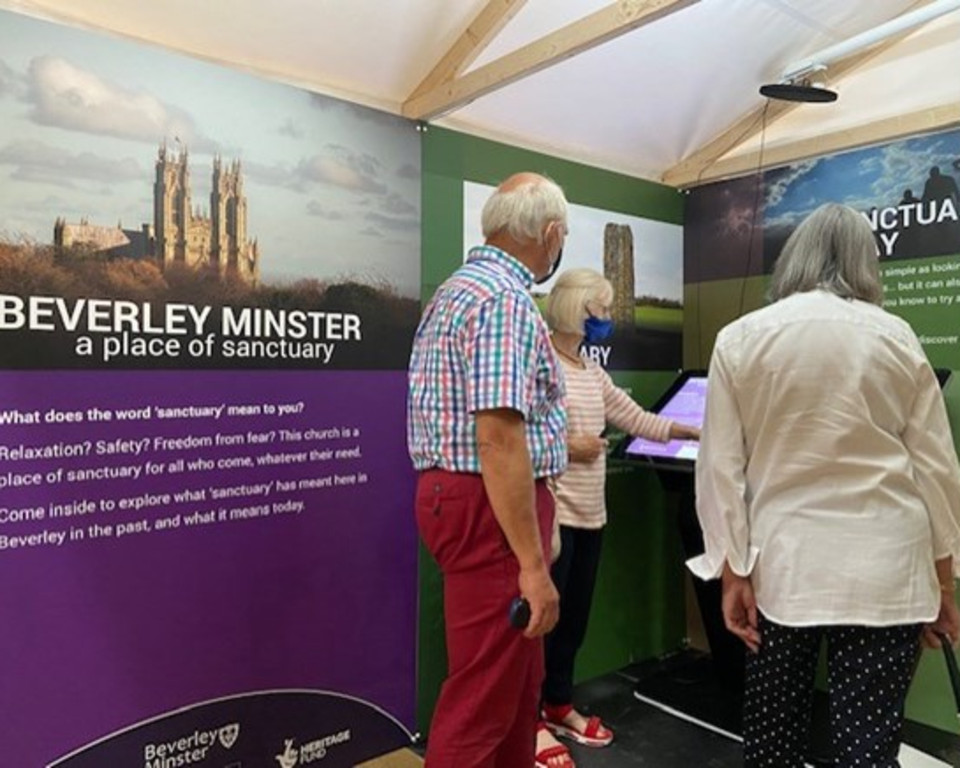 A celebration is being held in Beverley Minster on Sunday 12 September to mark the opening of an exhibition to highlight the Minster's historic role in providing sanctuary and relating that to what sanctuary means for people today.
The exhibition and associated digital and print content explore the real stories of sanctuary seekers past and present, and includes moving modern testimonies as well as dramatised historical accounts.
Beverley Minster was known throughout the land in historic times as a place where those seeking a safe haven from mob justice or family vengeance for alleged crimes such horse theft, coining and cullying (the present-day equivalents of car stealing, forging and debt) could seek sanctuary and plead their innocence. Crucially, the exhibition invites us to reflect on the reasons people seek sanctuary today and to reflect on our attitudes towards them.
Fugitives who reached a two-mile limit around the Minster were able to claim that sanctuary under special privileges afforded to it as one of the premier churches in the north of England at the time under laws originating from AD693. That two-mile sanctuary boundary was marked by stones on the town's major approaches, three of which are still in place today – at Walkington, Bentley and Bishop Burton. Hefty fines which increased the nearer to the Minster you got were payable if a pursuer tried to intervene once the 'fugitive' had crossed that boundary. Unusually, some people could choose to live out their lives within the town's boundaries in return for immunity from prosecution.
The exhibition includes information on how the Minster's unusually extensive sanctuary role came about, how it worked and why and when it ended. It also includes digital copies and interpretation of pages from the 'Sanctuary Book' itself – a register from the late fifteenth to early sixteenth centuries of the name of those afforded sanctuary and their alleged misdemeanours, the original of which is housed in the British Library.
Several short dramatised films have been commissioned about some of the sanctuary seekers who came to Beverley in the 15th Century. These feature in the exhibition as well as on the associated touchscreens. The films can also be viewed on the Minster's sanctuary website.
The exhibition, touchscreens and online content has been created by the Centre for the Study of Christianity and Culture (part of The University of York) and is part of the various activities are underway at Beverley Minster thanks to a grant of £406,700 from The National Lottery Heritage Fund as part of a project to tell its remarkable story of Sanctuary.
For more information on the project, visit Beverley Minster's website.