ERT Summer Schools are back this August!
Thu 7th July 2022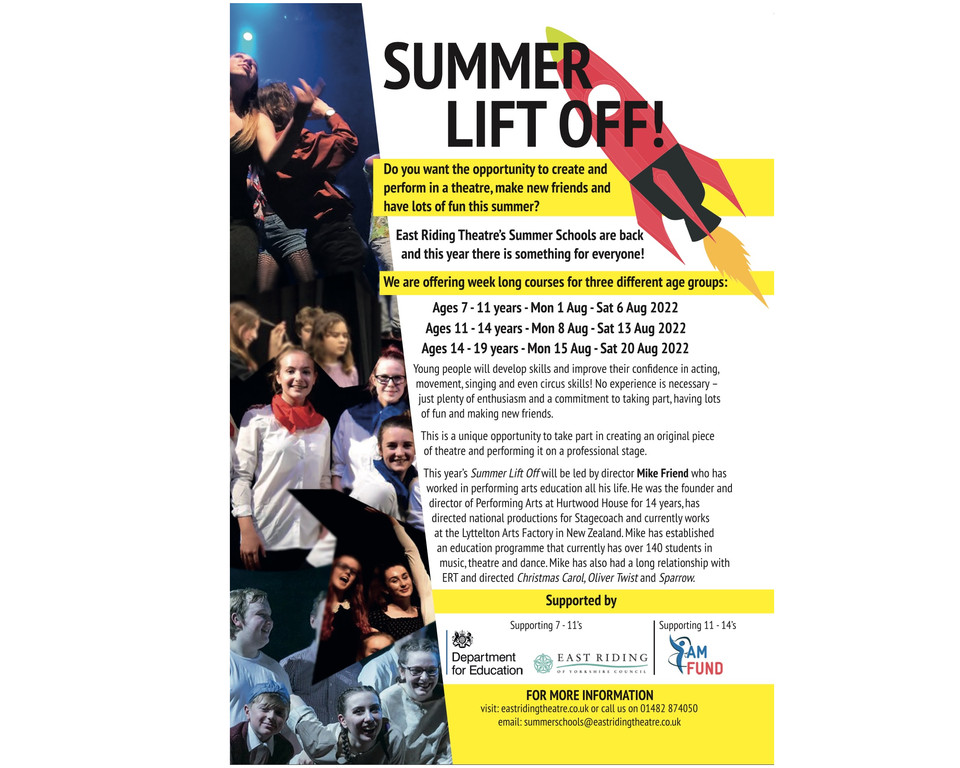 This year's 'Summer Lift Off' will offer three, week-long courses open to ages between 7 and 19 years
East Riding Theatre's (ERT) summer schools return with this year's 'Summer Lift Off', open to all ages and abilities between 7 and 19 years. The programme provides young people with the opportunity to create and perform in a theatre, make new friends, and have lots of fun this summer.
The programme will be split into three different age groups running from 1st - 20th August 2022; 7 - 11 years (1 - 6 August), 11-14 years (8 - 13 August) and 14 -19 years (15 - 20 August). At the end of each week the students, demonstrating all they have learnt, will perform on the ERT stage to a public audience.
This year's 'Summer Lift Off' will be led by director Mike Friend, who has worked in performing arts education all his life. Mike has established an education programme that currently has over 140 students in music, theatre and dance. He has directed national productions for Stagecoach and currently works at the Lyttelton Arts Factory in New Zealand. Mike has also had a long relationship with ERT and directed 'Christmas Carol', 'Oliver Twist' and 'Sparrow'.
Former student, Evie Guttridge said "Working with Mike on the summer schools was an inspiring and exciting experience that massively boosted my confidence on and off stage."
Another former student, Rebecca Guntherless commented "Working with Mike was an absolute pleasure. He has a way of working that really pushes you to explore your capabilities as a performer whilst learning a great deal of new skills. Mike's vision is fantastic and I can't wait to see what he will do next!"
Please note: The week-long course for 7-11 years has been fully funded by the Department of Education and the East Riding of Yorkshire Council for children who receive free school meals. Snacks and lunch are included.
Places on the 11-14 years and 14-19 years courses cost £90.00 per student. However, we still have a select number of fully funded places for young people from families on low incomes thanks to the I Am Fund. To apply please send an email to summerschools@eastridingtheatre.co.uk.