East Riding of Yorkshire Council's new waste & recycling app goes live
Mon 14th June 2021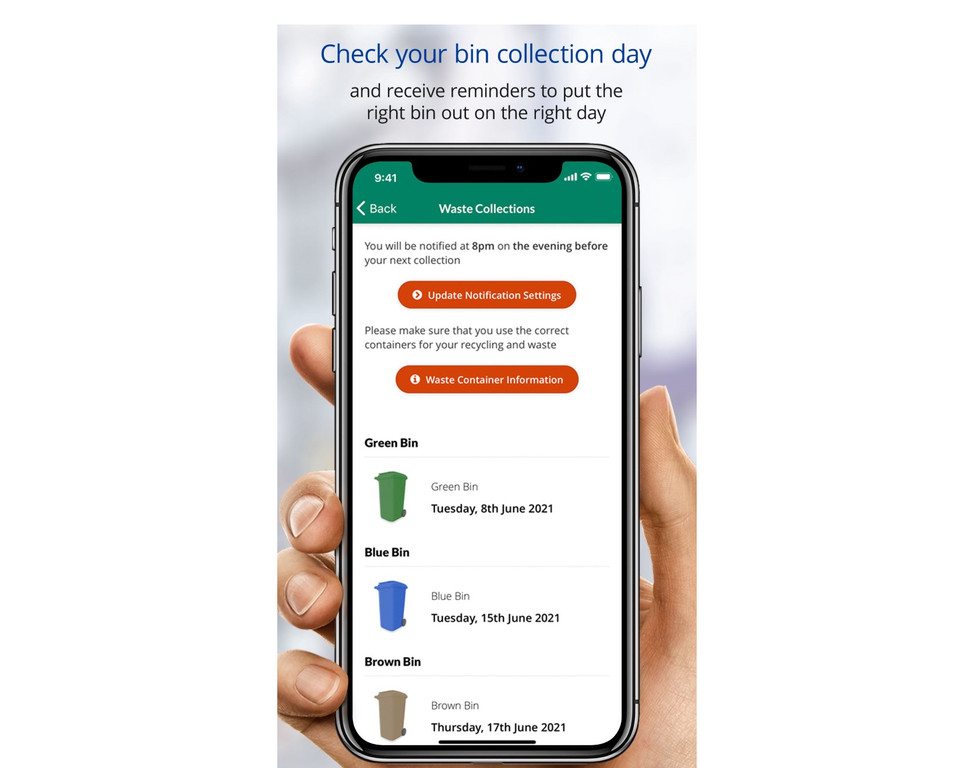 East Riding of Yorkshire Council has released a new app called the 'East Riding Council' app for residents to download and find out information about the local authority's bin collection service and waste & recycling.
Produced by developer Cloud 9 Technologies, working with the council, the app is branded to the East Riding and gives immediate access to waste and recycling and bin collection information. The app is free to download from your device's app store and available now!
Once a resident has entered their address on the app, they receive information about waste collections and notifications reminding them to put their bins out. Information can also be given about changes to collections due to bank holidays. The app also includes a new, easy way to see what bin an item should go in. Using the 'Can I recycle it?' tool, residents can search 1000's of items to find out what can be recycled in the blue and brown bins and what should go in the green general waste bin. Residents will also be able to locate their nearest recycling centre and check opening times.
The council will shortly be making changes to bin collection dates across East Riding. Information will be posted out to all residents in July and August including information about the changes and a new 18 month collection calendar. All residents who have downloaded the app at the time of the changes will find their calendar in the app and collection reminder notifications will automatically update.
To download the app, residents should visit www.eastriding.gov.uk/app, or search 'East Riding Council' in their device's app store. Once downloaded, residents can enter their home postcode to ensure all information will be bespoke to their local area.
Further developments to the app are expected to continue to take place and more information on this will be available by visiting www.eastriding.gov.uk/app.
Councillor Chris Matthews, portfolio holder for environment and climate change, said: "The new app will allow even more residents to access information regarding their waste collection service at the click of a button. As well as a notification to remind them about putting their bins out, the app will give instant information as to which bin your waste should be placed in and automatically updates to take into account all public holidays. Best of all it is entirely free so I would encourage all residents in the East Riding to download the 'East Riding App' for the easiest way to keep on top of your bins."