East Riding of Yorkshire Council COVID-19 Tier Statement
Thu 17th December 2020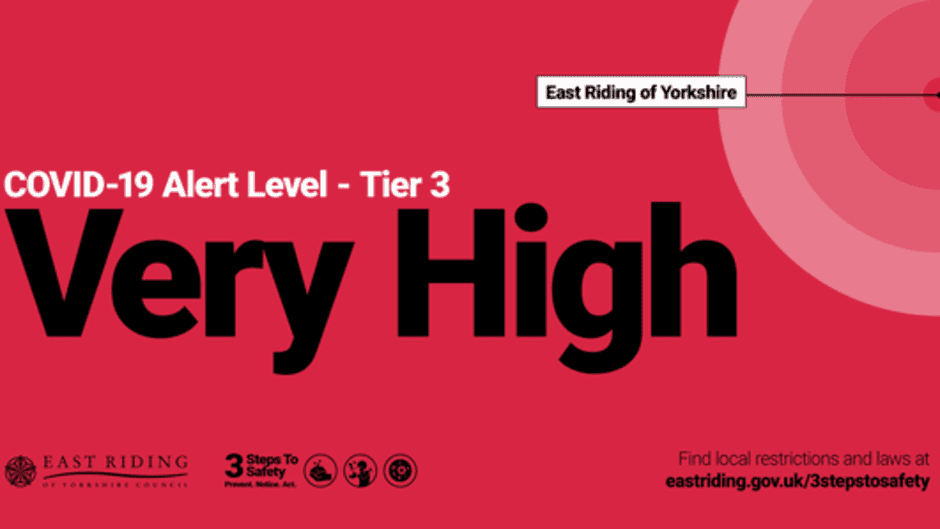 The Government has today confirmed that the East Riding of Yorkshire will remain in Tier 3 (Very High) of the COVID-19 tier restrictions system.
The East Riding has again been grouped with other local authorities in the Humber area as part of a sub-regional approach by the Government to allocating tiers.
Government Ministers have made their decisions on which areas are in which tiers based on factors such as how quickly infection rates are rising or falling, the ratio of positive tests and the current and projected pressure on local NHS services.
Some of the key aspects of Tier 3 restrictions are:
No mixing of different households indoors or outdoors, including hospitality venues and private gardens
The rule of six applies in outdoor public spaces such as parks
Pubs and restaurants closed, except for take-away and delivery services
Indoor entertainment venues closed
Accommodation such as hotels, B&Bs, campsites, and guest houses must close. There are several exemptions, such as for those who use these venues as their main residence, and those requiring the venues where it is reasonably necessary for work or education and training
Guidance against travelling in and out of Tier 3 areas
Personal care, such as hairdressing, is allowed
Councillor Richard Burton, leader of East Riding of Yorkshire Council, said the authority will continue to do all it can to prevent the spread of COVID-19, quickly deal with any outbreaks which do occur and support residents, businesses and local communities through the pandemic.
He said: "We thank the East Riding public for the tremendous community spirit they have shown so far in dealing with this health and economic crisis and encourage them to continue following all the safety guidance and to keep showing that #TogetherEastRiding collective determination to drive down infection rates and hopefully get all our businesses and facilities up and running as soon as possible, in a safe manner.
"If we all keep doing the right thing when it comes to COVID-19 prevention, and with the roll-out of the vaccination programme, we can look forward to a better 2021 and a safe East Riding to live, work, shop, learn, play, invest and visit."
Andy Kingdom, director of public health for East Riding of Yorkshire Council, urged residents to keep following the council's 3 Steps To Safety: Prevent. Notice. Act.
He said: "Handwashing, respecting social distance, ventilating inside spaces and wearing face coverings, unless you are exempt, are extremely effective ways people can help to prevent the spread of the virus. Equally important are always noticing when you have any of the COVID-19 symptoms and immediately acting by self-isolating and getting tested as soon as possible."
He also encouraged people not to let their guards down over the Christmas and New Year period and to do what they can to protect vulnerable family and friends.
"The East Riding public has done so well to drive infection rates down in recent weeks and we don't want to undo that great collective effort by increasing transmission rates through the Christmas period.
"We advise people to limit their inter-actions before forming their Christmas bubbles and to think carefully before mixing with elderly or at-risk relatives.
"We have a 10-step Christmas household plan on the council's website which provides lots of advice about minimising risk and I'd encourage people to talk through their Christmas plans with their relatives with the aim of making Christmas as safe as possible.
"The Christmas household plan gives people the information they need to make sensible decisions for themselves and their loved ones."
The Christmas household plan guidance is available at eastriding.gov.uk/christmas
If you have any symptoms of COVID-19 – either a high temperature; a new, continuous cough; or a loss or change to your sense of smell or taste - you should self-isolate immediately and then request a test as soon as possible at nhs.uk/ask-for-a-coronavirus-test or by calling 119.
Further information about the Tier 3 restrictions and what you can and cannot do, along with advice about helping to prevent the spread of COVID-19 and what support is available to residents and businesses, is available at www.eastriding.gov.uk/3stepstosafety