Drivers urged to take extra care as snow hits the East Riding
Mon 8th February 2021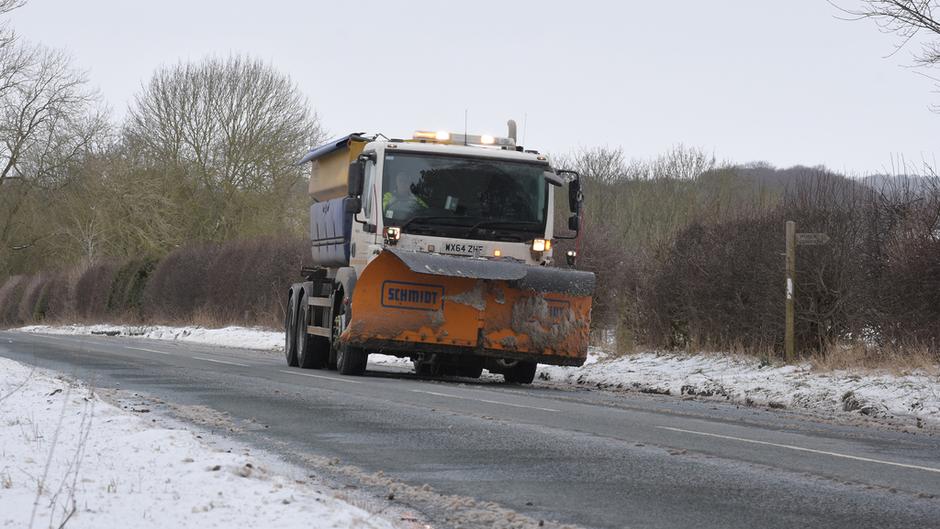 Drivers in the East Riding are being urged to take extra care on the roads as snow showers are expected to continue over the next few days.
Parts of the area have been hit by mild snow showers this weekend, which are likely to carry on through the beginning of the week.
East Riding of Yorkshire Council is urging motorists to take extra care of potential slippery road conditions over the next few days.
The council's gritting lorries have been out treating the network continually over the weekend and treatments will continue in line with the winter plan during the week.
Paul Tripp, the council's head of streetscene services, said: "Our winter team will continue to monitor weather conditions and will deploy our gritting lorries to treat where necessary.
"We would advise motorists only to make essential journeys, take extra care, plan in advance and allow extra time for travel."
Freezing temperatures will continue through the week and residents are encouraged to be good neighbours and check on anyone nearby who is elderly or vulnerable.
Advice to drivers:
Motorists are encouraged to use the main roads as much as possible, drive according to the conditions and listen to local radio or check the internet for updates on weather and road conditions.
Even on gritted roads, care needs to be taken in case salt has washed away.
Driving on snow, ice and slush:
Drive slowly using the highest gear possible to avoid wheel spin.
Manoeuvre gently, avoid sudden braking or acceleration.
When slowing down, get into a low gear as early as possible and allow your speed to reduce using the brake pedal gently.
Leave plenty of room between you and the vehicle in front. Remember, in these conditions it can take 10 times longer to stop than on a dry road.
In difficult conditions:
Do not drive unless you absolutely need to.
Check weather forecasts and travel information.
If possible, tell someone when you expect to arrive.
Make sure you are equipped with warm clothing, food, a torch, a shovel, water, boots, a hazard warning triangle and a fully charged hands free mobile phone.
If you get stuck in snow:
Switch on your hazard warning lights.
Move the car slowly backwards and forwards out of the rut using the highest gear you can.
Don't leave the vehicle unless you are in sight of a suitable destination. Let help come to you.
Put on warm clothing to avoid losing body heat.
Switch off your engine when possible to reduce Co2 emissions.
If you must abandon your vehicle, try to leave it out of the path of snowploughs. Advise the police or the council where it is and how to contact you.
Visit www.eastriding.gov.uk/winter for more advice and information.