Councillors counting down to completion after behind the scenes tour of long-awaited health centre
Mon 6th December 2021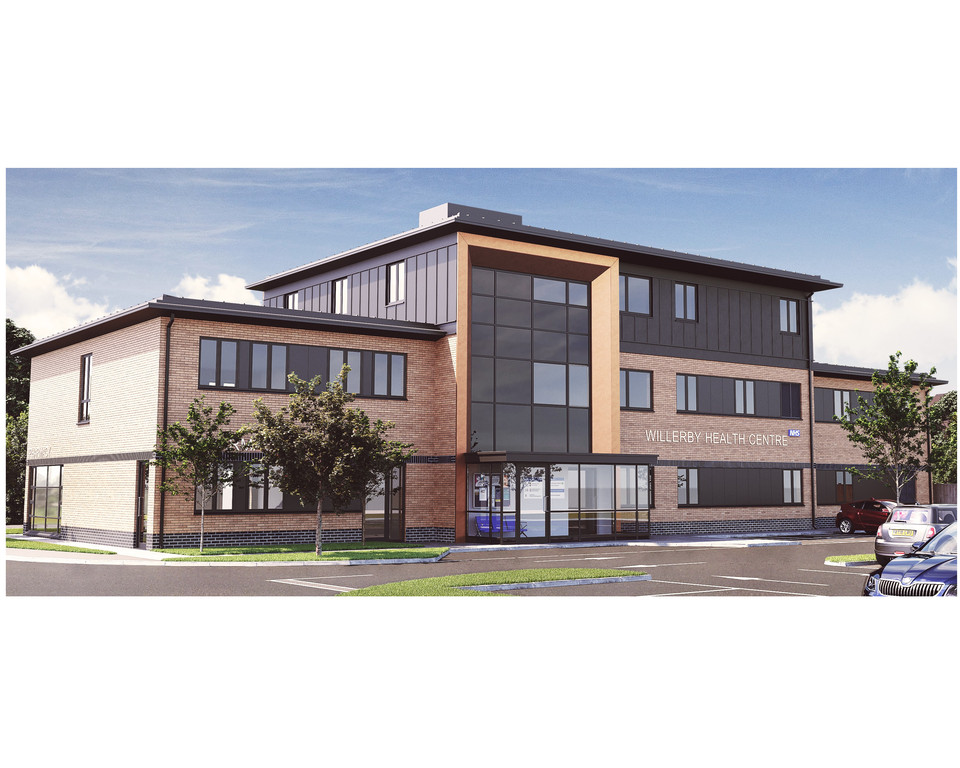 A new health centre which waited 15 years to secure funding has now hosted a visit by local councillors as it enters the final stage of construction.
The Willand Primary Care Centre is contracted to be handed over early in 2022, replacing the old Willerby and Swanland surgeries with a modern building, services and facilities as well as more staff.
Councillor Val Wood, who joined the visit as vice chair of Anlaby with Anlaby Common Parish Council, said: "We have been talking about this for a long time and now we are nearly there. It is clear the new centre will be a nice, modern building, bright and airy and with a lift.
"People are very happy with the move and we expect to see a greatly improved service with better facilities and more GPs and nurses. It should enable patients to get seen earlier and it will offer various procedures and clinics which were not possible at Swanland or Willerby."
Discussions about the need for a new centre date back to 2005 and the idea first gained approval from the Primary Care Trust in 2008. But it took time and several failed attempts to identify a suitable site and it wasn't until 2014 that Lovel Developments held its first consultation on the project.
Lovel Developments, based in Beverley, acquired the 25-acre site in Lowfield Road, Anlaby, in 2015 and proceeded with other elements of the project. A clinic for the Spire Hull and East Riding Hospital opened in 2016 and the construction of 287 new homes was completed in 2020.
A strategic case for the health centre put forward by Willerby and Swanland Surgery was approved by the East Riding of Yorkshire NHS Clinical Commissioning Group (CCG) in December 2018 and funding was finally cleared by the CCG in September 2020. Hull-based construction company Hobson & Porter began building the new centre in March 2021.
Jim Hickey, Practice Manager and Project Lead for Willerby and Swanland Surgery, said: "It took years to get the funding for this project but it is only taking a matter of months to complete the build. We're looking forward to completion and we plan to provide more detail about the new facilities in the first few weeks of the new year.
"We invited local councillors to visit the site because it has taken a long time to get to this point and we wanted to show them what is in store. It's a phenomenal investment and there hasn't been anything like it in the Haltemprice area in the last 20 years. It's a £3.5m build and the practice partners have also invested tens of thousands of pounds in new equipment and facilities."
The new centre will be accessible by walking, cycling, public transport and car, with the main entrance at the rear, next to parking spaces for more than 30 vehicles. The ground floor will house six treatment or consulting rooms. The first floor has nine consulting rooms for GPs and other health professionals as well as meeting rooms, a health education area and space for support staff. Admin staff and the practice manager will occupy the smaller, second floor.
The centre will also provide a colourful, dementia friendly layout and facilities for childcare including baby feeding and changing.
Mr Hickey said: "Overall the new centre will make the patient journey much better. There will be opportunities to offer additional services and to focus on areas of need such as diabetes, obesity and healthy living and health education. That is part of the medium term aim.
"In the longer term we will work with the local health commissioners to bring relevant services into the building. After the disruption to services as a result of Covid it's difficult at the moment to predict precisely what sort of services we will need but the aim will be to meet the needs of the community as they are identified.
"As a consequence of being able to offer a better building we have already recruited one new partner GP and a specialist nurse. Patient numbers at the moment are 8,700 and we will be able to accommodate up to 12,500 as new housing developments bring more people into the area."