Celebrate and remember the lives of your loved one this Christmas
Thu 12th October 2023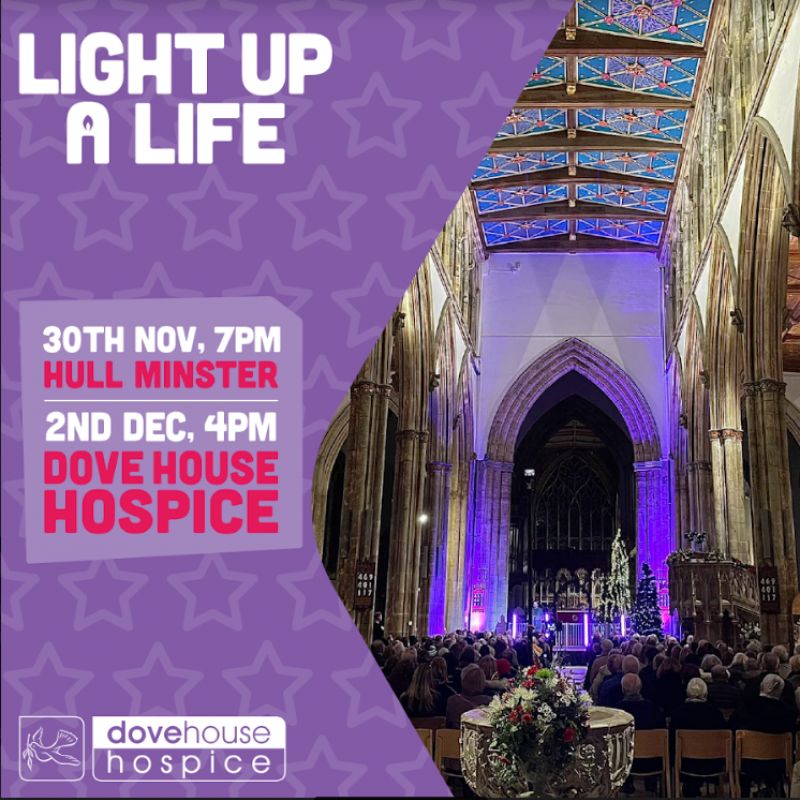 Christmas is a time to remember loved ones and when you have lost someone close to you the festive season can be a really hard time. Light up a Life helps them reflect and remember during the Christmas period. The hospice would like to invite you to remember your loved one with Light up a Life, which provides a unique opportunity to reflect and remember during the festive period.
Dove House Hospice welcomes everyone, regardless of how long ago your loved one died and whether or not they received hospice care, to take part in this unique appeal.
This year will see a return to a ceremony at Hull Minster, on Thursday 30th November (7pm), along with an additional service taking place at Dove House Hospice on Saturday 2nd December (4pm). Both ceremonies will include music and readings as well as the chance to hang a personalised star on the dedication tree which will then be illuminated in their memory.
Each person who makes a donation to our Light Up a Life appeal will receive a commemorative keepsake to treasure and any dedications made before 19th November 2023 will have their loved one's name included in the order of service. If you are attending the ceremony, the order of service will be available to collect at the event; if you are unable to attend you can request that an order of service be posted to you following the event.
Evie Gunnell, Individual Fundraiser at Dove House, has this to say: & ;We look forward to welcoming you to our Light Up a Life services this year, to remember those who we have lost at such a poignant time of year. We know that the festive season can be difficult when you have lost someone you love, so we welcome the whole community to join us at such a special event to take time to reflect.
Rebecca Bramble, Family Support Team Leader at the hospice, had this to say: "We know that the festive season can be a difficult time for many. Light up a Life provides some time for reflection, and a safe space to remember our loved ones who cannot be with us in body during the festive season where we illuminate beautiful dedication trees in their memory."
Remembering your loved one and donating to Light up a Life ensures more local people who are struggling can reach out to the hospice for help when they need it most.
Dove House are so grateful for the kindness of those who participate, helping to make truly special moments possible even in the most difficult of times.
To make a donation or for more information please visit:
www.dovehouse.org.uk/lightupalife, or contact the fundraising team on: 01482 785743
or by email at: fundraising@dovehouse.org.uk.