Cast announced for 'Paint the Town Fred' at East Riding Theatre and the Ferens Art Gallery in April
Tue 15th March 2022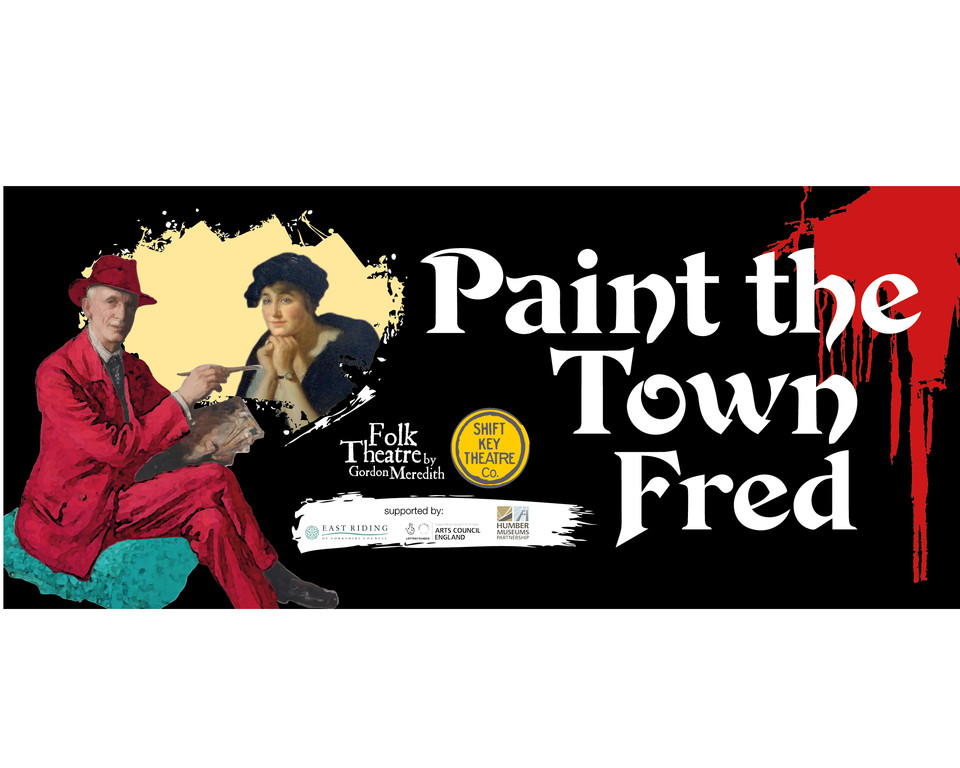 The cast has been announced for a brand new play about Beverley's best known artists, Fred and Mary Elwell, whose lives and work will be celebrated in April at the East Riding Theatre in Beverley and Hull's Ferens Art Gallery.
The cast for 'Paint the Town Fred' will include four local actors, who will form an ensemble to portray a number of characters between them.
Michael Kinsey will play Fred Elwell and Hannah Levy will play Mary Elwell, among other parts. Laura Peterson and Gordon Meredith will play many other roles, taking on the roles of a few of the characters who featured throughout the painters' lives and careers. The play is directed by Richard Avery, who has worked with all four actors at various times, either as an actor himself or as director.
Richard and Gordon have featured many times in Other Lives Productions' shows before, while all of the cast and crew have been seen on the East Riding Theatre stage in recent years.
'Paint the Town Fred', written by Gordon Meredith, will be performed on Wednesday, 13 April and Thursday 14 April, 2022, at 7.30pm at East Riding Theatre, and at the Ferens Art Gallery on Friday, 22 April at 6pm. The Ferens performance will also include a talk by Elwell biographer Wendy Loncaster, along with canapes and drinks. Tickets for all performances are available now.
With funding from East Riding of Yorkshire Council, Arts Council England, and the Humber Museums Partnership, Gordon was commissioned to research, write and produce the play, which is the latest in his series of Folk Theatre productions.
The play will uncover the real life stories behind Fred and Mary Elwell's creative partnership. They lived full and fascinating lives as they travelled and toured widely, throughout East Yorkshire, London and Europe.
Mary was a skilled artist in her own right, and she and Fred exhibited often at the Royal Academy as well as other galleries and exhibitions around Europe.
In order to write the play, Gordon worked with Helena Cox, former curator of Beverley Art Gallery, which has an unrivalled collection of works by the Elwells, and Wendy Loncaster, the leading authority on the Elwells.
Gordon Meredith explained: "The story of the Elwells is a great local story for Beverley. Many people know about Fred and his work, but not as many are aware of Mary, or that she was also a successful artist; this play will look at their colourful background and relationships, their adventures and their travels. We will see the legacy of their professional relationship, and we will tell the story of the people behind their paintings."
Kerri Offord, Curator of Art at the Ferens Art Gallery, said: "We are pleased to host 'Paint the Town Fred'. Fred Elwell is much loved and well known by our visitors. However, Mary Elwell is lesser known as an artist and as the Ferens celebrates women throughout 2022, it is fantastic that this event will also showcase her talent. We will also welcome Elwell biographer Wendy Loncaster for a pre-performance book signing and talk that will shine a light on Mary's work."
Tickets for 'Paint the Town Fred' are available now from www.eastridingtheatre.co.uk and www.hulltheatres.co.uk for the performance at Ferens Art Gallery.