Can't get to the Library? East Riding Libraries can come to you!
Mon 7th December 2020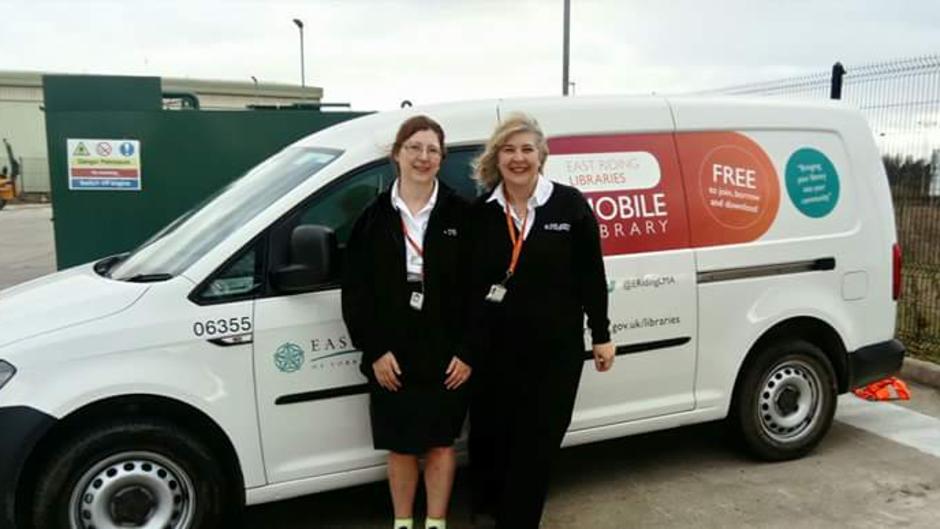 The East Riding Libraries free 'At Home' service has been delivering and collecting to the most isolated and vulnerable customers for many years.
East Riding Libraries have now also partnered with Tigers Trust to expand this popular service by offering a free delivery and collection service for those who are isolating, shielding or affected by COVID-19 and unable to get to their local library.
The benefits of reading for wellbeing have never been more important; it has been proven to effectively reduce stress, help people forget about worries and put their own problems in perspective.
The 'At Home' service offers delivery and collection of library books to customers within the community who are unable to get to the library because of disability, illness or transport, and who have no one who can go for them.
It is much more than a simple book delivery facility, though; customers are often completely socially isolated, therefore a visit from the library team is a real highlight of their day. The 'At Home' team members (along with all East Riding Libraries team members) are also ambassadors for East Riding of Yorkshire Council, and extensively trained to answer questions, and signpost to support and information.
The 'At Home' team have received some wonderful feedback throughout the recent lockdowns :
Mr B - 'Can't believe that you've taken the time to bring me books all the way out here, you cannot appreciate what this has meant to me."
Mrs W - 'The days are so long when you don't see anyone, I couldn't cope without my books, I'm so grateful'.
Mrs G - on seeing two bags full of books - 'It's better than Christmas'!!
Councillor Shaun Horton, portfolio holder for coastal regeneration and tourism, including culture and leisure, said : "If you know of anyone - family members, neighbours or someone in the community who would benefit from the 'At Home' service, please get in touch with our team by email at mobile.library@eastriding.gov.uk or call on 01482 392746.
"The book collection and delivery service which has been kindly supported by the Tigers Trust has been very popular with those who are isolating, shielding or affected by COVID-19 and unable to get to their local Library."
Feedback from customers has been overwhelmingly positive:
"I'm so grateful for the Tigers Trust delivery service, I'd be lost without the Library and it has really helped my mental health"
"I'm very grateful for the books picked out for me, they are fantastic, thank you!"
To arrange book deliveries and collections, phone your local East Riding library: www.eastridinglibraries.co.uk/find-a-library Customers can select specific books (browse the catalogue on https://library.eastriding.gov.uk) or chat to the team and they'll help with suggestions.
For all other customers, East Riding Libraries continue to operate an 'Order and Collect' service while the authority remains in Tier 3. There is also an extensive online library available 24/7, of eBooks, audiobooks, magazines and local, national and international newspapers which can all be downloaded free with your library card. To join the library online (it's free) or find out more about downloading items from the online library, visit eastridinglibraries.co.uk