Brook Taverner: Home of the unbeatable 4 for £100 Shirt offer
Wed 4th November 2020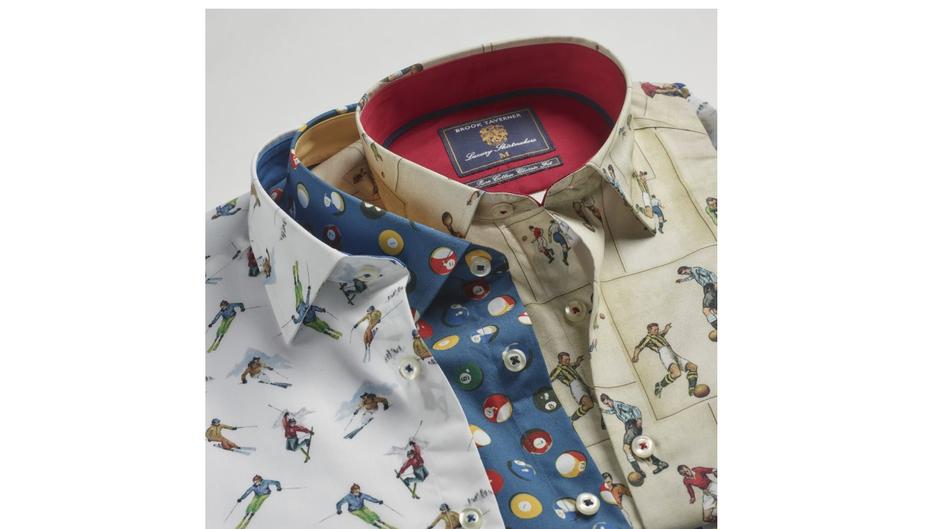 Here at 35 Toll Gavel, we are the proud owners of a vibrant, colourful and varying shirt wall. Within, you'll find close to 50 styles of shirts with a combination of designs, fits and sizes - but this doesn't tell the whole story.
Each wardrobe requires variety, and no section more so than the fabled and historic shirt. With different requirements for different events, from the formal evening dress up to comfortable around-the-house attire, from weekend countryside ramblings to the Saturday night 'do'... variety, comfort and fits aren't just desires, they're needs. Luckily, thanks to Brook Taverner, all are attainable.
It is no secret that there are dozens, if not hundreds of retailers claiming to provide the answer to shirt needs, each offering a niche that no one else can apparently offer... Some offer a variety of sleeve lengths to cater for differing arm lengths, others focus on the tail of the shirt - encouraging some to tuck in and others prompting to leave outside the trouser, whereas some simply boast a wide range of sizes to cater for all. Here at Toll Gavel, we're proud to offer all of the above.
Of course, a retailer can offer a million shirts in a million sizes, but there's no point if the shirts lack style. Perhaps it is lucky in that sense that not only have we been operating at our competitor-beating 4 for £100 offer for almost 10 years as we watch other companies creep their price points higher and higher, but after our latest stock count, we are currently displaying over 200 unique styles of shirts.
Whilst it is not possible that all of these 200 shirts can be displayed in our store all year round, if there is something specific you are after that somehow is not catered for, then please do ensure you speak to Lee and the team as they will be more than happy to accommodate.
Our increased size ranges ensure that all are catered for. With Casual Shirts available in sizes Small up to XXXL and our formal shirts available in collar sizes from 15" up to 20" - we ensure that everybody can dress to their tastes.
Whether that taste is adhered to by sampling our new super soft-touch melange collection or you want to stand out with our sports hobbies range, there truly is something for everyone.