Bridlington beach artwork demonstrates East Riding 3 Steps To Safety campaign
Mon 12th October 2020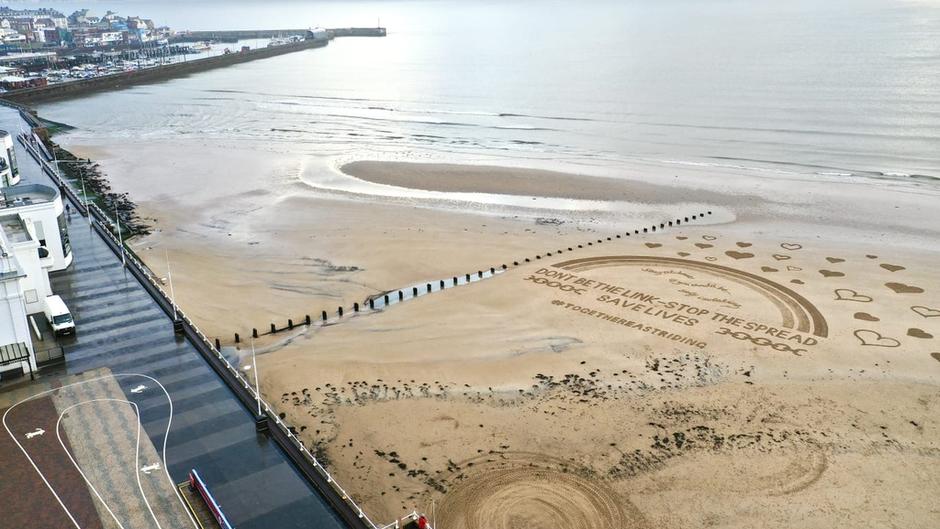 East Riding of Yorkshire Council brought its vital 3 Steps To Safety messages to Bridlington beach yesterday (Sunday).
Yorkshire-based sand artist James Brunt created a giant piece of sand art yesterday morning on the beach in front of Bridlington Spa. The artwork graphically recreated some of the latest key messages in the council's 3 Steps To Safety campaign, which urges all residents to do the right thing, by staying at home if they should be self-isolating and to stop the spread to save lives.
Councillor Richard Burton, leader of the council, said : "We are asking our local residents to keep following the 3 Steps To Safety: Prevent. Notice. Act. Keep doing the basic things which we know helps to prevent the spread of this virus – handwashing, social distancing, wearing a face covering where appropriate and if you're not exempt, quickly responding to symptoms by getting tested and self-isolated if advised to.
"Nationally, a staggering 80% of people are failing to self-isolate when they should be.
"It's really simple. If you have any COVID-19 symptoms, if you have been tested but are waiting for the result or if you have tested positive, or if you have been contacted by NHS Test and Trace, do NOT go out. Stay at home. Self-isolate. Don't go to the shops. Don't go for walks in the community. Do not mix with other people from outside your household.
"This wonderful beach artwork urges people not to be the link and so to stop the spread. If the sand art influences just one person to change their behaviour, to self-isolate when they should do, and that in turn prevents the spread of COVID-19 from that person to others, and that in turn prevents even just one person from dying, then it will have been well worth doing."
"I urge all East Riding residents and visitors - please follow the 3 Steps To Safety, for your own health, for the sake of your loved ones and for everyone in the East Riding."