BRBN present a cheque to the East Yorkshire Food Bank (presented 30.10.2020)
Fri 30th October 2020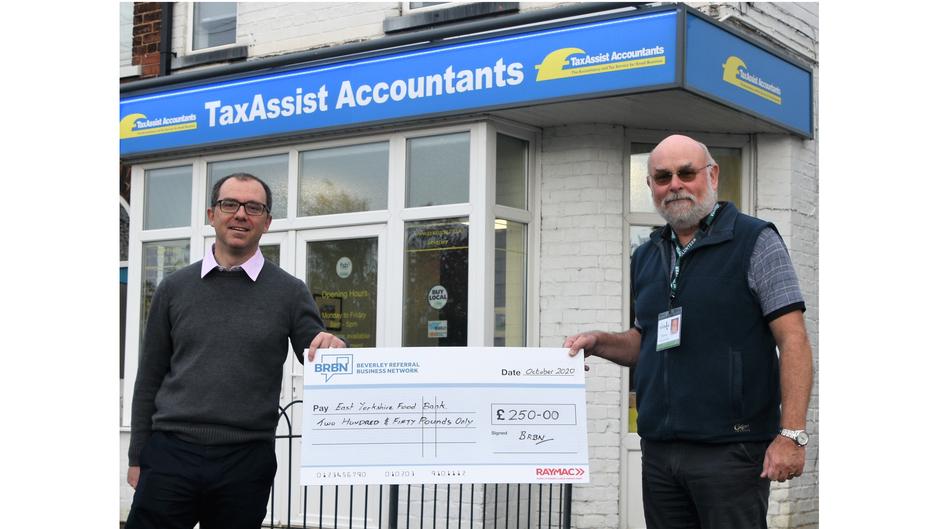 Food for thought!
'Every cloud has a silver lining,' so goes the saying, even if we sometimes struggle to see it. Yet, just as autumnal colours provide contrast with a cloudy day or a rainbow brightens a rainy one, acts of kindness within our community demonstrate that, even in times like these, the silver lining is there, you just have to know where to look.
For nearly 10 years now, the East Yorkshire Food Bank has supported residents in our area to put food on the table when otherwise families would have struggled to make ends meet. Over that time, rather than see demand for their services fall, the Food Bank have seen the need rise. So, in support of a local and much needed cause, Beverley Referral Business Network (BRBN) have donated £250 to the East Yorkshire Food Bank as part of their annual efforts to support the local community.
The cheque was presented by Tony Hall, BRBN's treasurer, to Dave Tunstall, a trustee and regular volunteer at the Food Bank. Dave, who works an average of 8 hours a week at the charity, knows how much the money is needed. As East Yorkshire Food Bank expand their services to match demand, they've also had to respond proactively to the current pandemic, ensuring food reaches those who need it in a Covid-safe manner.
By donating this money, BRBN have gone a little way to providing a ray of sunshine on what otherwise might have been a cloudy day.