BEVERLEY PREPARES TO WELCOME SUPERSTAR MUSICIANS FOR FEAST OF CLASSICAL MUSIC
Tue 20th September 2022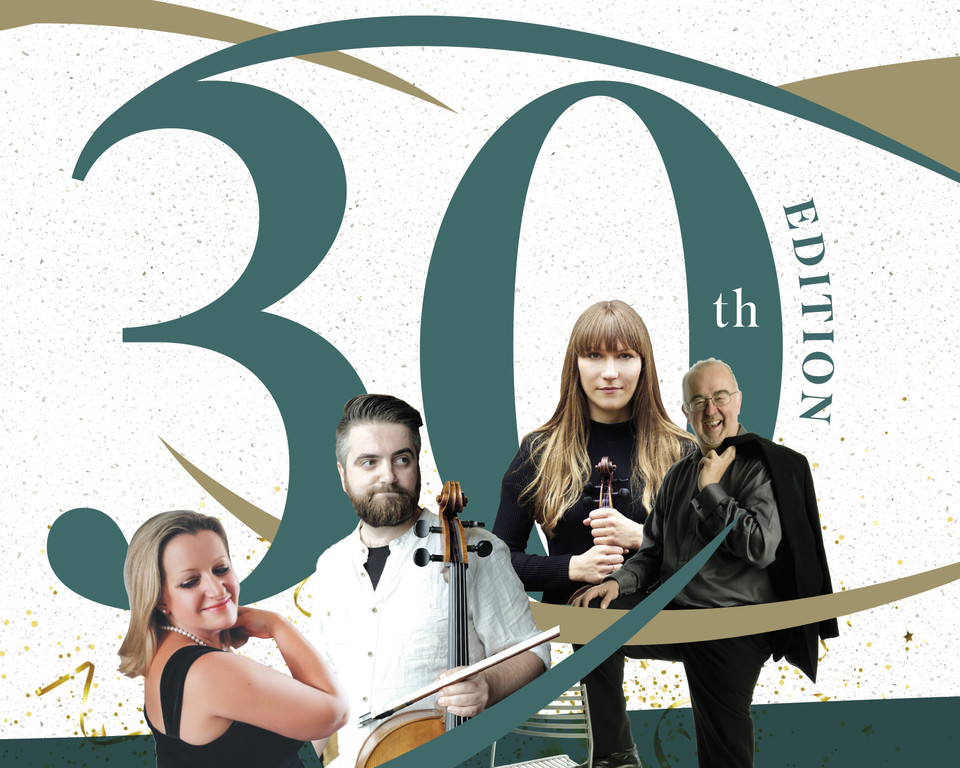 Next week the thirtieth Beverley Chamber Music Festival takes place, with a bumper anniversary programme bringing internationally celebrated performers to the heart of the East Riding.
In his final concert as Co-Artistic Director, Martin Roscoe joins forces with long-standing collaborator, international concert pianist Peter Donohoe – who played in the first ever BCMF in 1993 – for a gala programme of two-piano music. Two pianos also feature in Bartok's exhilarating Sonata for Two Pianos and Percussion, featuring Martin's Co-Director Libby Burgess alongside Chris Hopkins and the principal percussionists of English National Opera and London Philharmonic Orchestra, Mick Doran and Simon Carrington.
A major new string quartet by David Matthews has been commissioned for the festival, to be premiered by emerging artists the Salomé Quartet. The celebrated Maxwell Quartet will be in residence throughout the festival, performing Scottish folk music, as well as Purcell and Haydn. Cheryl Frances-Hoad's Magic Lantern Tales, performed by BBC New Generation Artist tenor Alessandro Fisher and acclaimed pianist Libby Burgess, sets stories from the First World War, collected in Lancaster by poet Ian McMillan – from Lily, who met her sweetheart whilst cowering from a thunderstorm, to the friendship of two Harrys (including Harry Ramsden of fish'n chip shop fame).
Other events include late-night Bach, coffee-time concerts of Debussy and Elgar, and talks to introduce the music. In all the festival features fifteen events across three days, a third of which are free to attend – including breakfast concerts at 9am to start each day. As always, Golden Tickets are available giving free entry for under-18s and those in full-time education (subject to availability).
Established in 2016 by Roland Deller and Libby Burgess, New Paths Music presents multiple festivals each year in the Yorkshire market town of Beverley. "The town is a constant source of inspiration to us," says Roland, "with its multi-layered history, its beautiful venues and vistas, and the warm welcome of the townspeople." Festival venues this year include the town's two great medieval churches – Beverley Minster and St Mary's – as well as the Memorial Hall, St John of Beverley RC Church, and Toll Gavel United Church.
The Beverley Chamber Music Festival itself was founded in 1993 by esteemed artist manager James Brown and colleague Richard Purkiss. Like Roland, James grew up in Beverley, playing in the East Riding Youth Orchestra, and was inspired by his childhood musical experiences of the town. When BCMF was handed over to New Paths in 2018 it was a natural fit: both organisations were born of a spirit of collaboration, a passion for music of the highest quality, and a love of Beverley itself.
"We are proud to have staged three festivals during 2020 and 2021, between lockdowns, with all the necessary precautions," comments Libby, Artistic Director of New Paths. "But we are so looking forward to having full capacity audiences again this autumn, and to being able to share this elating and moving music-making with a wider audience once more. It's a troubled time in the world, so it's a privilege to offer people space to stop and reflect with live music, and to escape the every-day just for an hour or two."
"Some of the performers are truly amongst the most celebrated musical names in the world, whilst others have only finished studying in recent years. Some of the repertoire is toe-tappingly familiar and some of it has ink that's still drying on the page. But what we've found is that quality music in beautiful places speaks for itself – to expert listeners or total newcomers. This music really is for everyone! Never has the need been greater for inspiring potential, fostering community, crossing borders, celebrating humanity, and simply providing a moment to stop and breathe. Music helps us to do all of these things, and we're honoured to share that right here in the East Riding."
The Beverley Chamber Music Festival runs Thursday 29th September to Saturday 1st October. Further details can be found at www.newpathsmusic.com.