Beverley & East Riding Early Music Festival '21
Mon 24th May 2021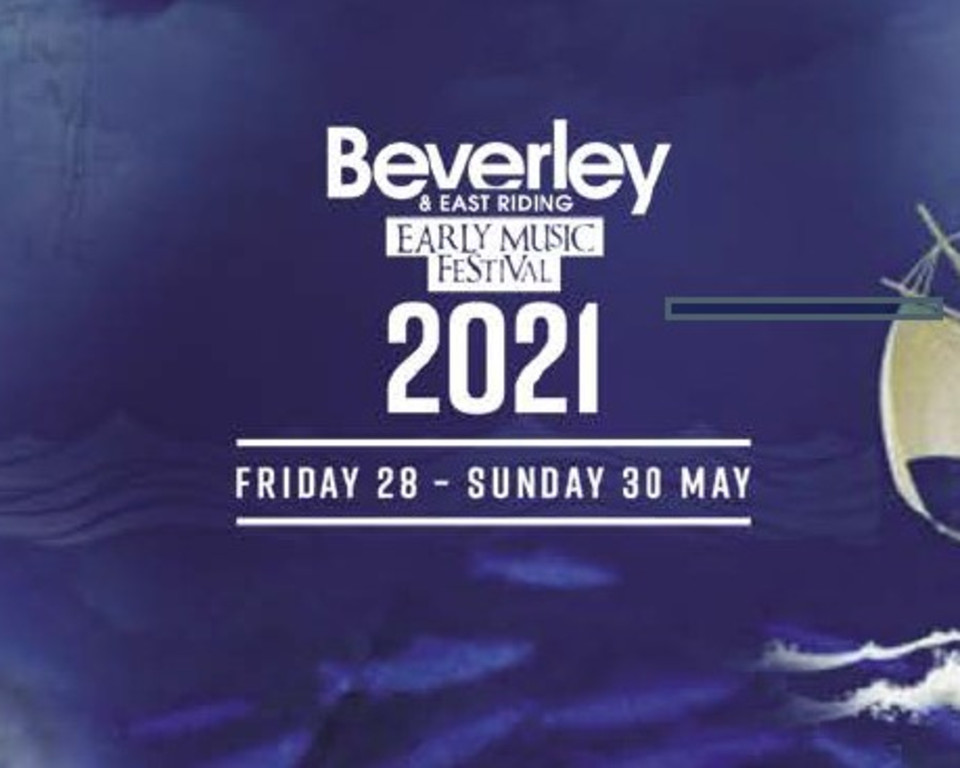 There is a new look to this year's Beverley Early Music Festivities. As the phases of easing lockdown unfold the National Centre for Early Music (NCEM) and the Beverley & East Riding Early Music Festival are delighted to bring you not one, but two, musical celebrations from this beautiful town.
Social distancing restrictions and the festival's commitment to accommodating all those who booked for last year's festival mean that currently a limited number of tickets are on sale for 'in person' concerts at the end of May. All the concerts will however be available to enjoy in a specially created digital festival Beverley '21 Online to be shared Saturday 5th & Sunday 6th June.
Beverley & East Riding Early Music Festival LIVE
28th - 30th May
The 2021 Festival celebrates the joy of music making with the people of Beverley. Concerts include:
Friday 28th - 7.30pm Beverley Minster
Stile Antico Toward the Dawn
The programme charts a course from twilight to sunrise, seductive and unsettling in equal measure. Thrill to the spine-tingling sounds of Allegri's beloved Miserere and enter into the glorious sound world of Nico Muhly's Gentle Sleep, a haunting setting of words by Shakespeare, written especially for the twelve voices of Stile Antico.
Saturday 29th - 1.00pm St Mary's Church
Alva Angels in the Architecture
Vivien Ellis, Giles Lewin and Leah Stuttard perform songs and melodies spanning 1,000 years, revealing some of the stories
hidden in the stones of the beautiful St Mary's Church.
Saturday 29th - 7.30pm Toll Gavel United Church
La Serenissima with Tabea Debus recorder "The Italian Gang"
Life-affirming music of 18th-century Venice, including music by Sammartini and Vivaldi.
Sunday 30th - 3.00pm Toll Gavel United Church
Kati Debretzeni violin Through the Eye of a Lens
A virtual tour of Europe through the "lens" of a violin performed by one of the world's leading exponents.
Sunday 30th - 6.30pm St John's RC Church, Beverley
Ex Corde Heaven on Earth
Reflections based on Thomas More's Utopia with vocal music by Robert
Fayrfax and Josquin des Prez, plus the premiere of a commission by Christopher Fox inspired by Thomas More's vision.
Saturday & Sunday Beverley Ballad Walks
Also taking place over the weekend are the hugely popular Ballad Walks, led by Vivien Ellis, brimming with songs and stories from the streets.
The tales span 800 years of history and reveal Beverley's sometimes murky past as well as the fascinating tales of some of the inhabitants.
Beverley '21 Online
Saturday 5th & Sunday 6th June
To ensure that the festival can be enjoyed by the widest possible audience, all five concerts will be filmed and available online, with an added bonus of many exclusive treats.
Historian David Neave will talk about the Pilgrims of the East Riding who left these shores in 1638 to set out for a new, and better, world in the US; Stile Antico share the music of the period through a specially commissioned film available to all ticket holders; and John Bryan, Emeritus Professor of Music at the University of Huddersfield, introduces the festival from the Rococo splendour of Beverley Guildhall.
There will also be opportunities to visit some of the Beverley's hidden gems in the company of guest curators Fiona Jenkinson and Dr Jennie England.
Further details of Beverley '21 Online will be available from 6 May.
Festival Director Dr Delma Tomlin MBE said: "We are delighted to be returning to Beverley and we've been working hard to ensure that our 2021 festival is available for everyone to enjoy. As well as producing a live festival, for the first time we are delighted to invite you to join our festival online which showcases of the majesty of the glorious county town of Beverley.
"Beverley '21 Online is a specially commissioned digital version of the festival filmed around the town and audiences will be able to enjoy all the concerts from the weekend, plus talks and exclusive footage of some of Beverley's magnificent historic buildings. We hope you'll join us for this joyous celebration of wonderful music set against the backdrop of this beautiful
Yorkshire town."
For full details, times and ticket prices, visit our website:www.ncem.co.uk/bemf
Tickets are on sale now, due to limited capacity some events may be sold out and we will be operating a waiting list via email boxoffice@ncem.co.uk.
Telephone: 01904 658338.
Twitter: @yorkearlymusic#BevFest2020
Facebook: yorkearlymusic
Instagram: nationalcentreforearlymusic