Beverley Building Society to host a Cycle Challenge and Jubilee Tea Party in aid of the Beverley Cherry Tree Community Centre!
Wed 11th May 2022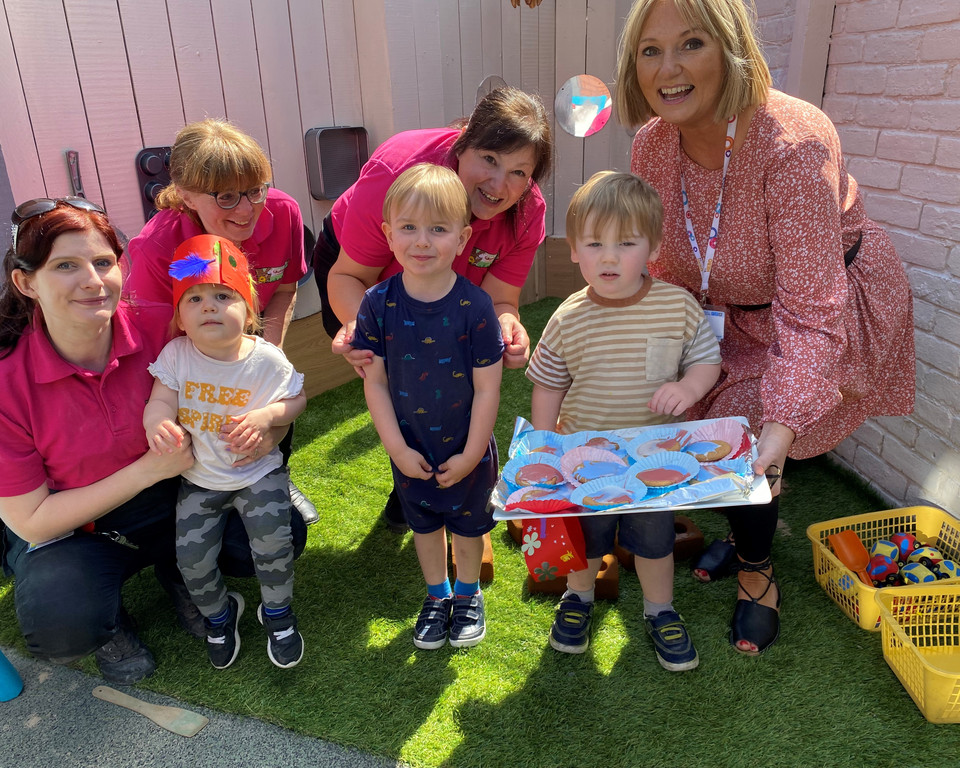 Make sure you pop into Beverley Building Society's Saturday Market branch, in Beverley, between Monday 16 May to Friday 20 May to watch the team undertake a 'Beverley to Buckingham Palace' Exercise Bike Challenge, in advance of the Queen's Platinum Jubilee Anniversary. The initiative will raise much-needed funds for their chosen Charity of the Year for 2022, the Beverley Cherry Tree Community Centre.
Now receiving over 1,000 calls a month from people in the town and surrounding area who are desperately in need of help, the Centre, which has just been presented with an Aspire Award at the Houses of Parliament, was first established in 1993 and its dedicated staff and volunteers work tirelessly to provide a vital lifeline for vulnerable local people. Services include a Pantry for affordable food, the Little Gruffalo's Pre-School, a Youth Club and free advice on money, housing, employment and much more.
Given the Centre's outstanding contribution to local wellbeing, motivation to make a difference is at an all-time high for the Beverley Building Society team and bike wheels will be spinning non-stop from Monday 16 May. Determined to meet their target and cover 211 miles (the equivalent distance of the actual route) between them over the week, colleagues will each have the opportunity to choose a time slot, jump on the bike and cycle as many miles as they can in between their daily duties, to add their vital contribution to the target.
Mortgage Advisor, Jacob Chambers, is not only joining in the challenge – he's even kindly providing his exercise bike for the team to use! And there's a real air of competition building, with team members gearing up to see who can complete the most miles over the week! we'll sharing their progress via the Society's website and social media feeds, so watch this space! We're hoping our regular customers will pop along to offer their encouragement, and maybe donate towards our fantastic cause at the same time.
Jacob said: "Several members of our team have already spent time down at the Cherry Tree Centre, helping out in its popular Pantry, as part of the Society's volunteering programme.
"We're all so touched by what we've seen of the amazing work they do, we wanted to pull out all the stops to raise as much money as we can on top of what the Society has already committed.
"And hopefully we'll get a little fitter and have some great fun along the way!"

Centre Manager Jo Ramsay added: "We were really honoured to be chosen by Beverley Building Society as its Charity of the Year and are so grateful for all the wonderful support so far, which has included Easter Egg donations for children using the Centre and celebration packs to help them mark the forthcoming Queen's Platinum Jubilee, among other things.
"It would be wonderful if as many people as possible could pop in to cheer the team along and, if possible, donate a little as well."
The Charity of the Year commitment has seen the Society donate £3,000 so far, including £1,000 raised through donations for every vote cast by members at its recent AGM. The Beverley has also committed to allowing every member of its team two days' volunteering time, pro rata, which they can spend helping out at the Beverley Cherry Tree Centre or other good causes close to their own hearts.
Once the Cycle Challenge is completed, the team will be getting ready for their Jubilee Tea Party, taking place between 9am – 5pm, on Wednesday 25 May. Customers and members of the public visiting the Society's branch will receive a warm greeting from its team and representatives from the Beverley Cherry Tree Centre – plus the chance to enjoy a little of that party atmosphere with bunting and balloons galore, and the chance to enjoy a delicious cupcake in return for a donation of their choice to this great cause.
There will even be the opportunity to enter a spectacular Jubilee-themed cake raffle to raise more funds. All customer cakes will be created by Beverley-based, caterer and cafe, Cole's Kitchen, who jumped at the chance to support the initiative.
The Charity's Centre Manager, Jo Ramsey will be visiting the Society's branch on the day, with some of the children they support to provide what will certainly be a memorable experience. Everyone involved is also very excited to welcome the Mayor of Beverley, Councillor Linda Johnson, who has generously agreed to take time out of her busy schedule to lend her support to the event and meet Jo and the children.
Debbie Connolly, Society Marketing Manager, commented: "Having recently visited Jo and her colleagues at the Centre I'm overwhelmed at the sheer volume of work they manage every day, but more importantly the fact that they really are changing so many lives for the better. I'm looking forward to spending time volunteering with the charity and meeting some of the local people, who rely on its services as a vital lifeline. A huge thank you to the Mayor of Beverley and everyone who is supporting our events, they'll be great fun and raise income for an important local cause, so we hope the public will really get behind them!"
And the fundraising doesn't stop there, as colleagues have even organised their own lunchtime party in the Society's boardroom, where they'll enjoy bingo, a quiz and a buffet in return for charitable donations.
These latest fundraising events are part of the Society's Building Better Futures strategy, part of which is all about helping to contribute to the vibrancy of our East Yorkshire community and the people living there.
The Society, which was named Mortgage Provider of the Year 2022 at the Yorkshire Financial Awards, also aims to improve lives by offering mortgages for people who are under-served by the traditional mortgage market, such as the self-employed, contractors, those looking for a mortgage when they are approaching or in retirement, or people wanting to build their own homes, purchase an unusual property or help a family member get a footing on the housing ladder.
Watch out for the event reminders on Beverley Building Society's social media and on the digital screens in our Saturday Market branch.
The photo "Beverley Cherry Tree Community Centre Manager, Jo Ramsay, with some of her team and children in their care, celebrating the Queen's Platinum Jubilee Anniversary in the Little Gruffalo's Pre-School garden."