Beverley Building Society raises over £9,000 for it's Charity of the Year 2022
Wed 15th February 2023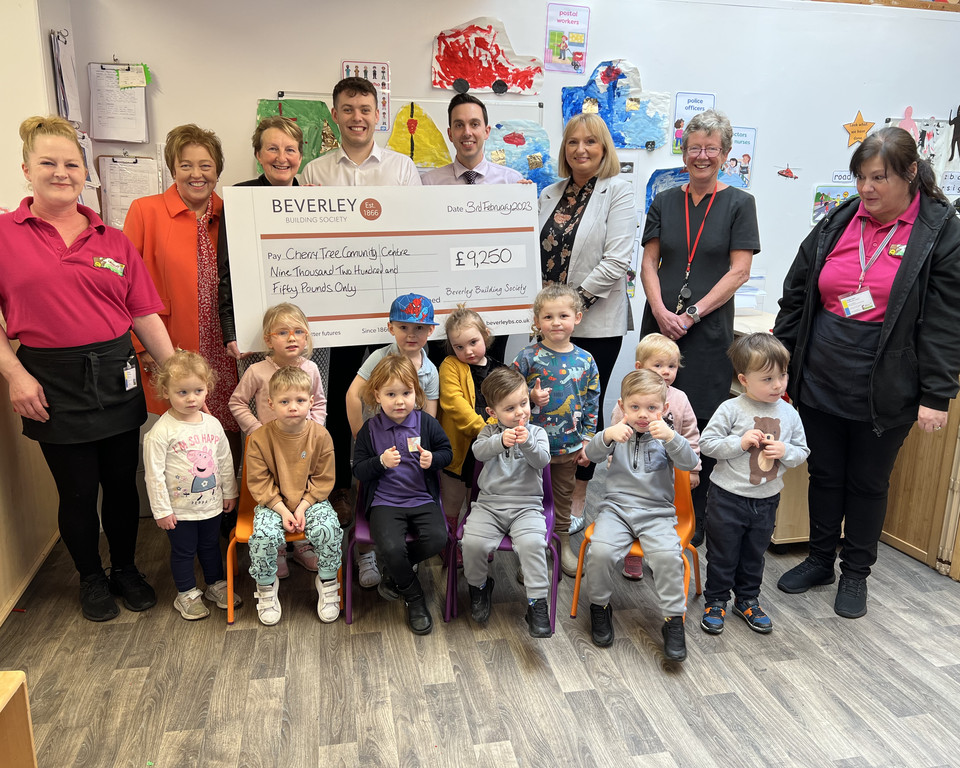 Beverley Building Society raises over £9,000 for it's Charity of the Year 2022, the Cherry Tree Community Centre, and helps to support the lives of vulnerable local people!
After working closely with the local non-profit organisation as one of its Charities of the Month in 2021, the team at Beverley Building Society knew that the Centre was the perfect choice to be its first ever Charity of the Year for 2022.
As part of its founding purpose and 'Building Better Futures' strategy, the Beverley is committed to giving something back to its local community so this gave them the opportunity to make an even bigger impact to an important local cause than it had previously. The only independent building society in East Yorkshire had clearly made a wise decision because, last year, its team raised a total of £9,250 for the Centre!
Since 1993 Cherry Tree, which receives a 1,000 calls a month from people in urgent need of help and which was presented with an Aspire Award in 2022 at the Houses of Parliament for its work in the community, has been a vital lifeline for vulnerable people of all ages across the region. A wide wide range of popular services are available, from advice on issues including Money, Housing and Employment, a Community Pantry and Holiday Club, to an Outer School Club and even a Little Gruffalos Pre School Nursery.
Society Director, Karen Wint, who will take over from the current Chair, Stuart Purdy, when he steps down later this month, delivered the presentation cheque to Centre Manager Jo Ramsay, along with some of the team from Beverley Building Society and said: "The Beverley Cherry Tree Community Centre is there for people who are desperately in need of help, for whatever reason and have nowhere else to go. All communities need these vital services, and I believe we all have a responsibility to ensure that they are protected for future generations.
"I've been fortunate to witness first-hand just how much people rely on the Centre", she added, after following in the footsteps of a number of Society staff and volunteering at the Pantry "so I'm extremely proud of our team's hard work and commitment and very grateful for the generosity of everyone who has helped us to make this exciting achievement happen."
Based in Beverley's Saturday Market, the Society started its Charity of the Year Campaign by introducing a variety of popular in-branch initiatives over the year. In addition to a number of Raffles, a book Exchange and a toy donation box that were all popular with customers, staff also took part in 'dress-down Fridays', turning up to work in more casual attire, in return for charitable donations. The Beverley's Counter Team regularly welcomed some significant donations from the Beverley's Board, its members and other private individuals and the Society contributed over £4,500 of the total figure raised, including donating 50p for every vote cast at its 2022 AGM.
But the team at the traditional mutual love a challenge and isn't one to rest on its laurels. So, staff decided that a programme of summer fundraising events would help to boost fundraising public and with some fantastic PR coverage by local media, funds soon began rolling in!
Events started in May 2022 with a BBS Team Exercise Bike Challenge – a 411-mile 'Beverley to Buckingham Palace' round trip, in advance of the Queen's Platinum Jubilee Anniversary – staff members literally got on their bike, relay-style and got pretty fit in the process! The team were very grateful to be joined by popular magazine, Just Beverley's Julian Minshall and even their local postman, which boosted competitive spirit and helped to fill those donation buckets. The initiative raised £666 in just five days!
Only two weeks after everyone's legs had stopped spinning from the Bike Challenge, another £349 was raised through the Society's Jubilee Tea Party, in honour of the milestone Anniversary. Customers popping into the branch on the day enjoyed a party atmosphere with Jubilee-themed cupcakes and a spectacular Cake Raffle, all generously provided by Beverley-based caterer and café Coles Kitchen. The event even attracted the attention of a VIP visitor when the Mayor of Beverley Town, Councillor Linda Johnson, called in to celebrate with Cherry Tree Centre Manager, Jo Ramsay, volunteers and children from the Pre School.
By August, it was the Beverley's Charity Golf Day, at Hessle Golf Club, that really had supporters digging deep and enjoying some competitive fun at the same time! Raising over £3,000, the event generated overwhelming community interest from 20 teams of golfers, a host of sponsors and Raffle participants. Former Royal Shakespeare Company, West End actor and co-founder of Beverley's East Riding Theatre's Richard Avery, generously gave up his time to act as Master of Ceremonies.
But what's really rewarding is seeing the positive impact your fundraising has on vulnerable individuals in your local community. In October of last year, Society Marketing Manager, Debbie Connolly was delighted to be invited to the Cherry Tree Centre to witness the excited children from Little Gruffalos nursery sporting some of the 40 warm winter coats that were purchased with the Golf Day funds.
After being presented with a specially made Thank You card from some of the children at the cheque presentation, Debbie commented: "Despite their difficult circumstances, the children are always so happy to see you and I felt quite emotional knowing that we'd been able to help them and so many other people. It's really humbling to think of what we can achieve when we put our minds to it. It's been an absolute privilege to work with Jo and everyone at the Centre and I'm very proud to have played my part."
Jo Ramsay, Manager of the Beverley Cherry Tree Community Centre, who's website perfectly captures their motto as: 'When you don't know where to turn, we can help you, or find someone who can', added:
"We were honoured to be chosen by Beverley building Society as its Charity of the Year for 2022 and we are all truly overwhelmed at receiving such an incredible amount of money, because keeping our services running in the current cost of living crisis is now even more of a challenge. The Society has far exceeded my expectations of how they have supported us, not just by raising funds, that have and will continue to help us make a difference to people in need moving forwards, but by giving up their time to volunteer with us and raising vital awareness to encourage many more people to support us in the future.
Jo concluded: "On behalf of myself and everyone at the Cherry Tree Centre, I'd like to say a huge thank you to both the Society and everyone who has contributed to this Campaign, in whatever way they could throughout 2022. You have helped to change peoples' lives for the better."