BEVERLEY AC – RUNNING HOME AND AWAY
Sat 28th October 2023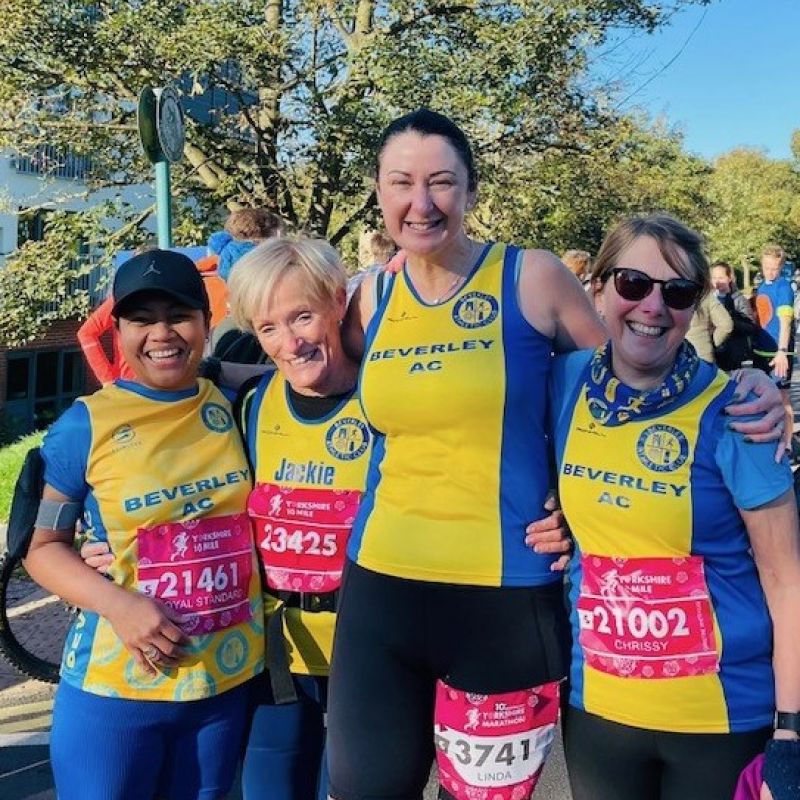 October has seen members take part in a range of events, some very local whilst others have been further afield. From Club league races and events that form part of the Club's Handicap race series, there are just not enough days in the week with so many events to choose from!
October saw the first race of the East Yorkshire Cross Country League 2023/2024 take place in Bishop Wilton where 57 members joined runners from other local Clubs to take on the hills of the muddy course at Bishop Wilton. Sam Allen, the Club's Cross-Country representative, was delighted with the success of the first event, congratulating Club members:
"Well done to everyone who ran (at Bishop Wilton). Our men's team finished 3rd and our ladies team 4th. It's a good result and a great start to the season. We all play a part, and it was great to see so many members there. Rob Sparkes deserves mention for his outstanding win. David Whiting and Josh Green both very new members also deserve a mention for scoring as the top 6 in our men's team."
Members will be keeping their numbers safe for the second race in the League which takes places at Welton in November!
Several members had already tested their cross-country legs, taking part in the Bridlington Multi Terrain 13.5-mile race starting and finishing on Bridlington's Promenade, following a clifftop circular route taking in Flamborough Head. John Dawson was the first Beverley runner to finish in a time of 1:49:24, followed by Sam Allen (1:49:40 1st V50), Fiona Holland (2:12:43), Jackie Hardman (2:13:29), Peter Watkinson (2:14:08), Sarah Fell (2:25:55), Rachael Hill (2:35:12), Elaine Julian (2:39:27), and Nicola Riley (2:40:13). In the 5k event Finlay Hill finished in 21:52, with Mille Berry (22:28), Milla Baker (23:23), and Harriet Fletcher (26:07), whilst the Fun run saw Addien Baker finish in 8:04 and Grace Fletcher in 11:39.
During October, we celebrated the clubs 30th birthday with an orienteering event delivered by HALO - Humberside and Lincolnshire Orienteers. We are extremely grateful to them for their time, commitment, and amazing organisation with a special thank you to Mary Carrick as the key organiser. Members had just 45 minutes to complete the 15-line control course proving it to be quite a workout! Results were… 3rd place to Stephen Hall and Richard Scaife, 2nd place went to Anna Cuthbertson and Lucy Berriman, whilst first place went to Graeme Pittaway as an individual entrant. A special prize went to Peter Naylor who won the bottle of bubbly, aka bubble bath, for being the lowest points earner!
And as well as these training events, there was plenty of choice of other races for members to choose, covering a range of distances. Here is just a snapshot of what has been going on!
Andy Johnson and Laura Egan travelled to Chicago where Andy ran the marathon completing in a time of 4:08:31 and Laura completed the 5kms event, while in Amsterdam, Stella Evins completed the marathon in a time of 4:58:29, beating her previous marathon PB by an amazing 32:48!
In London, Usha Chapman completed the London Camino Eco 25 kms Trail Run in 3:49:51 and Jo Rowland completed the Royal Parks half marathon in 2:17:12.
Meanwhile, at the Yorkshire Running Festival in York, the club was represented in the both the marathon and the 10-mile events First Beverley runner to finish the marathon was Tom Ramsey in 3:06:28, followed by Jody Horth (3:19:40); Carol Botterill (3:54:03); Adam White completing his first marathon in 3:56:33, and Carl Hailstone (5:13:02). First Beverley runner to complete the 10-mile course was Billy Pike (1:13:42), followed by Lilith Waters (1:26:35); Linda Wright (1:27:57); Jackie Hardman (1:29:58); Lorraine Clarke (1:41:31); Mila Ramos (1:48:05); Teresa Palmer (1:50:00) and Christine Whitehouse (1:57:05).
The Curly's Hedgehog half marathon at Normanby Hall was one of the Club's handicap races and Beverley had some great podium finishes with Laura Emms 3 rd in the AG30-34 category in a time of 1:41:26, followed by Lucy Berriman, 2 nd in her AG25-29 category in 1:42:40, and Martin Greensill coming 1 st in his AG60-64 category in 1:43:16. Also competing were Carol Cooke (2:34:49) and Cat 64 category in 1:43:16. Also competing were Carol Cooke (2:34:49) and Cat Williamson (2:50:02).
The Yorkshire Coast 10kms starting and finishing from the Spa and Scarborough saw another great turnout from Club members with 23 enjoying the great course on a day perfect for running. First Beverley runner to complete was John Dawson in a time of 41:45, followed by Gary Walford (42:00); Richard Scaife (43:49); Daniel Hammond (44:17); Justine Tomlin (45:36; Sam Allen (46:29); Patrick Marshall (48:28; Anthea Hutchinson (49:25); Stephen Hall (50:37; Joanne Crawford (51:32); Lily Whitaker (54:03); Shay Ward (54:36); Elaine Lang (54:40); Lucy Bishop (55:35); Lucy Featherstone (56:06); Elaine Julian (58:00); Ellis Uttley (58:11); Susan McIntyre (58:23); Nicola Riley (58:25); Patrick McConnell ( 55:24); Kat Berry (1:03:37); Hollie Oxtaby (1:18:59) an Chris Gibson (1:19:04).
Running a marathon was not enough for some Beverley AC members. Shawnie Lovatt competed in the Ironman Triathlon World Championships in Kona, Hawaii, completing the course consisting of a 2.4-mile swim/112-mile bike/26.2- mile run in an outstanding time of 10:20:38. Jackie Hardman completed Ironman Emilia Romagna in 15:17:51.
Congratulations and well done to Dave Meilhan and Roger Tomlin on passing their UKA Coaching qualification. Dave and Roger now take our coaching team to 4 qualified coaches supporting the Junior section and will ensure that the Juniors continue to go from strength to strength.
Upcoming events in a very busy Autumn calendar include the Northern Road Relays and Northern Athletics Cross Country Relays and the Club is also holding its Annual General Meeting. We are also looking forward to celebrating the 25th anniversary of the Beaver Trail, on Sunday 19th November, when the Club extends the hand of friendship to all local running clubs and friends to join members for this year's 25th anniversary of the Beaver Trail run or walk. The route was founded by Beverley AC in November 1998, and since then we have celebrated the route in an annual event by inviting people to run or walk a distance of their choice. The trail follows a picturesque cross-country "off road" route with a choice of 5-, 10-, 13- and 15.2-mile routes. Route maps, route descriptions and GPX files can all be found on the Beverley AC website.
New members, whatever your age and level, are always welcome and further details about the membership and what the Club has to offer to its members can be found on the Club's website: https://beverleyathleticclub.co.uk.