Beat the 'dead-line' and Haunt the Archives with a chilling tale!
Mon 19th October 2020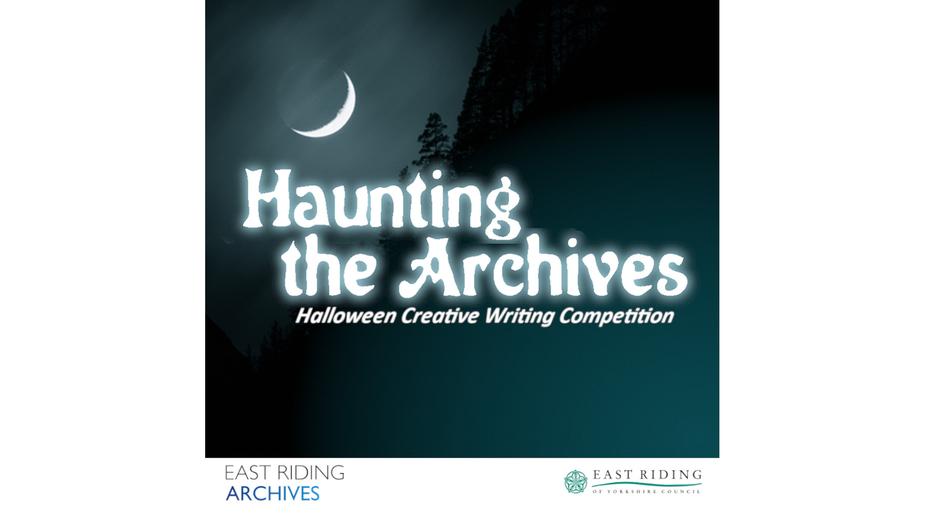 East Riding Archives invites all restless souls with a pen in their hand or keyboard at their fingertips to weave a tale of terror, or story of spookiness, for the new 'Haunting The Archives' competition.
As years go, the mere mention of '2020' will send a shiver down the spine for quite some time and now the ghoulish season is here: Halloween! Traditionally thought to be a Celtic holiday, in modern times it has become a night of fun to celebrate all things spooky and chilling, bringing a splash of fun and colour as the rest of the world turns dull and grey.
The usual delights of trick-or-treating and fancy dress parties have understandably been curtailed by COVID-19 restrictions and necessary social distancing measures, but East Riding Archives want to bring some spooky delight back to the season with a competition to get spines tingling!
Within the depths of the archive vaults lurks many a curious and peculiar image, shrouded in mystery, that could leave you with a chill or shudder. Three mysterious images have been chosen as the perfect inspiration for a Halloween ghost story, to get aspiring writers' hearts racing and creativity flowing.
Entries must be between 500-750 words, and the story must be all your own work. The competition is open to those aged 12 and over, with two age categories 12-16, and 17+. The winner from each category will receive an Amazon Kindle!
As a bonus, if you beat the 'Dead-Line' of Thursday, 29 October, 5pm, your story could be among a frightful few to be transformed into a spooky audio track and feature in a special scary narration of entries on Halloween Night itself (Saturday, 31 October) via the East Riding Archives Blog and new Soundcloud channel.
Check in on the blog page from 6pm to see if yours will be published, or visit @ERArchives on Facebook or Twitter for updates.
For those who don't make the Soundcloud deadline - competition entries will still be accepted until 5pm, Monday 2 November for the chance to win an Amazon Kindle (however, these entries will not feature on East Riding Archives Soundcloud).
Olivia Northrop is a trainee on secondment to East Riding Archives, as part of a project called 'Bridging The Digital Gap' run by The National Archives (TNA). She came up with the idea for the ghost story creative writing competition as part of a digital access project:
She said : "We have a wealth of strange and wonderful images here in our collections. Often I'll be looking through them and chance upon something strange and out of context. It's an almost magical feeling. There's definitely something innately mysterious about archives to me."
On how the competition came about, Olivia said:
"I've been developing a new Soundcloud channel for East Riding Archives and planning what kind of content to release there. I'm personally a big fan of online short horror stories called 'creepypastas' and 'nosleeps'. They're often inspired by single strange images, so the idea of 'Haunting the Archives' as a competition was born, and what better time to do it than Halloween?!"
For more details on the 'Haunting The Archives' competition and how to enter, visit the East Riding Archives Blog page at www.eastridingarchives.blog/competitions/haunting or follow @ERArchives on Facebook/Twitter.
ENTER, if you DARE!!