Back to school: Advice for pupils and parents on safe bus travel
Fri 4th September 2020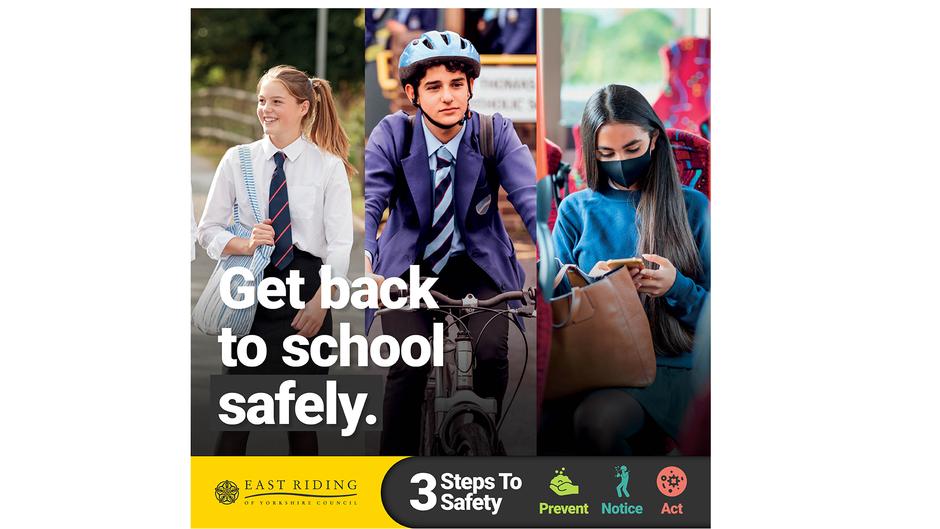 Children and their parents are being encouraged to follow the latest advice about safe bus travel, as the new school year begins for many next week.
East Riding of Yorkshire Council is encouraging families to prepare their travel routes in advance and make sure youngsters are aware of new precautions in place to keep everyone safe during the coronavirus pandemic.
All children who need to take a bus to and from school will asked to:
Don't travel if you, or a member of your family, have symptoms of coronavirus. Stay at home.
Wear a face covering on buses at all times. This applies if the child is aged 11 or above, unless they are classed as exempt,
Wash hands before and after travelling,
Follow all safety guidance given on board,
And follow the East Riding's 3 Steps To Safety … Prevent, Notice & Act.
As an alternative, parents are also being asked to consider whether their youngsters could walk or cycle to school, as long as this is convenient and safe. This will also help to ease congestion outside the school gates.
School buses and public transport
Around 5,000 pupils travel on dedicated school transport in the East Riding – those who either get free bus travel or pay for it.
These children will not need to social distance during journeys, however some schools will be asking pupils to travel together in their 'bubbles' following the latest Government advice.
Other pupils travel to school using public transport – alongside adult passengers. They pupils will need to try to social distance on board as much as possible.
They are also being reminded that buses cannot carry as many passengers as normal due to social distancing.
Adult passengers are being asked to remember buses are likely to be busier at school travel times – and are being asked to consider whether they can catch earlier or later buses outside school peak times to help the situation.
Additional buses
To help address any potential issues, staff at the council's transportation services have been busy working with East Yorkshire buses to try to identify pinch points in the area's public bus routes to see if any additional services were needed.
So far, the council has commissioned one extra bus to help young passengers on a particularly busy school route.
There will be a second bus serving Wolfreton School and Cottingham High School – service 154 departing from Hull Interchange at 0735 and returning at 1502, from Castle Hill Hospital.
The transportation team will be closely monitoring the situation, together with East Yorkshire buses, over the next few weeks to see if other routes need more capacity, and will respond to any problems as they happen.
Councillor Gary McMaster, portfolio holder for enhancing communities at East Riding of Yorkshire Council, said: "We really don't want children and their parents to be anxious about getting back on their school buses – getting youngsters back to school is a really positive step.
"But it's extremely important that parents make sure their children are aware of the new safety measures to help keep everyone safe – wear a face covering, wash your hands and socially distance if it's necessary.
"Our transportation team has worked hard to prepare school travel for the new school year, following Government advice, and they will keep monitoring the situation to address any issues that arise."
For more advice on the council's 3 Steps To Safety visit the website: www.eastriding.gov.uk/3stepstosafety
A guide to travelling safely on public transport can be found at: www.eastyorkshirebuses.co.uk/getting-back-travel-safely
For more back to school advice visit the Government's website: www.gov.uk/backtoschool