Armed Forces & Veterans Breakfast Club' goes from strength to strength with help of new funding
Tue 21st December 2021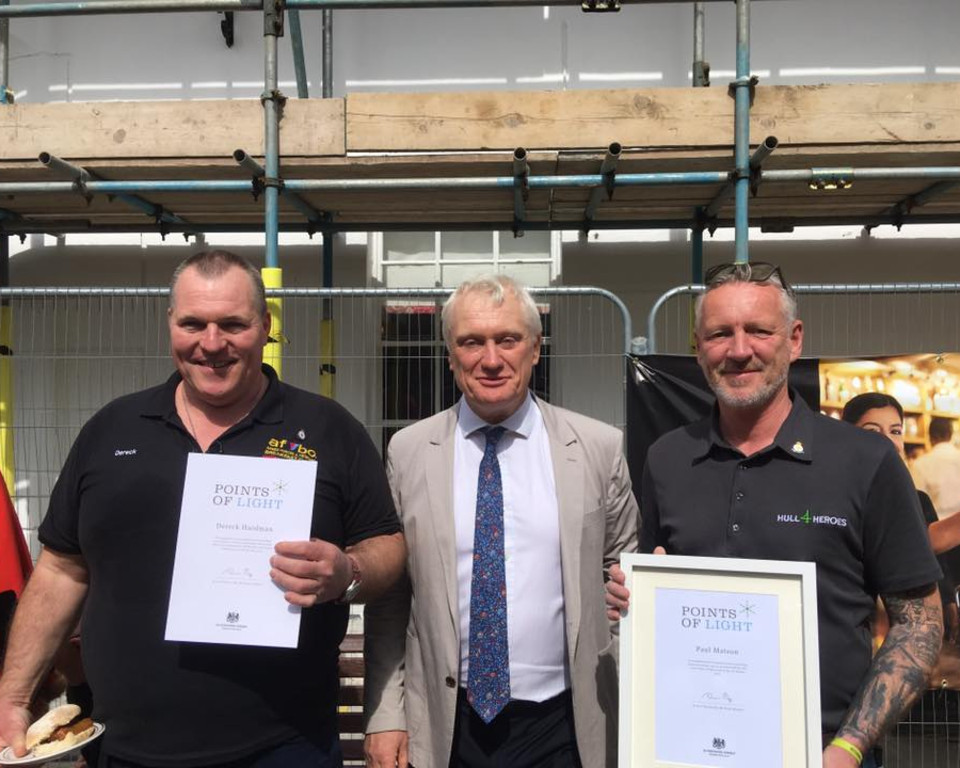 Graham Stuart, MP for Beverley and Holderness, has heaped praise on the founder of the Armed Forces & Veterans Breakfast Clubs (AFVBC), Dereck Hardman, after he visited Parliament to raise the organisation's profile among MPs.
The former Royal Engineer founded the first Armed Forces & Veterans Breakfast Club in Hull in 2007, operating out of Pete Barker's Motor Engineers. The clubs are aimed at tackling social isolation among veterans and helping Armed Forces personnel to adjust when they enter civilian life.
There are now breakfast clubs up and down the country as well as overseas, with branches across Europe, Australia and New Zealand. Such is their popularity that, on average, since 2014 more than one new breakfast club has been set up every single week. There are four clubs within 10 miles of Hull, with two in Hull itself, one in Beverley and another across the Humber in Barton.
The clubs help to tackle the isolation often felt by veterans as they transition to civilian life and lose the camaraderie of the Armed Forces. Completely free to attend, they're not officially affiliated to any charities in order to avoid discouraging veterans who may be challenged financially. However, the clubs do signpost anyone who is struggling and offer direct access to organisations which can help.
After being given a tour of Parliament, Dereck and his wife Sue met with former Conservative Party leader and Lieutenant in the Scots Guards, Sir Iain Duncan-Smith MP, to discuss the success of the clubs and the possibility of a Parliamentary Armed Forces & Veterans Breakfast Club to cater to MPs, Peers and staff who have served their country on top of boosting the AFVBC's profile across the United Kingdom.
Dereck said, "I had a great trip down to London. Not only did I get to visit clubs in Kent and Surrey, I also got to visit Parliament for the first time ever to see the home of democracy that I defended for 10 years as part of the Armed Forces.
"It's really great to see how supportive Graham and Sir Iain both are, and that they're both happy to go to the Commons Speaker, Sir Lindsay Hoyle, to ask about setting up a breakfast club in Parliament."
The AFVBC has also recently been awarded a regular grant from the June Margaret Payver Will Trust to help cover running costs, often paid for out of Dereck's own pocket in the past, and could allow the organisation to start producing starter packs for new clubs.
Graham added, "Dereck's dedication to improving the lives of his fellow veterans through the Armed Forces & Veterans Breakfast Clubs is a real inspiration and it's testament to his incredible character.
"The idea of getting together every weekend for a butty, a brew and some banter may be a simple one, but it's a great way for veterans to meet others who've gone through the same things they have, and it helps to bring out the best in them as they transition to civilian life."
To find your nearest Armed Forces Covenant-registered breakfast club, veterans and Armed Forces personnel can visit www.afvbc.net.