A little bit of "SUN" shine for the Beverley Westwood Lions
Mon 10th August 2020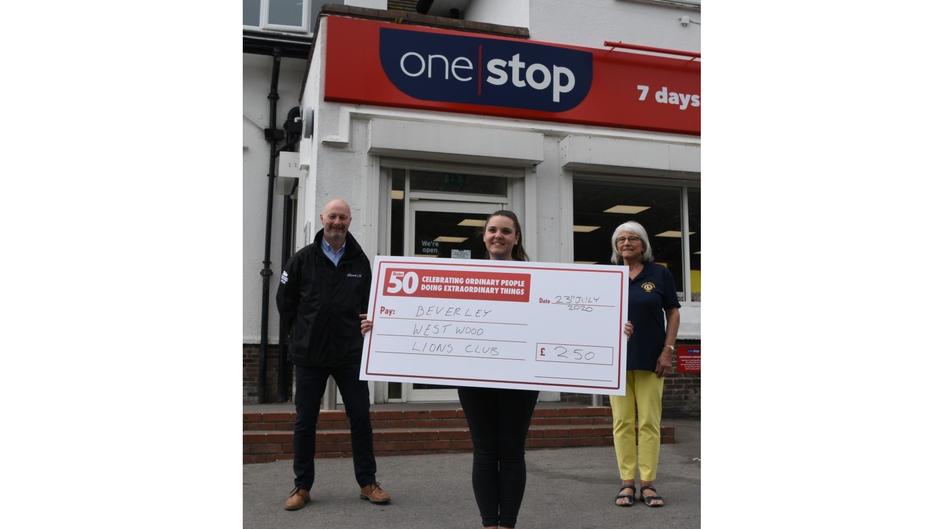 The Sun newspaper launched a national promotion scheme in conjunction with Onestop convenience stores nationwide.
The Sun contacted all Onestop stores to encourage them to nominate a local charity that they felt made a difference in the local community. Manager, Aimee Kelly, and her staff at the Coltman Avenue store, Daniel Harrison and Maria Sourianou, Customer Support, decided it would be a good idea to nominate local charity Beverley Westwood Lions. The entry was sent in pre Covid-19 pandemic, and they would receive a prize of a £250 cheque if the charities were chosen by the Sun newspaper.
Manger, Aimee, said "Working and living locally, I know the amount of work and effort the Beverley Westwood Lions put in to help the local community and help put a smile on peoples faces".
Recently, Aimee and her team received the news that they had been successful and the Sun newspaper would be delighted to present a cheque to their chosen charity. The Beverley Westwood Lions knew nothing of this until Aimee contacted them and broke the good news. The prize cheque is being presented by Chris Broadhead (Sun newspaper), and Aimee Kelly, (Onestop Store Manager), to Judy Sagar (Beverley Westwood Lions), in attendance are L - R (Rear) Alison Porter, Alan Blenkhorn (B.W.L), Maria Sourianou, (Onestop), Ian Sagar, (B.W.L), Daniel Harrison (Onestop Customer Support), and Vicki Ford (B.W.L).
Judy Sagar was delighted to receive the £250 on behalf of the Beverley Westwood Lions, and mentioned that during these difficult times people have needed more help than ever and the money will be put to good use locally.