Regrouping of the colours
Thu 21st October 2021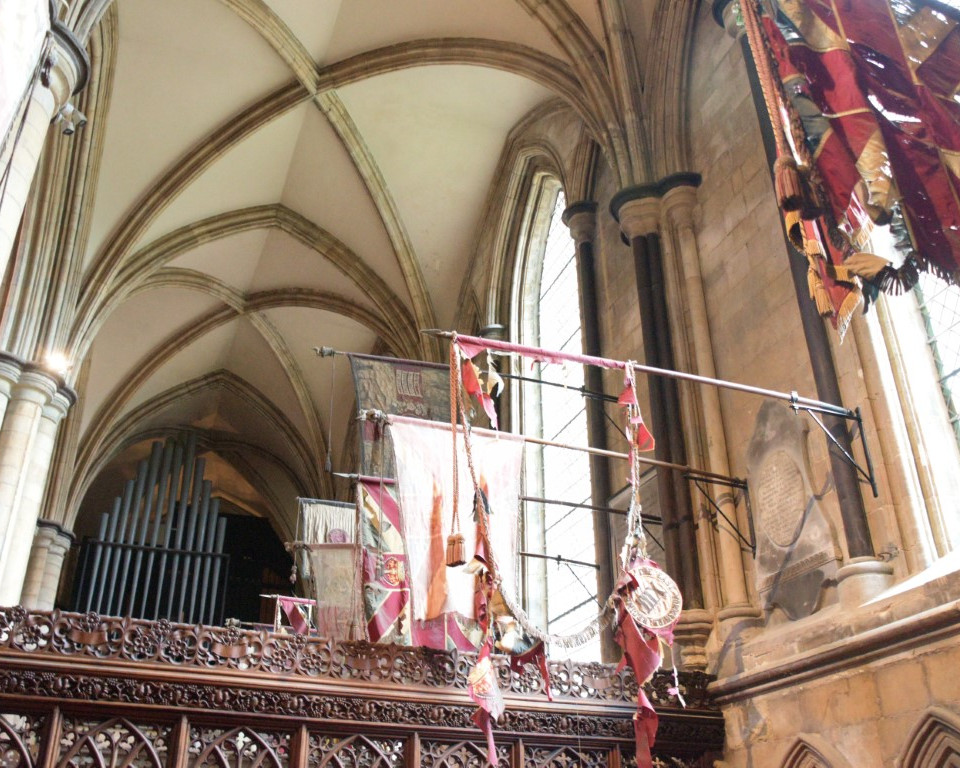 Last month, on the 12th September, Beverley Minster held a service to commemorate 'Quebec Day', the principal battle honour of The East Yorkshire Regiment. The service also marked the centenary anniversary of the Regimental Chapel and Shrine in the Minster, which was created in June 1921 to commemorate the regiment's involvement in World War One. During the service it was noted that some of the colours could be better located in recognition of their relationship with each other. In conjunction with Beverley Minster, representatives of the regiment decided that the 100 year anniversary would be an appropriate and poignant time to regroup the colours.
Under the watchful eye of Colonel Charles Le Brun, Chairman of The Prince of Wales's Own (West and East Yorkshire) Regimental Association and local author Mike Peterson, whose book on the history of The East Yorkshire Regiment, "In Beverley and Beyond", had been officially launched at the Quebec Day service, the colours were taken down and regrouped on the 20th October. Colonel Le Brun explained that whilst The East Yorkshire Regiment's association with the East Riding dates back to 1772, its connection with Beverley was formalised in 1878 with the building of Victoria Barracks, which became the home of the regiment until it's amalgamation with The West Yorkshire Regiment in 1958.
Whenever new colours were presented to the regiment they were initially consecrated and had an average lifespan of approximately 25 years. On presentation of new colours, the old colours were then laid to rest and decay, normally in a church; in the case of The East Yorkshire Regiment, this was predominantly Beverley Minster. The Minster currently provides a home for the colours of the regiment that date back to the mid-19th century.