PARTY IN PINK WITH THE MAYOR IN AID OF HER BREAST FRIENDS
Wed 2nd March 2022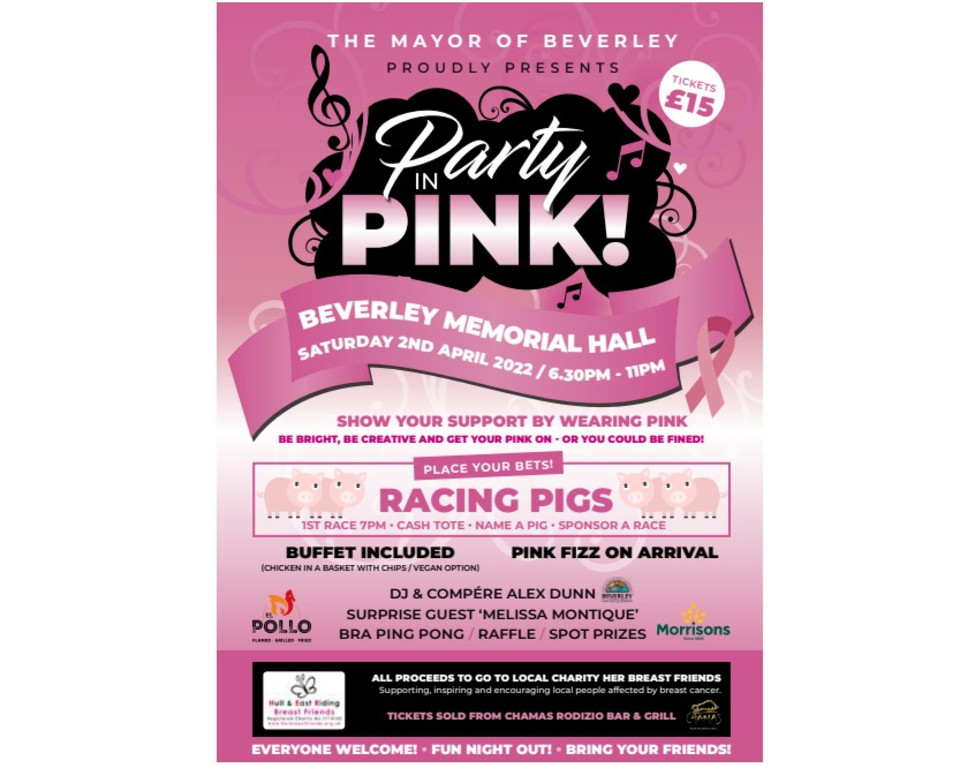 The Mayor of Beverley, Cllr Linda Johnson, is raising much-needed funds for HER Breast Friends with a party at Beverley's Memorial Hall on Saturday, April 2nd.
The evening features Paragon Porkers Pink Pig Racing, Bra Pink-Pong, a raffle and spot prizes and is compered by Beverley FM's Alex Dunn, who will also provide the soundtrack to the evening for dancing.
With a glass of pink fizz on arrival, chicken (or vegan alternative) and chips for supper (sponsored by El Pollo) and pink donuts for sweet (sponsored by Morrisons), party-goers are invited to wear pink - or be 'fined'!
Tickets, which are just £15 each, are available from generalenquiries@herbreastfriends.org.uk telephone 01482 221368, or in person at Mirage or Chamas in Wednesday Market.
Cash purchases are preferred, or cheques should be made payable to HER Breast Friends.
Donations for the raffle are very welcome and can be dropped off at Chamas or Mirage, labelled for the attention of Nicola Tekce 'Party in Pink'.