Panto is back at Parkway - We listened in on the conversation.
Fri 10th December 2021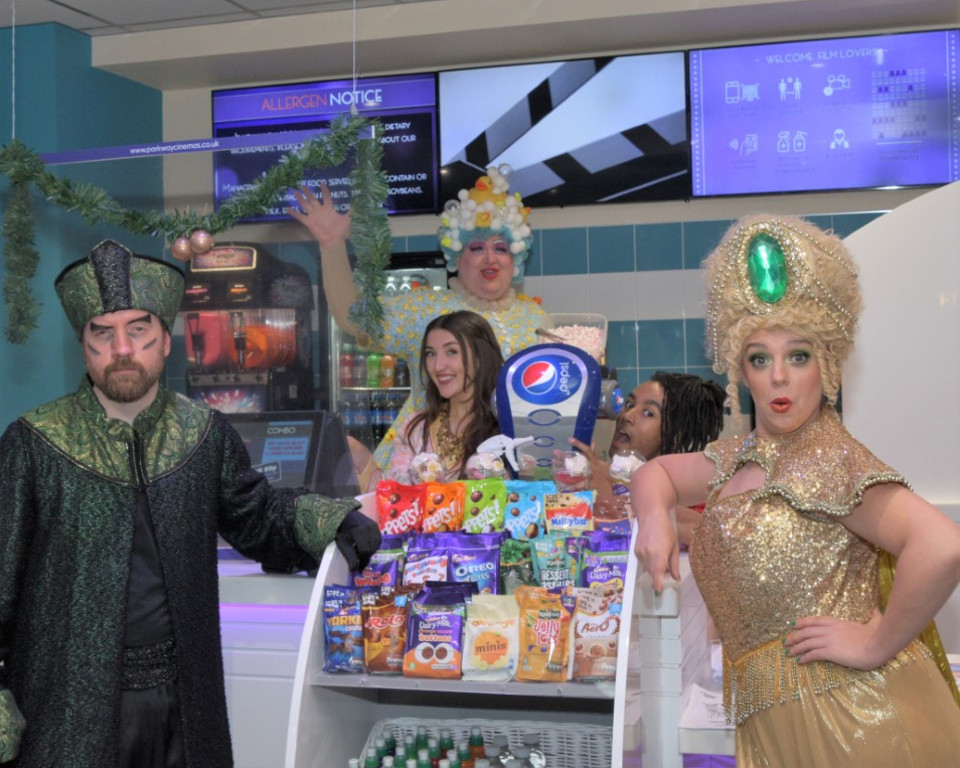 With a big stage waiting and the audience getting ready, Panto returns to Parkway with TaleGate Theatre's production of Aladdin.
Join TaleGate Theatre Productions this Christmas for the pantomime you wished for! Follow hero Aladdin and his troublesome Mum, Widow Twankey, beat the evil Abanazar to the magic lamp and win the hand of Princess Jasmine.
'Aladdin' is guaranteed to be full of eastern promise. It will be their funniest and most spectacular pantomime ever! Packed with songs, slapstick, silliness, audience participation and all the fairytale magic of traditional pantomime! This fun-filled extravaganza is guaranteed to delight the whole family. Just Beverley sneaked into rehearsals and listened in to the conversation - build up to Christmas.
Jasmine asks Aladdin:
1. What's your favourite part of Christmas?
Aladdin: Family getting together. I love spending Christmas Day at home with my mum, Widow Twankey… Apart from when she eats Brussel Sprouts. Widow Twankey: Cheeky thing!
Aladdin turns to everyone and asks:
2. Does everyone like Christmas?
Abanzar: Bah Humbug! Everyone else: Love it! Jasmine: It's the most wonderful time of the year.
3. Abanzar, poses the question, Christmas, its all about gifts, getting as much as you can, why can't you see that Aladdin?
Twankey: Oh yes! I love presents! Gimme gimme gimme! Aladdin: No, it's about festive spirit! Spirit: Make mine a double (she laughs).
4. The Spirit of the Ring - it's my magic that makes it special transporting people to another place, what do you think?
Aladdin: The most magical magic carpet ride ever. Jasmine: It's a whole new world. Spirit of the Ring: But you'll have to book tickets to see it for yourselves boys and girls.
5. The Genie locked away in his thoughts asks if you all had 3 wishes at Christmas what would they be?
Abanzar: Money, world domination and ultimate power. Twankey: Money, money, money. Aladdin: Isn't that a Abba Song! Spirit: Mamma Mia. Abanzar: Here we go again.
6. Widow Twankey listens intently before wailing 'I Wish It Could be Christmas Everyday'.
Jasmine: Me too!
7. Spirit of the Ring says it loves the freedom and asks if things feel different now after lock down?
Twankey: Things in the theatre are safer than ever with full cleaning regimes - my laundrette has never been so clean! Aladdin: But it is still the fun filled pantomime Beverley is used to!
8. Jasmine - reveals her three wishes and ask Aladdin if his are the same.
Jasmine: My three wishes - Health, Happiness and Love. Twankey: Oh , I feel sick. Aladdin: MUM! Same for me - a happy future with my princess, Jasmine, is all I ask for.
9. Aladdin starts to dream and asks Abanzar - Why don't you change and make people happy?
Abanzar: I do make people happy - myself!
10. Spirit of the Ring, asks what is the best place to have Christmas?
All: Parkway Beverley obviously. What better way to celebrate Christmas than with a fabulous Pantomime.
11. Genie poses what is the best Christmas ever - Suggest getting off the bottle was his?
Spirit: Off the bottle? Genie: Out of my lamp! Spirit: Oh yes, I'd love a drink. Genie: How about a rum? Spirit: A rum makes me glum. Genie: What would you like instead? Spirit: A Brandy (she laughs).
12. Widow Twankey asks - what drives you nuts at Christmas?
Abanzar: Michael Bublé's Christmas album Jasmine: Me too!
13. Jasmine still on cloud 9 asks - are people more in love at Christmas?
Spirit of the Ring: I think everyone has to watch 'Love Actually' to answer that. Genie: Or Hallmark movies. Love them.
14. Aladdin poses - what is your favourite getaway film at Christmas?
Jasmine: The Holiday! Spirit of the Ring: Frosty the Snowman. Abanzar: A Nightmare Before Christmas. Mwhahaha!
15. Genie then asks what everyone's favourite all time song and Christmas song is?
Twankey: 12 days of Christmas. FIVE GOLD RINGS. Abanzar: All I want for Christmas is my Two Front Teeth.
16. Spirit of the Ring now puts calm on the whole situation and reveals his best time and asks is panto real or just a dream? Aladdin: It's a dream to be in Panto at Parkway!
17. Jasmine asks the Widow Twankey - Whats is your wish for 2022?
Twankey: That all my laundry gets done in time. I've got a little behind. Aladdin: Oh, No you haven't!
18. Jasmine asks Aladdin the same.
Aladdin: Go to a whole new world with you Jasmine.
19. Aladdin asks - Why is Parkway so special at Christmas?
Jasmine: Festive fun with the comfiest seats in town! Genie: And popcorn!
20. Genie asks - what is everyone most thankful for this Christmas?
Spirit of the Ring: That we are back entertaining the boys and girls of Beverley.
21. Aladdin asks what would make you the happiest ever?
All: For everyone to book tickets to see the most magical panto there is!