NAVIGATION WEALTH - THE DOORS ARE OPEN
Thu 13th January 2022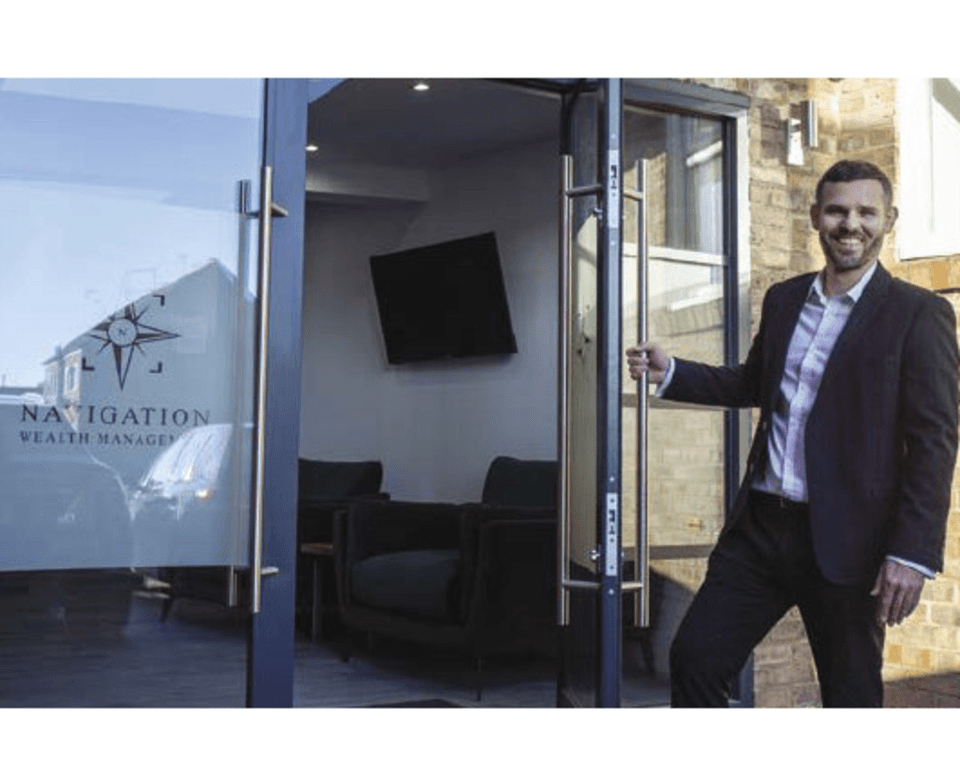 Navigation Wealth, a holistic wealth management advice service with worldwide clients, has opened offices in Beverley to provide the best financial advice and ongoing service.
Started in 2000 by David North, the business was originally created to allow him the freedom to spend time with clients, discuss their aspirations, and build lasting long term relationships whilst working with an organisation that had the capacity and expertise to build, monitor, review and amend the investment proposition that he recommends to clients.
By developing a working partnership alongside St. James's Place, a FTSE 100 company, David ensured Navigation Wealth could build key relationships and provide the expert financial planning advice to clients whilst utilising a market leading and exclusive approach to investment management.
In essence, Navigation Wealth give the advice, expertise and service, and St. James's Place provided the market leading product suite.
David is one of three owners of the organisation, alongside Darren Wood and Matt Hammond, CEO of Navigation Wealth, who has the day to day responsibilities and custodianship of running the company. He purchased a stake in the company in 2019 and has been growing a team of financial advisers with varying specialisms ever since. These different specialists allow the company to provide a service for any need.
Matt said: "I think when you hear the word 'wealth management' it can sound like a service for the wealthy, but it's absolutely not the case. We offer financial advice for everyone, whether it's someone starting on the property ladder for the first time who requires a mortgage or life protection to keep their family safe, all the way through to planning for or at retirement, investment and inheritance tax planning for both individuals and corporate companies".
Navigation Wealth currently has 45 team members, 21 of which are Financial Advisers or Client Relationship Managers who distribute high quality advice to clients across the UK, primarily Yorkshire. 6 of their advisors are based in Beverley and East Yorkshire where the company has seen a real growth opportunity.
Matt said: "We have clients all over the UK and beyond, but we had a huge presence in East Yorkshire with existing clients. It was them who suggested we should bring our award winning advice and service to Beverley.
"We researched the market place in the local area and genuinely felt there was a gap in the market for a client driven, relationship-based financial advice provider. We feel we fill that gap and I'd like to think our client feedback verifies that".
Matt describes himself as "a local guy" as he was born in Beverley, attended school in Hornsea, and the majority of his team are from the Beverley and Holderness area, so he hasn't been surprised by the welcome they have had from the local community: "It's been warm and supportive, which is everything that the people of East Yorkshire are known for and I hope to meet more of the local community now our doors are open for business."
"We chose our new offices on Spencer Street as we could see the potential it had on offer as a prominent town centre location with parking for our clients. We have also made use of our 12 seater boardroom available to any local businesses that may require a meeting room free of charge. We are proud to be part of the local business community, it's all about supporting and helping each other where we can".
Always aiming to provide a relaxed relationship- based feeling to his clients whilst offering the highest level of professionalism, the effects of the pandemic on the business proved a difficult period to navigate and also an unsettling time for investors due to the fear of the unknown.
With no previous experience in unprecedented times in the past, there were no comparisons to make against previous events or predictions on how the market would react.
Matt said: "It's why active financial advice is so important. It's natural that many investors react with emotion, and usually this ends up with the wrong outcome. If investors have an active relationship with a trusted financial adviser, they will have hopefully had a great deal of contact and they would be there to provide assurances and updates on events, thus avoiding any 'knee-jerk' reactions that could cost the client in the longer term".
Throughout the pandemic, Navigation Wealth increased their contact to clients to provide extra reassurance and an ongoing service, ensuring the decisions that clients made were informed as opposed to emotional. Their plan is to stick to this method going into 2022.
"You have to learn to live through the noise as there will always be uncertainty", Matt continued, "a good example I use to help affirm this point is that you wouldn't jump out of an aeroplane if you hit some turbulence. You'd ride it out and wait for the plane to land safely. In simple terms, don't react to emotions, seek professional advice and utilise their expertise".
From humble beginnings 21 years ago, Navigation Wealth has since been voted one of the Top 3 Financial Advice companies in Wakefield in 2020, and is a finalist in the 'Customer Service Team of the Year' category at the 2021 Yorkshire Financial Advice Awards. Matt said: "We have our fingers crossed for a positive outcome at the Yorkshire Financial Advice Awards in February, and we now also have our event programme planned for our guests. It ranges from golf days to afternoon teas to sporting dinners, all at local venues and with the aim of raising money for local charities. We donated over £6,000 in 2021 from our fund raising activities, so I'd love to be able to take that up further in 2022".
Navigation Wealth Management advice service welcomes existing and new clients to arrange meetings to discuss their future plans to secure a brighter future. All in a convenient location on Spencer Street.
To receive a complimentary guide covering wealth management, retirement planning or Inheritance Tax planning, contact Navigation Wealth Management on 01482 379504 or email navigationwm@sjpp.co.uk